Queen Elizabeth II's Cause of Death Revealed
Queen Elizabeth II died of old age more than three hours before the public were informed of her passing, official records show.
The 96-year-old monarch's death certificate was released by National Records of Scotland and showed she was pronounced dead at 3.10 p.m., on September 8, 2022.
Elizabeth's cause of death was recorded as "old age" while the place where she died was Balmoral Castle.
The NRS wrote online: "The Registrar General for Scotland, Paul Lowe, confirmed that Her Majesty The Queen's death was registered in Aberdeenshire on 16th September 2022.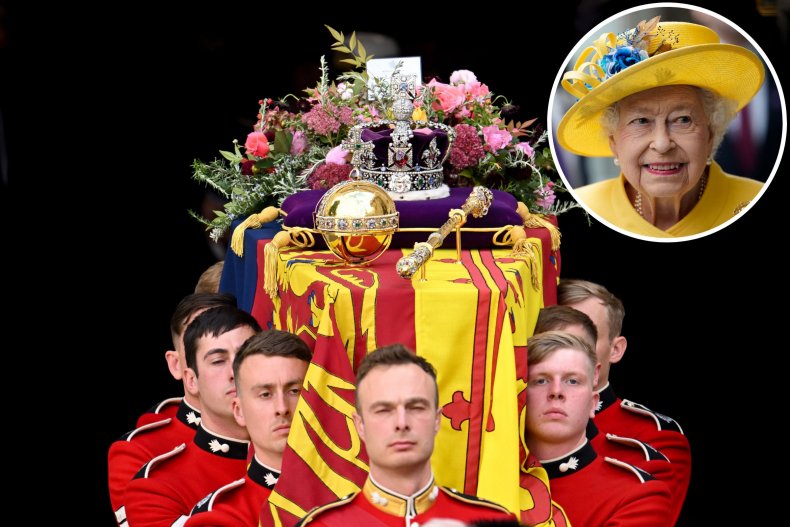 "National Records of Scotland has today published an extract from Her Majesty The Queen's entry in the Register of Deaths. An official extract of an entry in the Register of Deaths can also be referred to as a death certificate."
The document was also signed by Princess Anne, the Princess Royal, who is listed as Elizabeth's daughter and the "informant" of the queen's death.
The time death is potentially significant as it shows how little time there was between the first palace announcement expressing the concerns of doctors and her passing.
The world first learned that she had been placed under medical supervision at 12.30 p.m. on Thursday, September 8, and she died less than three hours later.
That statement read: "Following further evaluation this morning, The Queen's doctors are concerned for Her Majesty's health and have recommended she remain under medical supervision. The Queen remains comfortable and at Balmoral."
Princess Anne was the first to be by her side and Prince Charles also arrived in time to say goodbye, as he had been based nearby at Dumfries House, in Scotland.
However, other royal family members, including Prince William, Prince Andrew, Prince Edward and Sophie, Countess of Wessex, scrambled up from the south of England too late to see her before she died.
Prince Harry was left to arrange his own travel and did not touch down at Aberdeen Airport until minutes after the official Buckingham Palace announcement confirming Elizabeth's death.
At 6.30pm, a Buckingham Palace announcement read: "The Queen died peacefully at Balmoral this afternoon.
"The King and The Queen Consort will remain at Balmoral this evening and will return to London tomorrow."
There was also rumblings in the media as news of the queen's passing began to leak out, including through political correspondents.
Westminster blog Guido Fawkes accidentally published news of her death at 3.06 p.m., meaning they either heard almost immediately or were told inaccurate information even as the queen did in fact pass away.
Its editor Paul Staines previously told Press Gazette: "We had prepared a post and we knew from sources Her Majesty had passed.
"It was put out in error early. We deleted it within seconds and intended to wait for the official announcement. Which we did. We weren't looking for a scoop."