Queen Elizabeth II Describes Getting COVID Vaccine: 'It Didn't Hurt at All'
Queen Elizabeth II has described getting the coronavirus vaccine, saying—"It didn't hurt at all."
The monarch, 94, described her experience during a video call with four health officials charged with rolling out the vaccine across Britain.
Elizabeth and husband Prince Philip, 99, were given the jab in January, Buckingham Palace confirmed, though it is not known whether they have had a follow-up second dose.
The Duke of Edinburgh has spent his tenth day in hospital fighting an infection, which palace staff say has been responding to treatment.
Dr. Emily Lawson, who leads the COVID-19 Vaccine Programme in England, told the monarch she hoped to see everyone who gets offered the jab take it in the coming months.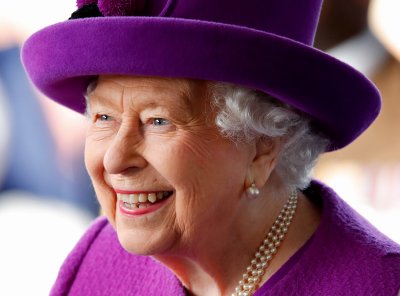 The Queen said: "It was very quick, and I've had lots of letters from people who have been very surprised by how easy it was to get the vaccine. And the jab—it didn't hurt at all."
More than 18 million people across the U.K. have now had a first dose of the vaccine, thanks to the roll out in each of the four home nations, England, Scotland, Wales and Northern Ireland.
Prince Edward yesterday revealed his father has been doing better in hospital, though is becoming a little frustrated.
He told Sky News: "As far as I'm aware, well I did speak to him the other day, so he's a lot better thank you very much indeed, and he's looking forward to getting out, which is the most positive thing.
"So we keep our fingers crossed."
Asked if Philip was frustrated, Edward added: "Just a bit! I think that gets to all of us, and then, you can only watch the clock so many times and the walls are only so interesting."
The duke was admitted to King Edward VII's Hospital in London by private car last Tuesday evening and was well enough to walk in unaided.
Palace officials quickly ruled out coronavirus and downplayed the seriousness of the illness, saying his hospital stay was a precaution.
A Buckingham Palace spokesperson this week said: "The Duke of Edinburgh remains at King Edward VII's Hospital where he is receiving medical attention for an infection.
"He is comfortable and responding to treatment but is not expected to leave hospital for several days."
On the call with Queen Elizabeth were: Dr. Lawson, Derek Grieve, head of the Scottish Government's Vaccinations Division, Dr. Naresh Chada, deputy chief medical officer for Northern Ireland, and Dr. Gillian Richardson, deputy chief medical officer for Wales.