Queen Elizabeth II's former lord in waiting has died aged 79, just two months after his wife passed away.
Lord Samuel Vestey was also the monarch's master of the horse from 1999 until 2018 and a close friend who was seen with her at horse racing events.
His wife Lady Celia Vestey died aged 71 in November and was also a close friend of the Queen, as well as being Prince Harry's godmother.
The Duke of Sussex reached out to the family at the time of her death.
The couple were close friends of Prince Charles and Princess Diana.
Lord Vestey was a previous chairman of Cheltenham racecourse, as well as being one of Britain's richest men.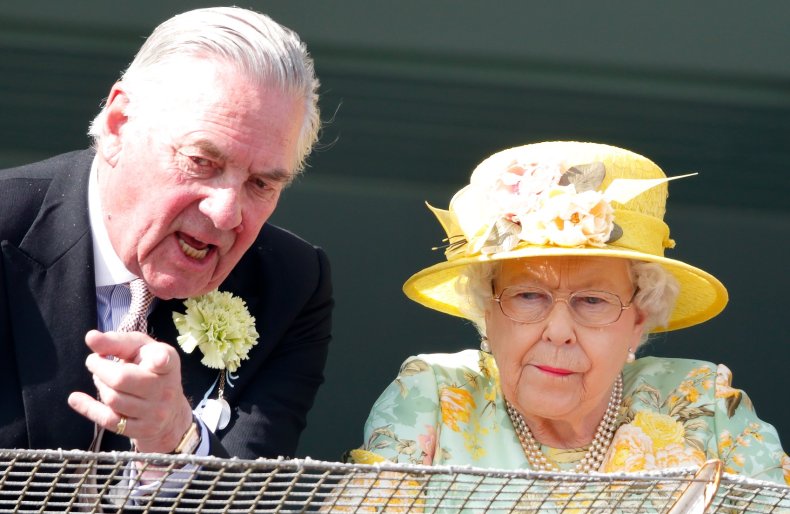 Ian Renton, regional managing director for Jockey Club Racecourses, which runs Cheltenham, told Newsweek: "We are very saddened to hear of the passing of friend and former Cheltenham Chairman, Lord Vestey.
"He was a true gentleman and genuinely lovely man who did so much for our sport, and played a huge role in creating the Cheltenham Racecourse that we know today.
"He will be sorely missed by us all at The Jockey Club and our thoughts go out to his family and friends."
Lady Vestey was a guest at Prince Harry's wedding to Meghan Markle at Windsor Castle, on May 19, 2018, and also Prince William and Kate Middleton's ceremony in 2011.
Samuel and Celia's son William was a page of honor for the Queen from age 12 to 15, the Daily Mail reported.
At the time of Celia's death, Prince Harry reached out to the family to offer his sympathies.
A source told Newsweek in December: "The Duke has been in touch with her children and his thoughts are with her family."
A death notice published in the Daily Telegraph at the time read: "Celia Elizabeth SRN BA. Died suddenly, but peacefully, on Saturday 28th November, aged 71 years.
"Adored wife of Sam. Much loved mother of William, Arthur and Mary and loving Granny of Ella, Frankie, Sam and Cosima.
"Private family funeral. Memorial service later.
"Family flowers only please, but donations gratefully received in Celia's memory to Ebony Horse Club."
In 2009, Lord Vestey was made Knight Commander of the Royal Victorian Order and was promoted to Knight Grand Cross by the Queen in 2018.
The Vestey family is worth approximately £1.2 billion ($1.64 billion), with Lord Vestey owning around £750 million of that.