Queen Elizabeth II's Granddaughter Zara Tindall Gives Birth 'on Bathroom Floor'
Zara Tindall—Queen Elizabeth II's granddaughter—gave birth to a baby boy on her bathroom floor, her rugby star husband confirmed.
The queen's "very bonny" tenth great-grandchild arrived at 6 p.m. GMT on Sunday night, weighing 8lb 4oz.
The couple are naming their third child Lucas Philip Tindall and Buckingham Palace said Queen Elizabeth II and Prince Philip are delighted, the BBC reported.
Princess Eugenie gave birth to a baby boy in February while Meghan Markle is currently pregnant with a baby girl and due in summer.
Proud father Mike Tindall revealed the birth was so fast the couple did not make it to the hospital and the newborn was delivered on their bathroom floor.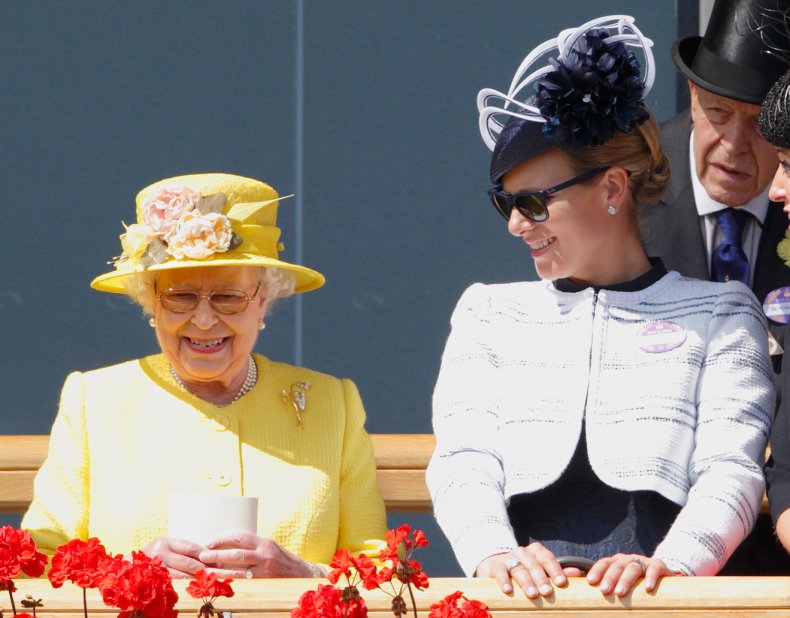 He announced the news on his The Good, The Bad and The Rugby podcast: "Sunday got even better because a little baby boy arrived at my house! Yeah brilliant, six o'clock last night.
"We haven't got a name yet, we're still working on it, we always struggle with that, we've never picked one before they arrived.
"8lb 4oz, very bonny. Arrived very quickly, didn't make it to hospital, on the bathroom floor!
"Fortunately Zara's friend Dolly is, she's actually more important than I am at making sure she's been at all three of my children's births, she was there and recognized that we wouldn't have got to the hospital in time, so it was run into the gym, get a mat, get into the bathroom, towels down, brace brace brace!
"Fortunately the midwife that was going to meet us at the hospital wasn't that far away so she drove up, got there just as we'd assumed the position, and then the second midwife arrived just after the head had arrived!"
Mike Tindall, a former England rugby player, announced their pregnancy news through the podcast in December.
At the time, he revealed he was hoping for a boy after their first two children were both girls.
In December, he told the podcast: "Z [Zara] is very good, always careful because of things that have happened in the past and, yeah, really looking forward to it.
"I'd like a boy this time, I've got two girls. I would like a boy but I will love it whatever, whether a boy or a girl, but please be a boy."
That same day, a Buckingham Palace statement said: "Her Majesty the Queen and the Duke of Edinburgh are aware and delighted."
The happy news comes after they have had two miscarriages in the past, explaining why the couple were careful.
Princess Eugenie's son was born on February 9 weighing 8lbs 1oz and both mum and baby were said at the time by the palace to be doing well.