Has Queen Elizabeth II Ever Been Political Like Meghan Markle and Prince Harry?
Meghan Markle and Prince Harry have been criticized for talking about the U.S. elections but supporters claim Queen Elizabeth II has discussed politics too.
The Duke and Duchess of Sussex caused controversy by appearing to come out against President Donald Trump in November's upcoming U.S. election.
Trump last week responded by telling a White House press conference he is "not a fan" of Meghan and wishing Harry luck because "he's gonna need it."
Meanwhile, commentators in Britain have called for Harry to be removed from the line of succession and for the couple to have their titles revoked to protect Queen Elizabeth II's fiercely guarded political neutrality.
However, supporters of the couple claim they are not the first royals to speak out about an election and say the monarch herself has done so in the past.
"We all know what's at stake this year."
Meghan's comments on the upcoming election started with her June Black Lives Matter speech for students of her former high school, Immaculate Heart High School, in Los Angeles.
In a graduation message, she said: "You are going to use your voice in a stronger way than you've ever been able to because most of you are 18, or are going to turn 18, so you're going to vote."
While Elizabeth's former spokesman Dickie Arbiter told Newsweek backing Black Lives Matter would have been impossible within the royal family, her comments were not condemned.
Meghan also talked voting with 19th News in August, saying: "My husband, for example.
"He's never been able to vote, and I think it's such an interesting thing to say that the right to vote is not a privilege, it's a right in and of itself."
Again, she was not criticized and no one called for the couple to be stripped of their titles.
The controversy began after a speech Meghan recorded for Michelle Obama's voter registration drive When We All Vote.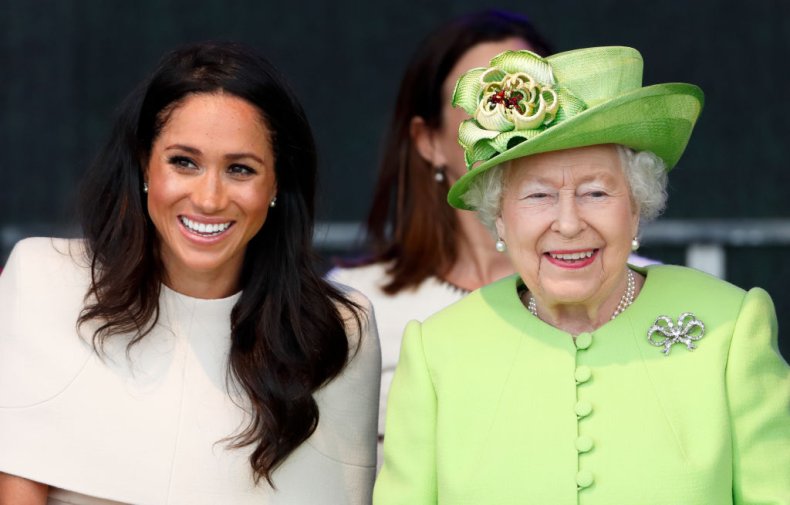 Her comments were interpreted as partisan in favor of Joe Biden because she called for "the change we all need and deserve."
She said "we all know what's at stake this year" as she called out attempts at voter suppression and said she was "happy to be here for my friend Michelle Obama's When We All Vote."
Prince Harry also triggered criticism when he added his voice last week in a video for Time magazine.
He said: "As we approach this November, it's vital that we reject hate speech, misinformation and online negativity."
The Queen and Brexit
Elizabeth was plunged into a highly politically charged debate about Brexit in March 2016 even as the British people prepared to go to the ballot box that June.
U.K. tabloid The Sun ran a front page headline reading "The Queen Backs Brexit" alongside quotes from a source saying the monarch had criticized the E.U. at two private functions.
The newspaper reported she had said "the EU was heading in the wrong direction" during a lunch at Windsor Castle for members of the privy council, which advises her, in 2011.
It was also claimed she told MPs "with quite some venom and emotion" about how she "did not understand Europe" during a Buckingham Palace reception several years before the vote.
However, Buckingham Palace complained to U.K. press watchdog the Independent Press Standards Organization (IPSO), who ruled against the newspaper.
The regulator said the claims about the queen's private comments, made before the referendum had been called, could not be taken as an indication of how she would want the public to vote.
In its ruling, IPSO said: "The headline contained a serious and unsupported allegation that the Queen had fundamentally breached her constitutional obligations in the context of a vitally important national debate.
"Furthermore, it did not follow from the comments the article reported that the Queen wanted the U.K. to leave the EU as a result of the referendum: that suggestion was conjecture and the Committee noted that none of those quoted in the story were reported as making such a claim."
Welsh Voter Turnout
The queen urged Welsh people to use their right to vote when turnout for the Welsh Assembly elections was low.
Elizabeth said: "It is vital to the health both of the United Kingdom and of Wales that our democratic institutions flourish and adapt.
"I share your concerns that we must encourage all our people to exercise their right to vote. This is a real challenge now before us all."
However, there were no claims at the time that she had backed any particular side or party in the vote and she was not criticized.
The Scottish Referendum
The queen made a rare intervention in British politics during a referendum on whether Scotland should leave the United Kingdom and become an independent country in 2014.
Elizabeth spoke off camera to a well wisher at Crathie Kirk, a church near her Balmoral Estate, in Scotland.
Asked about the referendum, she said: "Well, I hope people will think very carefully about the future."
Her words came shortly after a Buckingham Palace statement, reported by the BBC, said: "The sovereign's constitutional impartiality is an established principle of our democracy and one which the Queen has demonstrated throughout her reign.
"As such, the monarch is above politics and those in political office have a duty to ensure this remains the case.
"Any suggestion that the Queen would wish to influence the outcome of the current referendum campaign is categorically wrong.
"Her Majesty is simply of the view this is a matter for the people of Scotland."
However, David Cameron, U.K. Prime Minister at the time, told the BBC last year how he had lobbied for an intervention from Elizabeth.
He said: "I remember conversations I had with my private secretary and he had with the Queen's private secretary and I had with the Queen's private secretary, not asking for anything that would be in any way improper or unconstitutional, but just a raising of the eyebrow.
"Even, you know, a quarter of an inch, we thought would make a difference."