Queen Elizabeth II's positive test for COVID-19 has raised questions over procedures at Windsor Castle.
The 95-year-old monarch has mild, cold-like symptoms and is continuing light duties, Buckingham Palace confirmed on Sunday.
The news came 10 days after Prince Charles tested positive and after his wife Camilla, Duchess of Cornwall, also got the virus on February 14.
There has also been an outbreak among staff at Windsor Castle, which has been the Queen's primary residence since the start of the pandemic.
Royal author Omid Scobie, who wrote Meghan Markle and Prince Harry biography Finding Freedom, said on Twitter: "Can't help but feel that relaxing the Covid-safe bubble around the Queen has led to today's news.
"It's understandable HMTQ [Her Majesty The Queen] would want to keep an active schedule of duties, but those around her should have done everything possible to protect a vulnerable 95-year-old at all costs."
The Queen moved from Buckingham Palace to Windsor Castle in the early weeks of the pandemic and lived within a strict royal bubble made up of a few close aides and staff.
The tight procedures required employees of the Royal Household assisting the Queen, and Prince Philip when he was alive, to isolate prior to beginning shifts at the castle where they would then remain away from friends and family until rotation.
However, as the vaccine led to greater confidence in Britain the royals returned to a more normal way of working.
Elizabeth was set to visit Northern Ireland in October and attend the COP26 climate change conference in person in November until an unrelated health scare caused her to cancel.
She did attend events around the G7 summit in June 2021 and met Joe Biden at Windsor during the president's visit to Britain that month.
The queen had a meeting in person as recently as Wednesday, February 16, when she told two military chiefs: "Well, as you can see, I can't move."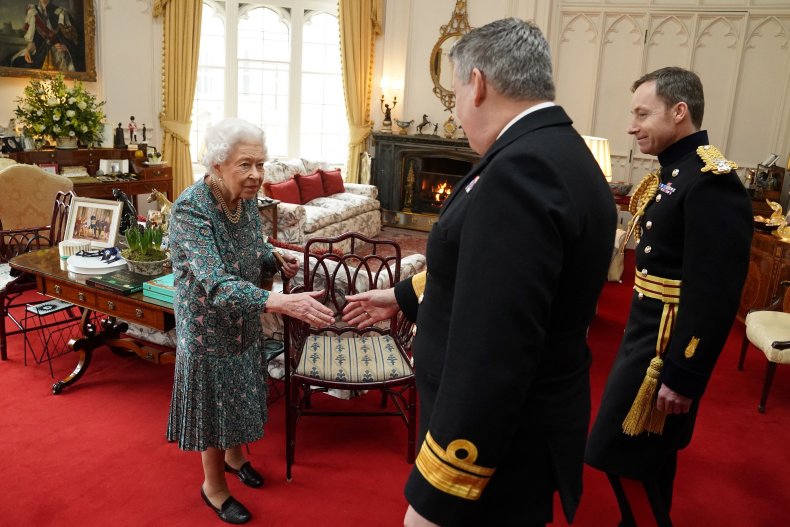 The fact she has now contracted the virus will be a blow to the palace but the message so far is that she is only mildly affected and the royals are no stranger to the virus.
Elizabeth joins Camilla, Charles and Prince William among publicly confirmed cases, meaning three generations of present and future monarchs have all now been infected.
Professor Paul Hunter, an expert in infectious disease at the University of East Anglia, told The Guardian there would be concerns her health could deteriorate even though she is vaccinated.
He said: "You would, I think, almost certainly be considering giving antiviral drugs, of which there are a number around at the moment."
Martin Scurr, a family doctor, writing in The Daily Mail, said: "The Palace has confirmed Her Majesty is triple-vaccinated.
"Yet it is also true that vaccines are less effective in the elderly, who have weaker immune systems.
"All this is some cause for concern, and if I were the Queen's GP, I would be listening to her chest twice a day to ensure she was not developing pneumonia."
Well wishes for the monarch have come from across British society with Prime Minister Boris Johnson urging a "swift recovery."
And also from the world of showbiz, where Nicki Minaj wrote on Twitter: "God save THE QUEEN.
"Sending my love & respect to The Queen & her palace. Wishing you a speedy recovery."