Queen Elizabeth II Remembered by Paul McCartney in Emotional Message
Sir Paul McCartney shared a heartfelt tribute to Queen Elizabeth II on Friday that recalled his various meetings with the late monarch, dating back to early in his career as a member of the Beatles.
The music legend shared his remembrance of the queen on his official website, as well as on his Twitter and Facebook accounts. He called the queen's passing on Thursday at age 96 a "sad occasion," which resulted in memories "flooding back" into his mind of the times they met in person.
"I feel privileged to have been alive during the whole of Queen Elizabeth II's reign," the two-time member of the Rock & Roll Hall of Fame wrote. He went on to detail the "eight or nine times" he was physically in her presence, saying "each time she impressed me with her great sense of humour combined with great dignity."
Before their first encounter, McCartney was already a fan of the Royal Family, he said, and had even won a contest when he was 10 years old for an essay he wrote about the British monarchy. He also recalled watching the queen's coronation on a "glorious black and white" television set in 1953.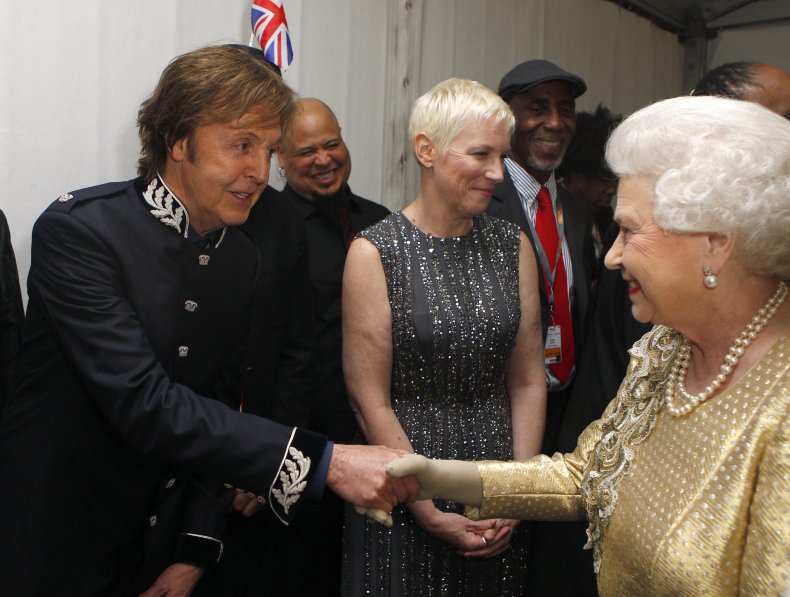 McCartney's first actual meeting with Queen Elizabeth II came on October 26, 1965, when the Beatles were honored when they received their Most Excellent Order of the British Empire (MBE) awards.
"I remember us being taken aside and shown what the correct protocol was," he wrote. "We were told how to approach Her Majesty and not to talk to her unless she talks to us. For four Liverpool lads, it was, 'Wow, hey man.'"
"The next time we met was some years later at the Royal Albert Hall on 13th December 1982. It was at an event Linda [McCartney] and I attended called An Evening for Conservation," McCartney wrote. "Part of the evening included some orchestral re-workings of some Beatles songs and I remember chatting with Her Majesty about them. She also re-introduced me to Prince Philip who said he remembered our previous meeting in the sixties!"
The third meeting between the two occurred more than a decade later in 1996 when the queen opened the Liverpool Institute for Performing Arts in McCartney's hometown. His fellow Beatle, George Harrison, was also present for the ceremony, where Queen Elizabeth II had once given a donation.
McCartney continued, "Just one year later and our next encounter was a very proud day for me. It was one of the best days ever. I felt very honoured to be offered a Knighthood and of course it would have been rude to turn it down! I remember it was in the springtime and the skies were blue. It was a wonderful day and I remember thinking I'd come a long way from a little terrace house in Liverpool!"
In 2002, Queen Elizabeth II celebrated 50 years since her accession to the throne with her Golden Jubilee. McCartney played the event, along with fellow rock royalty Tom Jones, Rod Stewart, and Eric Clapton. He said the show was a chance to "rock out in her garden."
McCartney's memory of the Golden Jubilee also provided a glimpse of the humor so many people who have been present around the queen have recalled.
He said, "As Her Majesty was on stage receiving applause at the end of the show I joked, 'Well I suppose this will be happening next year then?' to which she replied, 'Not in my garden it won't!'"
Their following encounters included her visiting his painting exhibition at a Liverpool gallery in 2002, both of them attending the Celebration of the Arts at the Royal Academy of Arts a decade later and her Diamond Jubilee in 2012. The latter commemoration, he said, made for "a great weekend to be British."
The final meeting between the two came in 2018 when Sir Paul was awarded the Companion of Honour medal. He recalled that when they shook hands, he "leaned in and said, 'We have got to stop meeting like this,' to which she giggled slightly and got on with the ceremony."
He added, "I did wonder if I was a bit too cheeky after saying this, after all this was The Queen, but I have a feeling she didn't mind."
McCartney's tribute, which contained several photos of him with Queen Elizabeth II, ended with a simple: "God bless you. You will be missed."
Newsweek reached out to McCartney for further comment.