Queen Elizabeth II Statue Toppled by Anti-Colonialism Protesters
Protestors have toppled statues of Queen Elizabeth II and Queen Victoria in Canada amid increasing anger over the discovery of unmarked graves of Indigenous children.
Outrage at the discovery came to a head on the country's national day on Thursday when a group gathered in Winnipeg, Manitoba to protest against the country's treatment of Indigenous people and its colonial past.
Demonstrations are taking place after numerous unmarked graves containing the remains of what is believed to be thousands of Indigenous children were found at sites of former residential schools.
An estimated 150,000 Indigenous children were forced into these residential schools, where thousands suffered various forms of abuse.
They opened during the reign of Queen Victoria. The last residential school closed in the 1990s.
A protest took place around the statue of Queen Victoria in at the Manitoba Legislature on Thursday where demonstrators chanted "no pride in genocide" before covering the statue in red paint and pulling it down off its plinth, according to various reports.
The protestors left a sign that read "We were children once. Bring them home."
Afterward, a smaller statue of the current monarch Queen Elizabeth II was also toppled.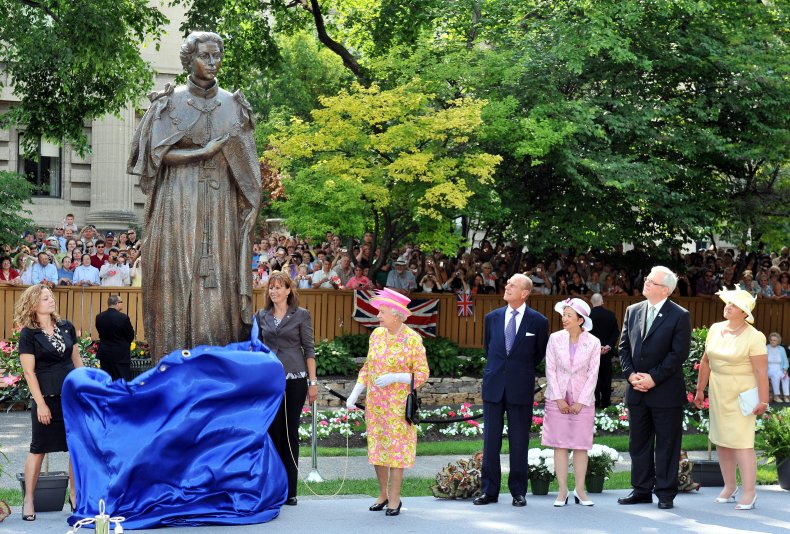 This week saw Canadian indigenous group, the Lower Kootenay Band, confirm the discovery of 182 human remains in unmarked graves near a former residential school, marking the latest in a number of similar discoveries that have rocked the country.
The anger at the grave discoveries led to calls for Canada Day to be canceled this year.
"We will not celebrate stolen Indigenous land and stolen indigenous lives. Instead, we will gather to honor all of the lives lost to the Canadian state," the group Idle No More said in a statement.
Prime Minister Justin Trudeau acknowledged the calls for the national day to be boycotted and released a statement this week.
"The horrific findings of the remains of hundreds of children at the sites of former residential schools in British Columbia and Saskatchewan have rightly pressed us to reflect on our country's historic failures, and the injustices that still exist for Indigenous peoples and many others in Canada," Trudeau said in a statement. "We as Canadians must be honest with ourselves about our past."
In June, a statue of Egerton Ryerson—who is considered the architect of the residential school system in Canada—was toppled in Toronto.
Statues that represent symbols of colonialism and slavery have been frequently targeted during protests over the past year with several sculptures of Confederate leaders and slave owners in the U.S. torn down and vandalized during the Black Lives Matter protests following the death of George Floyd.
Update 7/02/21 8:30 a.m. ET: This article was updated with additional information.