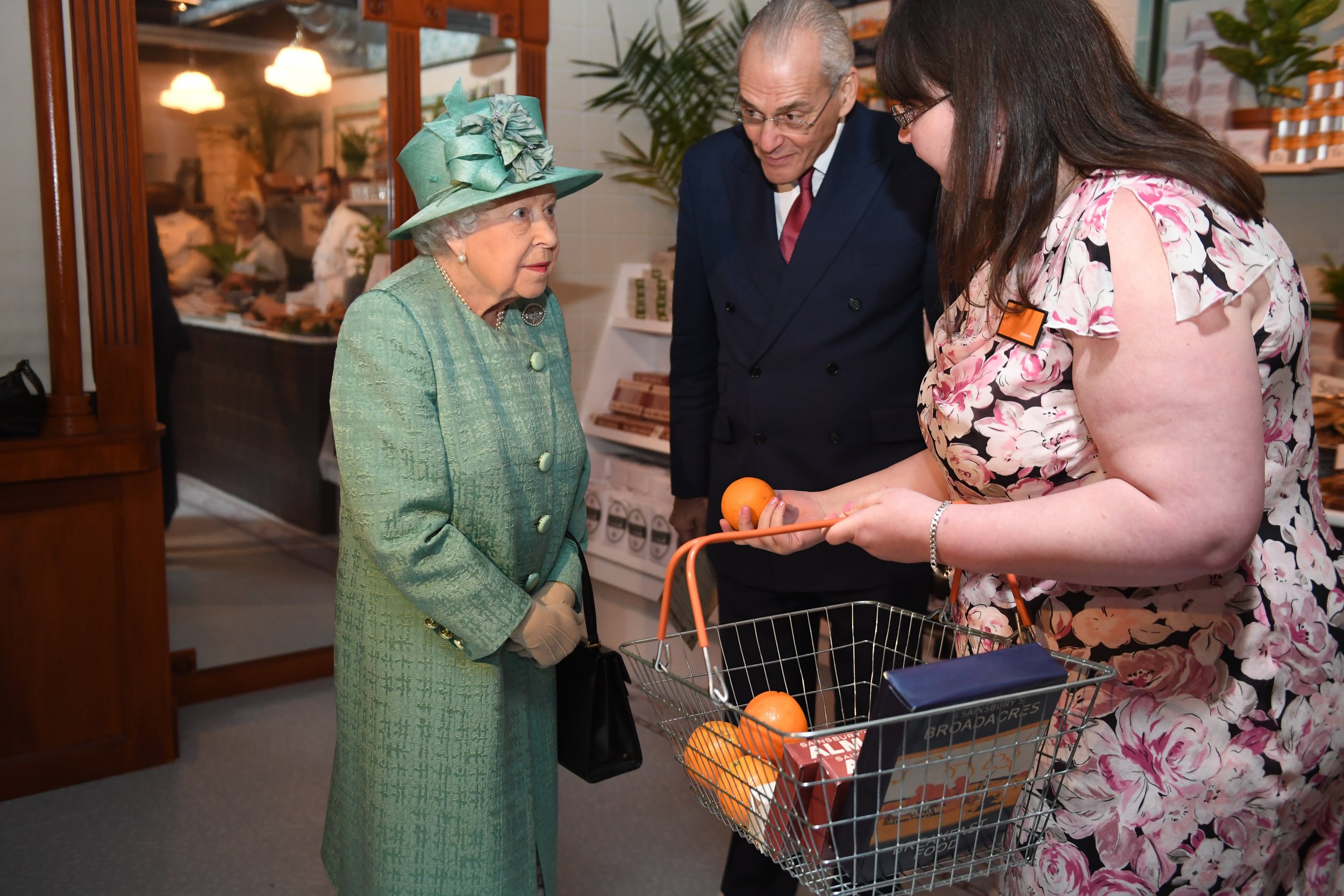 Queen Elizabeth II has recounted her experiences of rationing after World War II on Wednesday, during a trip to a replica supermarket in London's Covent Garden.
She also used a self-checkout till for the first time and inspected a supermarket shopping app during the visit to the mock-up store, built to commemorate the 150th anniversary of British supermarket chain Sainsbury's.
The mini-museum contained other items from the store's history, including a typical ration book issued during World War II. As The Telegraph notes, the Queen recalled owning a similar book herself. "It was very small," she said, as she discussed the era with Lord Sainsbury of Preston Candover and his wife Lady Anya.
Lord Sainsbury, 91, is president of the supermarket chain. He is also the great-grandson of its founders, John James Sainsbury and Mary Ann Staples, who set up the company's first ever store at 173 Drury Lane, London, in 1869.
Ration books were used to help distribute the U.K.'s limited food supply during World War II and into the 1950s. The small books contained coupons customers could exchange for certain goods at grocery stores.
"As a Sunday treat we had some sweeties. But we were lucky we had a farm," the Queen said Wednesday, referring to a farm at the royal family's estate in Windsor, which would have provided crucial ingredients like eggs, milk and butter.
Darren McGrady, a former royal chef, told The Telegraph in 2012 the Queen was still concerned by food waste. He called her "very thrifty," and recalled the time she sent a lemon, used as a garnish, back to the kitchen so it could be used in another meal. She often gave leftover scones, McGrady added, to her dogs.
On Wednesday, the Queen inspected a mock supermarket basket from 1953 containing an empty jar of bloater paste—a typical spread of the time made from salted herring. "Ghastly," she said.
A modern shopping basket, containing prepared curries and sachets of instant oatmeal, also caught the Queen's eye. "Porridge? Tastes have changed," she said.
Back in 2016, the monarch visited another supermarket—a Waitrose in Poundbury in Dorset, near the south coast of England. Accompanied by Prince Charles and Camilla, Duchess of Cornwall, she received a gift hamper including dog treats, beer, whisky, wine and other goods, The Express noted at the time.
After visiting the supermarket, the royal trio opened a new pub in the town, where Camilla poured a round of a limited edition beer called "The Duchess." "God bless her and all who drink in her," the prince's wife said of the establishment.