Queen Elizabeth II Was 'Honored' That Donald Trump's Mother Was Huge Fan: 'My Mother Would Have Been Very Proud'
President Donald Trump said Queen Elizabeth II was "honored" to hear his mother had been a big supporter of the British royals. His mother would have been very pleased to see him attend Monday's state banquet with the Queen, he added.
The commander-in-chief made the comments during an interview with polarizing television personality Piers Morgan on ITV's Good Morning Britain.
Trump told Morgan his "mother would have been very proud," because she was a "tremendous fan of this country." The president went on to described his mother's move from Stornoway, Scotland to New York City as a young woman, adding that she "loved Scotland."
"She loved the royals, she loved the Queen. I always noticed whenever anything was on about the Queen she would watch. She was a big fan," he added
Morgan asked if Trump had told the monarch of his mother's admiration.
He responded: "I told her... She was very honored." Adding that his mother had a great deal of respect for people, and an ability to understand them, he said: "She got it right from the beginning. The Queen is a great lady and my mother knew that."
The president spent much of the first of his three-day state visit to the U.K with the British royal family. The pair greeted each other with an unusual handshake at Buckingham Palace Monday morning, before taking a private lunch with members of both of their families.
After lunch, the monarch gave Trump a tour of her family's art collection, ahead of a lavish state banquet Monday evening.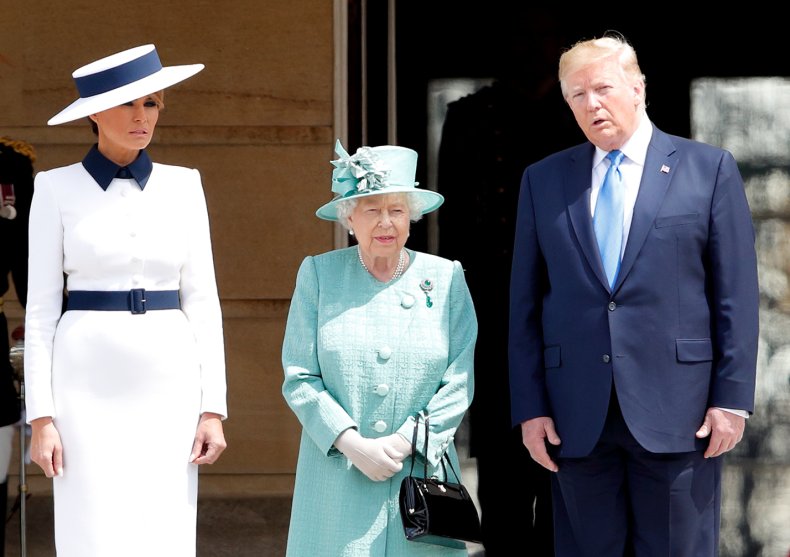 Although the events appeared to go smoothly, many had speculated the royal engagements would be clouded by Trump's recent comments about Meghan, Duchess of Sussex.
Trump described the princess as "nasty" in an interview with The Sun published Saturday. The former actress called Trump "divisive" and "misogynistic" back in 2016.
Some outlets suggested her husband, Prince Harry, deliberately avoided the president Monday. But Trump told Morgan Harry was a "terrific guy" who "couldn't have been nicer."
Trump also received flak for his vocal criticisms of British politicians Sadiq Khan and Jeremy Corbyn, Mayor of London and Leader of the Labour party, respectively. Trump used his first tweet from the U.K. to call Khan a "stone cold loser," before describing Corbyn as a "negative force" during a press conference Tuesday.
Tens of thousands of demonstrators—including a giant, inflatable "Trump baby"—took to the streets of London Tuesday to protest against the president and the state visit. But he repeatedly tried to brush the protests off as "fake news."
George W. Bush-era U.S. ambassador Nick Burns called Trump's behavior "embarrassing," and said the president risked damaging U.S.-U.K. relations. "We expect our president, any president, on a ceremonial visit, to represent all Americans with dignity with grace, and the president hasn't done that," Burns told MSNBC.