Queen Elizabeth II's Windsor Castle Residence Gets No-Fly Zone Over Security Fears
Queen Elizabeth II's security has been beefed up with a no-fly zone around Windsor Castle ahead of her Platinum Jubilee next month.
The monarch, 95, has been living full time at Windsor, rather than at Buckingham Palace, since the early weeks of the coronavirus pandemic in spring 2020.
The new restrictions will provide an additional layer of security as Britain prepares to mark Elizabeth's Platinum Jubilee, when she reaches 70 years on the throne on February 6.
The centerpiece of the celebrations will be over a four-day weekend in June when there will be a military procession featuring 1,200 officers and soldiers, a star-studded concert at the palace and a pageant featuring artists, dancers, music and circus performers.
A statement from Thames Valley Police read: "The order restricts the use of airspace up to 2,500ft within a 1.25 nautical mile radius around Windsor Castle and will come into effect from 27 January 2022."
"Any flights within the restricted area will require authorization," it said on Tuesday. "Unless someone has an exemption or prior permission, anyone who breaches the restrictions faces prosecution."
The U.K.'s Civil Aviation Authority's written order read: "The [Transport Secretary Grant Shapps] has decided that it is necessary in the public interest to restrict flying in the vicinity of the Windsor Castle, Berkshire, having regard for the significance of the security considerations associated with this location by reason of it being the residence of a member of the Royal Family."
Planes from Heathrow Airport will be exempt, as will military aircraft, helicopters and the royals themselves. The order states any aircraft operated "by or on behalf of" a member of the royal family is exempt. This extends to aircraft landing at Windsor Great Park at the invitation of the director of royal travel.
The small print means the President Joe Biden would likely still be able to visit by helicopter, just as he did in June 2021, onboard Marine One.
The new order comes just over two weeks after a security threat to Elizabeth's life on Christmas Day, when an intruder attempted to storm Windsor Castle armed with a crossbow. Jaswant Singh Chail, 19, threatened to assassinate the queen in a Snapchat video posted 24 minutes before his arrest.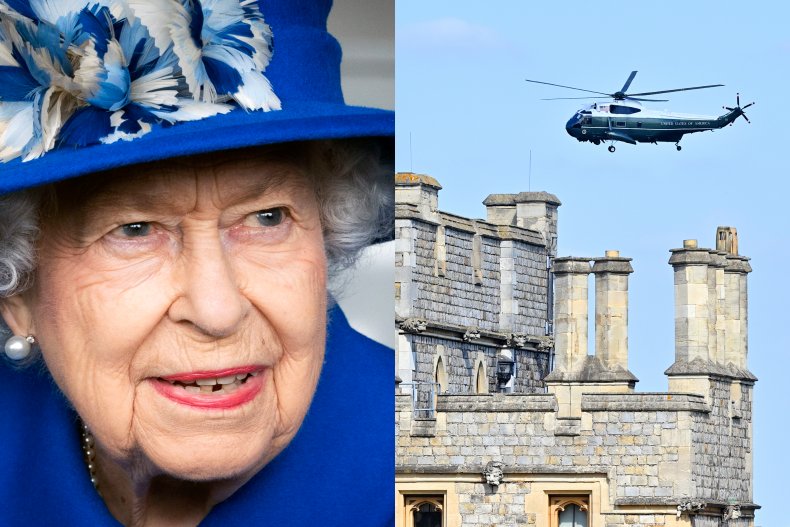 In the footage, published by The Sun, he was seen wielding a crossbow, saying: "I'm sorry. I'm sorry for what I've done and what I will do. I will attempt to assassinate Elizabeth, queen of the royal family."
Jasbir Singh Chail, the would-be assailant's father, told MailOnlinelast month: "Something's gone horribly wrong with our son and we are trying to figure out what.
"We've not had a chance to speak to him but are trying to get him the help he needs. From our perspective, we are going through a difficult time. We are trying to resolve this issue and it's not easy," he said.
The alleged intruder was detained under Britain's Mental Health Act.
A statement by the Metropolitan Police said: "A 19-year-old man from Southampton was arrested on suspicion of breach or trespass of a protected site and possession of an offensive weapon.
"Security processes were triggered within moments of the man entering the grounds and he did not enter any buildings. Following a search of the man, a crossbow was recovered."