Will Queen Elizabeth Give Prince Charles the Throne in 2018?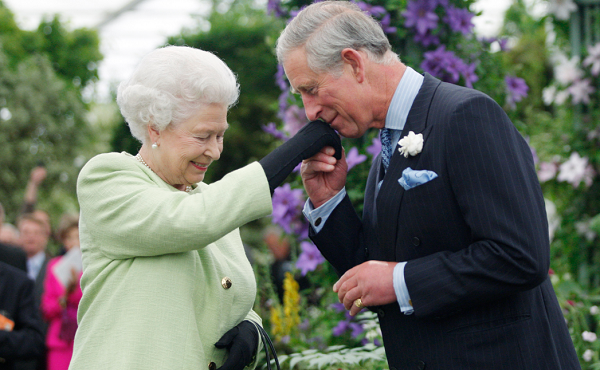 In 2017, Queen Elizabeth II delegated more of her royal responsibilities to Prince Charles than ever before. With her 92nd birthday approaching in 2018, along with Charles's increasing number of royal engagements, there is speculation that Elizabeth may finally name her eldest child King of England.
Although Charles has often appeared at his mother's side during public events, he has increasingly attended more on his own—and particularly since the retirement of his father, 96-year-old Philip, on August 2.
One important milestone for Charles came on November 12, when he attended the annual Remembrance Day ceremony without his mother. The event—which honors those who died in World War I and includes a two-minute silence at 11 a.m.—marks the anniversary of the war in 1918. This year's ceremony took place two days before Charles's 69th birthday.
In her 65-year reign, Elizabeth has rarely missed Remembrance Day, which entails laying a wreath for the fallen soldiers on the Cenotaph military memorial in Central London; she bowed out during two of her pregnancies and for the occasional trip for official business. Her decision to let Charles step in this year was considered highly significant by the British press.
Charles is also expected to represent his mother at the 2018 Commonwealth Games in Australia in April.
As Charles's royal duties have increased, so have those of his son, Prince William, who has recently assumed more roles in the palace. William served as a helicopter pilot with the East Anglian Air Ambulance's search-and-rescue team for two years before announcing his departure in July, a month before Philip made his retirement official.
In her annual Christmas speech on Monday, the Queen stirred up more speculation when she spoke of her husband leaving public life. While she didn't specifically say that she would step down anytime soon, her reference to Philip's decision to "slow down a little" caused British media to question if she too was considering a similar step.
Queen Elizabeth II is enjoying the longest reign in British history, and Charles is the oldest and longest-serving heir apparent; he has been Prince of Wales since 1958. William, Charles's oldest son with the late Princess Diana, is next in line for the throne, and William's son, George, is third.