Queen Elizabeth II's Reaction To Energetic Prince George Goes Viral: 'Run!'
Queen Elizabeth II's reaction to her great-grandson, Prince George's, energetic stirring technique during a festive cooking activity has gone viral after fans shared a video clip to social media platform, TikTok.
Elizabeth, who died at the age of 96 in September 2022, has been the subject of a number viral videos in the months since her death, with her interactions with close family members being a particular interest.
At the time of his birth in 2013 Prince George was the queen's third great-grandchild and was third in the line of succession to the British throne.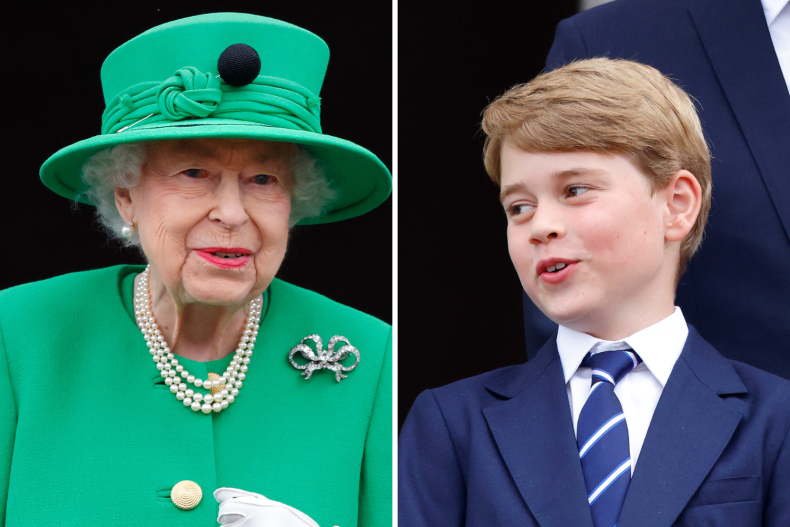 In December 2019, Elizabeth, George, Prince William and the then-Prince Charles came together to take part in a special Christmas Pudding making engagement as part of a larger Royal British Legion "Together at Christmas" campaign, designed to promote support for members of the Armed Forces and veteran communities.
The queen and her three direct heirs stirred their puddings and added traditional silver sixpences before posing for an official portrait that was released to mark the start of a new decade in January 2020.
A behind-the-scenes video clip of the event has gone viral after being uploaded to TikTok by user royalthecrown. It has received more than 480,000 views and in excess of 61,000 likes.
The clip shows George energetically stirring his pudding ingredients as the queen playfully backs away suggesting Charles does the same.
A number of commenters on the viral video have praised the late monarch for her sense of humor and also Charles for his apparent glee in his grandson's over-enthusiastic efforts.
"She was running away 🥰😂," wrote one user in reference to the queen.
"Nah she be running for her life," posted another, with a further adding: "Run!"
One commenter observed: "Charles just loving the whole vibe."
Photographs from the event were initially shared via Prince William and Kate Middleton's official Instagram account on December 21, 2019.
A caption reads:"Four generations of the Royal Family 🎄 together at Christmas. New photos of The Queen, The Prince of Wales, The Duke of Cambridge and Prince George have been released as part of the launch of the @RoyalBritishLegion's 'Together at Christmas' initiative.
"The initiative is designed to provide extra support to the Armed Forces and veteran communities at annual festive 'get togethers' across the charity's network of outreach centres.
"The four generations of the Royal Family are pictured here preparing special Christmas puddings — with the four representing a cross-section of those supported by the Legion, from the children of service personnel, to Second World War veterans.
"The puddings will become the centrepieces of 2020's get togethers, and form part of 99 puddings distributed across the charity's network in the UK and the Commonwealth - also marking The Royal British Legion's 99th year."
Prince George has seen his number of public appearances increase over the last year, visiting sporting events with his parents as well as making his first official visit to Wales with his sister, Princess Charlotte. The prince was also present at the state funeral and committal service for Elizabeth in September 2022.
The prince will celebrate his 10th birthday on July 22.
James Crawford-Smith is Newsweek's royal reporter based in London. You can find him on Twitter at @jrcrawfordsmith and read his stories on Newsweek's The Royals Facebook page.
Do you have a question about King Charles III, William and Kate, Meghan and Harry or their family that you would like our experienced royal correspondents to answer? Email royals@newsweek.com. We'd love to hear from you.