Like Queen Elizabeth, Trump's Zinke Has Department of the Interior Fly Special Flag Just For Him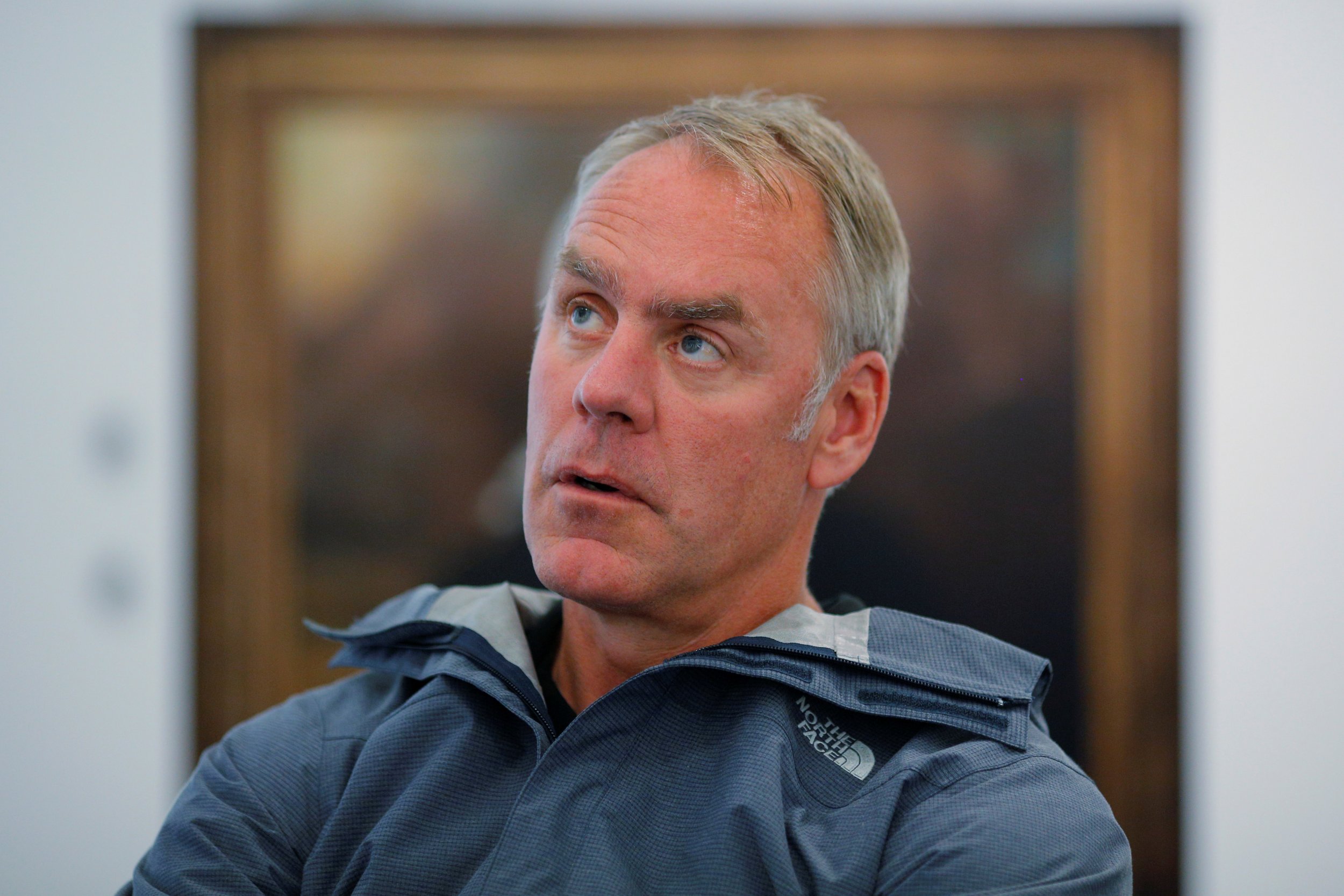 When Queen Elizabeth visits Buckingham Palace a flag is raised to mark her visit—President Donald Trump's Secretary of the Interior Ryan Zinke has been getting similar pomp and circumstance every day when he heads to work.
When Zinke enters the Department of the Interior in Washington, a member of the security staff heads to the roof to raise a special flag, The Washington Post reported Thursday. The flag—depicting a bison—is then lowered when Zinke leaves for the day. It also travels with him when he heads anywhere in the U.S. on official business.
"If we had a secretarial flag at the Obama Labor Department, we never bothered to locate it or use it," Chris Lu, Deputy Secretary of Labor in the Obama administration told The Post. The practice, Lu said, mirrors exactly how Queen Elizabeth is treated. Other Trump Cabinet officials, and even President Donald Trump, have not adopted similar practices.
The Department of Defense does not mark whether Secretary of Defense James Mattis is in the Pentagon. And while the Department of State has a flag for Secretary of State Rex Tillerson, it flies whether he is in the building at Foggy Bottom or not.
Zinke, a former Congressional House representative for Montana and Navy SEAL commander, has come under scrutiny in recent weeks.
On October 2 the department's inspector general launched an investigation into his use of chartered private jets. The investigation began after complaints about a flight Zinke took from Las Vegas to Kalispell, Montana, on a private plane owned by an oil executive. The flight cost American taxpayers $12,000.
Read more: Trump's Interior Secretary Ryan Zinke took flights on private and military aircraft, report says
Before the inspector general launched its probe, Zinke said during a speech at the conservative Heritage Foundation think tank that his flights were signed off by "career employees" in his department's ethics office.
At least five investigations by inspectors general have been launched across the Trump administration probing private and military jet flights taken by senior officials. Secretary of Health and Human Services Tom Price resigned in late September after racking up at least $500,000 in private jet fees.
Trump's acting head of the Office of Government Ethics (OGE), David Apol, warned that he is "deeply concerned" about the behavior of leading administration officials in a memo written October 5.
"Ryan Zinke is proud and honored to lead the Department of the Interior, and is restoring honor and tradition to the department, whether it's flying the flag when he is in garrison or restoring traditional access to public lands," Heather Swift, press secretary for the Department of the Interior told The Post. Newsweek has reached out to the department for comment.
The flag is not the only grand display Zinke has made during his tenure as secretary of the interior. On his first day on the job he rode a horse to work down the streets of Washington.
Like Queen Elizabeth, Trump's Zinke Has Department of the Interior Fly Special Flag Just For Him | U.S.