'Queen Elizabeth's Funeral Brought Back The Pain Of My Mom's Death'
I feel as though I have lost my mother again. They were born the same year, my Canadian mother and Queen Elizabeth II, in 1926.
As a child I used to dig amongst the dusty canning bottles and empty vases on the shelves in the basement behind the desks that sat tucked up against the furnace. The prize for the hunt was the scrapbook that my mother had kept as a girl. No pictures of herself or her family. Instead, the scrapbooks were filled with early pictures from Life magazine of Princess Elizabeth and Princess Margaret. Their dresses, their curly hair, their headbands and bows and dogs. My mother cherished them and dreamt of being a princess. So on September 19, as I sat alone in my room, isolated from my family and workplace with a case of COVID-19, watching the funeral of Queen Elizabeth, I cried again. Not for the British queen, but for mine.
I always felt different growing up in a small town in western New York. I felt more reserved, but not in a snobbish way, just in a way that formed a part of my spine, something so deeply embedded I could not really get rid of it. I think it was because I was raised by people who were raised by people who were raised by Victorians; British people living under the reign of Queen Victoria I. Even that notion feels as though it ties me, in some small way, to the British monarchy.
In fact, it took until I was an adult to realize that I was the child of immigrants. Living in Buffalo, it was nothing to cross the border to Canada, it didn't really feel like a foreign country. Every year my mother would say, "Take my picture, I'm going to get my papers!" She remained a Canadian until she realized she would have to pay a terrible amount of taxes should my father pre-decease her, a foreigner. From that point, she always carried her green card with her, I think partly because it had a gloriously beautiful picture of her from when she first moved to the United States as a young bride, in 1949. She loved flashing that at the border.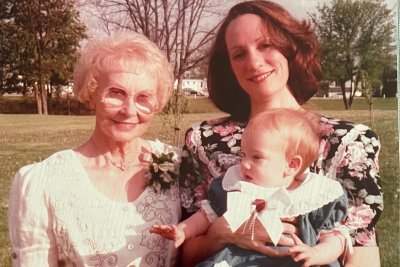 To me, my mother was as beautiful as any queen. Once, in around 1969, she got to go to Florida with my father, a rare chance to leave her ten children and do something that seemed so unthinkable. People did not travel then as they do now, and when you have ten children, you don't travel at all. At. All. My oldest sister, Marion, supervised us when my parents left, and I, at eight years old then, missed my mother so much I faked being sick at school so that Marion had to come take me home. We went to the airport to pick up my parents, and I searched eagerly, nose pressed against the glass, to see my mom. But she wasn't there amongst the people getting off the plane and crossing the tarmac.
Then, with a start I realized that the elegant woman, her hair swept up in an impossibly high style, wearing a shiny black maxi coat, belted, shimmering, this was my mother. I was stunned. She had brought me a gift; a small doll made of brown thread that made you think of coconuts, in a tiered Seminole dress, with a stiff black bonnet and a double string of beads at the neck.
This doll now looks at me from a bookshelf just six feet from where I sat watching Queen Elizabeth's funeral. A gift from my queen. It took me decades to understand what a breath of air that trip must have been for my mom, in the same way it was decades before the words "self" and "care" were ever put together. That trip was time for my mom, for Ruth, to appear as she wanted to, as she deserved to.
Over and over on television, as cameras followed the funeral procession through the streets to Buckingham Palace and on to Windsor Castle, the commentators talked about Queen Elizabeth's devotion to her duty. They quoted one editorial from Japan Times that talked about how through turmoil and change, Queen Elizabeth was "steadfast in her commitment to duty," the mark that has left on a grieving nation, and how: "Amid the many memorials and remembrances, one phrase has been repeated time and time again: "She was the glue that held the nation together.""
Change a few words from that, and it fits my family. Ten children requires a tremendous sense of devotion to duty. Somewhere in the sixties, as love and an alcoholic husband failed her, that was all she had to go on.
It was a deep struggle for most of us, her children, to find our place in the world, and some days it seems we still wrestle our demons of self-doubt and discouragement, even this far into life. It does take a strong glue to hold that kind of family together. My mother did it without servants, without a staff, without designer handbags, without the indulgence of a castle to retire to. She did have the farm, a piece of wooded land about an hour from our house. She could pack a load of baloney and cheese sandwiches, haul us to the farm, throw open the car doors and unleash us on the hills, knowing we would not return until hunger drove us down out of the woods, fields and creeks. That was her Balmoral Castle, I suppose.
My mother did not have a castle, but she held court most often from one end of a large oak table that filled the picture window of our house, with a cup of coffee before her, quietly looking out at the early morning, like a slightly wilted rose. She rarely made pronouncements, or told us what to do. She was just there, through any sorrow that our struggles may have caused her. She was proper; trying to just show us by example what our own duty was.
My mother lived to be 90, and in the week that she lay dying in 2016, we did indeed come together, most of us, like so much of the British public did on September 19. We sang for hours on one of those days, every song we could think of, because she loved it when we sang.
Every song from the early days, songs that had echoed around the front room of our house, filling the place with sound, embedding themselves in the walls and our bones. This was our long walk with her, almost all the way to the end, as we sang her to home. Coming together, before we splintered back apart in grief.
A tribute to the glue that she was in our family, before we laid her to rest. No press, no commentators incessantly reviewing every aspect of her life. Just us, unable to comprehend even then what it must have taken for her to do her duty, but giving what tribute we could. I do wonder what will happen to the British Commonwealth, whether it will stay united. It may not. But everywhere there are women like my mother, who held, or still hold, families together under extraordinary circumstances, who do their best and persevere.
I imagine Queen Elizabeth arriving somewhere beautiful in the beyond, met by my mother who can finally walk arm-in-arm with her to laugh and talk, equals in death as they were not in life, and yet, in so many ways, sisters of the soul.
Laura Franc is a teacher and writer, living in the Boston area, and mother of four.
All views expressed in this article are the author's own.