The latest British royal drama has more plot twists than the juiciest episode of The Crown, the hit Netflix series chronicling the life of Queen Elizabeth II. Only this real-life saga might more aptly be called As the Crown Turns, with a cast of characters and story developments to rival the most compelling soap opera.
There's Andrew, the queen's second son, embroiled in a sex scandal involving underage girls and an accused human trafficker who died in prison—you know, the prince who recently gave an interview on British television trying, and spectacularly failing, to repair his damaged reputation. There's his older brother, Charles, heir to the throne, reportedly wielding his influence behind the scenes to oust his disgraced sibling from royal duties and consolidate power for himself and his sons. Also in the cast: the Duke of Sussex, aka Harry, who has been bickering with his older brother, William. With his American bride, Meghan, Harry has also publicly railed against the emotional hardship of royal life while traveling by private jet and running up big home renovation bills.
Then there's the queen herself, Britain's longest-serving monarch, an aging matriarch whose grasp on the reins of her family appear to be slipping amid questions about how much longer she'll reign after more than 65 years on the throne.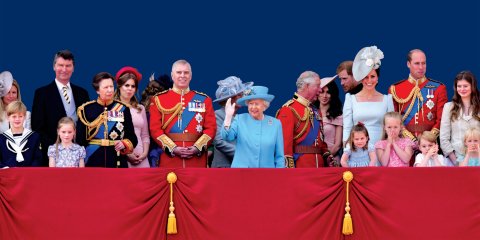 For the royal family and the British people, the coming of a new year and new decade are coinciding with what's shaping up as a new era for the House of Windsor. The mounting tensions within the family and ongoing scandals have raised questions about whether the queen is, in fact, still the head of "the firm," as the royals refer to the family business in private. The big question: Has the time finally come for Prince Charles, at age 71, to stop waiting in the wings and take charge?
"There is a sense that she's lost control within the family, between Andrew's disastrous interview and the ongoing drama with Harry and Meghan," one palace insider told Newsweek. "The queen has been deeply disappointed by their behavior. As future king, it's been up to Charles to put a stop to the chaos."
This is certainly not the first time the question of Elizabeth, who is 93, giving up the throne has come up. Ever since 2017, when her husband, Prince Philip, retired from public life at age 95, there have been rumors that she would step down when she reached the same age. She has already been delegating some high-level decision-making to Charles, scaling back her public appearances and passing on her patronages of various charities to other members of the royal family for several years.
Still, while the role is largely ceremonial, the queen retains a full schedule—she had 238 engagements last year and served as a patron to hundreds of charities: not too shabby for a nonagenarian. And, despite the rumors, it is unlikely she will step down anytime soon. British historian and author Robert Lacey, who serves as a consultant to Netflix's The Crown, told Newsweek, "I don't believe the queen has any wish to retire, nor to appoint anyone who might infringe on her powers, if she can avoid it."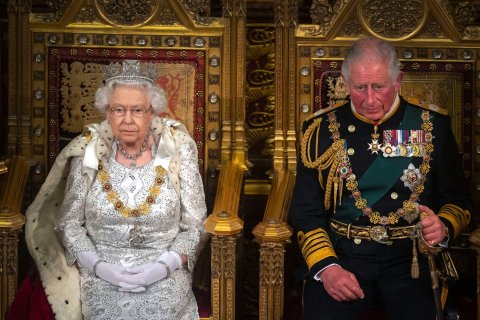 But the controversy swirling around Andrew in particular has renewed speculation about a changing of the guard, giving Charles a more prominent role and seeming to accelerate a shift in power. What does the future hold for the British monarchy? The queen's adherence to a "never complain, never explain" royal code makes it impossible to know her plans with certainty, but her responses to the latest family drama provide some telling clues.
The Royal Fallout
It was clear that swift action was needed in the wake of Andrew's BBC interview, in which he fumbled through an explanation of his relationship with convicted sex offender Jeffrey Epstein, denied having sex with then-17-year-old Virginia Roberts (now Giuffre) at Epstein's London home and expressed no sympathy for Epstein's alleged victims. A YouGov poll taken after the program aired in November found that 51 percent of the British public did not believe his explanations and that another 43 percent weren't sure. Even worse, nearly half felt that the way Andrew responded to the allegations had damaged the monarchy.
It didn't help Andrew's cause within the family that negotiations for the interview went on for over a year, reportedly without consulting the queen's senior advisers. Although Elizabeth gave her permission for the interview, she reportedly wasn't informed that it would focus solely on the prince's ties to Epstein or that it would be filmed at Buckingham Palace. "It gave the appearance that the entire thing had been sanctioned by the queen, but that was not the case," a palace source told Newsweek. "The optics said one thing, but the truth was something else entirely."
It wasn't the first time that Andrew had negotiated his own TV deal. When his youngest daughter, Eugenie, got married in 2018, the same year as Harry and Meghan, the prince reportedly wanted her wedding to be treated with equal pomp and circumstance. That included having the nuptials televised. When the BBC declined, Andrew arranged for limited coverage by ITV instead. Security for the wedding, which included about 850 guests, cost British taxpayers over £2 million, or roughly $2.5 million.
Maternal feelings for Andrew (who is believed to be the queen's favorite son) did not prevent her from acting decisively after the interview about Epstein aired—reportedly on the recommendation of Charles, with input from his son Prince William. The upshot: Andrew "stepped down" from his official duties (not his decision, insiders say), losing the taxpayer-funded £250,000 (about $325,000) he made as a working royal. His office at Buckingham Palace was shuttered.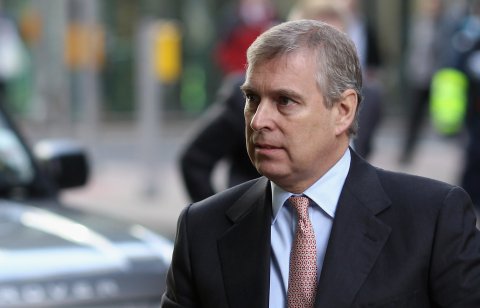 He won't have to worry about making a living, though. According to CNN, most of his income was funded by the queen's Duchy of Lancaster, a private estate of commercial, agricultural and residential properties that last year brought in $28 million.
Likely of greater concern to Andrew: the scandal's impact on Eugenie, 29, and her sister Beatrice, 31. The prince has long felt his daughters, who are "blood princesses," were overlooked within the royal family and has lobbied to get them higher-profile roles. Now, the opposite is likely to happen. Particularly problematic for Eugenie is her role as co-founder of the Anti-Slavery Collective, a charity that works to eradicate—oh, the irony—sex trafficking, as well as slavery, around the globe. As royal biographer Ingrid Seward said recently on Good Morning Britain, "We all feel very sorry for Princesses Beatrice and Eugenie." Beatrice recently became engaged, and her 2020 wedding will likely be a smaller affair than her sister's extravaganza and private—which won't require massive security, making it cheaper for taxpayers.
A Changing of the Guard?
Deciding on the best course of action for his scandal-ridden brother has not been the only topic of discussion for Charles and his parents lately. When he recently met with Prince Philip at the family's estate at Sandringham, father and son were reported to have talked about the queen's "retirement" in the next 18 months. In this scenario, Charles would assume a prince regent role, which would allow him to officially take over family affairs and day-to-day royal business. "This is something Charles has been wanting for some time, but the queen has resisted," explained a royal insider.
"If Charles had been regent in November," explained Lacey, "it would have been his job to check out the interview plans, and he would almost certainly have blocked them."

The appointment of a regent, though, happens only under very specific circumstances—say, when a monarch becomes incapacitated—and is not something the queen is legally empowered to do but instead falls to Parliament. Still, even without a formal transfer of power, there is little doubt that there's been a changing of the guard. Speaking to CTV News, royal expert Richard Berthelsen said the response to the crisis surrounding Andrew "has exposed the reality many of us have been saying for some time, that [Charles], the Prince of Wales, is fundamentally running the family now."
The role that Charles played in effectively ending his brother's royal career has strengthened his public position as chief decision-maker. It also raises questions about his plans for when he officially becomes king. Among his top priorities, experts say, will be to cut the list of working royals to a core group consisting of his wife, Camilla, Duchess of Cornwall, and his sons, William and Harry, and their families.
The streamlining has already begun. "Many of Prince Charles' paring-downs have come to pass, most notably with the disappearance of all the cousins and aunts from the balcony [of Buckingham Palace during official engagements]," said Lacey. "It's difficult to see how the current working family can be pared down any further with [Charles' other siblings] Princess Anne and Prince Edward carrying out a full roster of duties."
Challenges for the Monarchy
But the monarchy's survival, should Charles become king, will take more than removing superfluous relatives from the taxpayers' tab. The British public's enduring admiration for Elizabeth, the most popular royal, has been the most critical factor in the current support for the monarchy—72 percent view her favorably, according to a YouGov poll this summer. Only 48 percent feel the same way about Charles.
She has been considered a fairly inscrutable public figure for much of her reign, yet those closest to the queen say privately she has a good sense of humor and dotes on her grandchildren and great-grandchildren, who call her Gan Gan. She eats cereal out of a Tupperware container every morning and enjoys her cocktails—up to four a day, reportedly, including a gin and Dubonnet on the rocks with a slice of lemon before lunch and a glass of champagne before bed.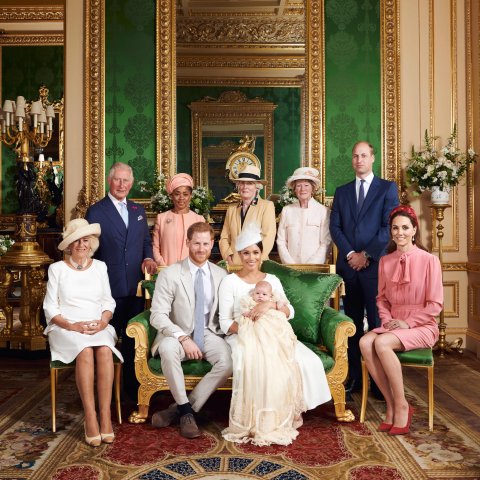 Humanizing details, for sure. But despite the public's affection for the reigning royal, the monarchy as a British institution also represents privilege and inherited wealth at a time of financial uncertainty and jitters over Brexit, and a growing segment of the population believes those things are out of step with the ideals of meritocracy and equality. Should Charles take the crown, he will have to prove the monarchy is still relevant at a time of tremendous upheaval, without the queen's same reservoir of goodwill. Still, his reputation has come a long way from the days when his imploding marriage to Diana played out in the British tabloids' daily headlines.
Charles's sons, William, 37, and Harry, 35, have a critical role to play as well. The once-close siblings are estranged these days, a rift that supposedly started a couple of years ago when William questioned whether Harry was moving too quickly in his relationship with Meghan and if she could adjust to royal life. Harry reportedly considered that attitude "unsupportive." But recent developments suggest that, perhaps, William's concern was not entirely unfounded.
Once viewed favorably as a modernizing and positive force for change, Harry and Meghan now seem to be a lightning rod for controversy, with rising disapproval among the British over the couple's perceived spendthrift ways and their complaints about the fishbowl life of a royal. Renovations on Frogmore Cottage, their 10-bedroom home near Windsor Castle, cost taxpayers about $3 million and included construction of a yoga studio for Meghan, a devotee of the practice.
Meanwhile, in an ITV documentary in October, Harry noted the toll that royal life has taken on his emotional health, revealing that he relives the tragic circumstances of his mother's death every time he is faced with a wall of flashbulbs. "With the role, with the job and pressures that come with that—I get reminded of the bad stuff," he said. Meghan, for her part, decried the family's "stiff upper lip" ethos as "destructive."
The queen has reportedly charged Charles with brokering a peace between the brothers. "The queen knows that both William and Harry represent the modernization of the family which ensures its survival," said an insider. "The estrangement between the brothers has to end because a united front is critical for the future."
While Harry and Meghan have gone off the grid for "much-needed family time" during the holidays, William and his wife, Kate, have taken responsibility for shoring up the family brand with a highly successful tour of Pakistan and a recent joint television appearance on a Christmas special hosted by British television personality Mary Berry. "William and Kate along with their adorable children are the greatest assets the monarchy has right now," another palace insider told Newsweek. "There's no drama, they're both charming, and their children are darling and well behaved. That's what the public wants from the royals—a happy family scenario that makes people feel good about the future."
Perhaps that's why the queen decided it was time for the couple's two oldest children, Prince George, 6, and Princess Charlotte, 4, to make their first public appearance with the family on the traditional and much-photographed walk from the family estate at Sandringham to St. Mary Magdalene Church on Christmas morning this year. "The queen wanted the emphasis to be on the next generation of royals this Christmas and remind people that through it all, the monarchy will survive," the insider said.
Lacey believes it will. "I am quite sure that prince George will become king one day," he said. "The 'de-royaling' of Andrew was a tragedy, but it is a reminder of how the survival of a constitutional monarchy depends on its respect and compliance with the values of the society it seeks to represent."
Diane Clehane, who has been covering royalty for more than 20 years, is a best-selling author of five books including Diana: The Secrets of Her Style and Imagining Diana, a novel that envisions what would have happened if the princess had survived the 1997 crash in Paris.