Queen Wants Prince Andrew Comeback and to See Him at Her Jubilee—Author
Queen Elizabeth II wants Prince Andrew to make a comeback at her Platinum Jubilee, even as a City Council strips him of a key honor, a royal author says.
The disgraced prince lost the Freedom of the City of York on April 27 in a unanimous vote by councilors who called on the Monarch, 96, to also remove his Duke of York title in the wake of the Jeffrey Epstein scandal.
However, Robert Jobson, author of Prince William at 40, said Elizabeth is in fact keen for her favorite son to make a comeback, potentially appearing at Epsom Derby, one of a series of official events for her Platinum Jubilee.
It comes just over a month after he settled with Virginia Giuffre in a New York civil lawsuit in which she accused him of raping her while she was a 17-year-old sex trafficking victim.
He did not admit liability, and has previously denied all the allegations against him.
Jobson told Australian breakfast show Sunrise: "My understanding actually is that the queen privately is hoping that Andrew will be given some role going forward.
"It's going to be a long haul but she has a lot of faith in Andrew. She says that nothing has been proven against him.
"I think a lot of her advisers and even the Prince of Wales are very concerned about this but she's pretty determined that certainly things where she's involved, if she goes to the Derby, that her son will be alongside her.
"I think that you'll find that she's having a bit of a struggle with that at the moment and she's not giving up on him."
Asked whether Andrew would be at the jubilee, he added: "Not if the aides and the courtiers have anything to do with it. But again it's the queen's call. If she's got the family on the balcony I can't see him not being there."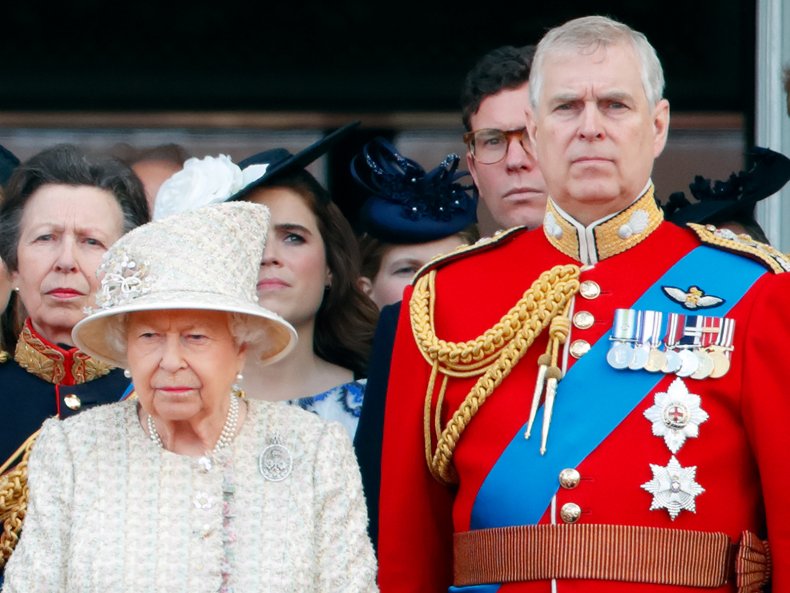 Jobson's views may well be significant as he received a tip-off that Prince Andrew was going to have a role ahead of Prince Philip's memorial, where the duke walked the queen down the aisle at Westminster Abbey live on the BBC in March.
The Epsom Derby, on June 4, will be one of the less formal events making up the Platinum Jubilee weekend, celebrating the 70th anniversary of Elizabeth becoming queen.
Nigel Cawthorne, author of Prince Andrew: Epstein, Maxwell and the Palace, previously told Newsweek he believed the duke would attempt to push his way into the jubilee.
He said: "Andrew is obviously pushing himself to the fore. It seems that Charles and William weren't particularly pleased. It's all in the queen's hands. If she thought it was a good idea this time perhaps she will again.
"He's certainly got thick skin. My feeling is that he will certainly try to make an appearance but whether they can stop him is another matter."
Meanwhile, councilors in York voted almost unanimously in favor of a motion rescinding Andrew's freedom of the city, first given at the time of his wedding to Sarah Ferguson in the 1980s.
The motion was proposed by Darryl Smalley, City of York Council's executive member for culture, leisure and communities.
Quoted by The Guardian, he said: "The Honorary Freedom of York is the highest honour we, as a city, can bestow on those who represent the very best of York. The honour is held by many notable and accomplished people who carry it with pride and responsibly.
"Having been stripped of his military roles and royal patronages by the Queen, we believe that it is right to remove all links that Prince Andrew still has with our great city.
"I was pleased to see councilors of all parties support this motion and make it clear that it is no longer appropriate for Prince Andrew to represent York and its residents.
"The removal of this honorary title sends the right message that we as a city stand with victims of abuse. The next logical step is now for Prince Andrew to do the right thing and relinquish his Duke of York title.
"If he fails to do so, the Government and Buckingham Palace must step in to remove his title to finally end Prince Andrew's connection to York."
For more royal news and commentary check out Newsweek's The Royal Report podcast: