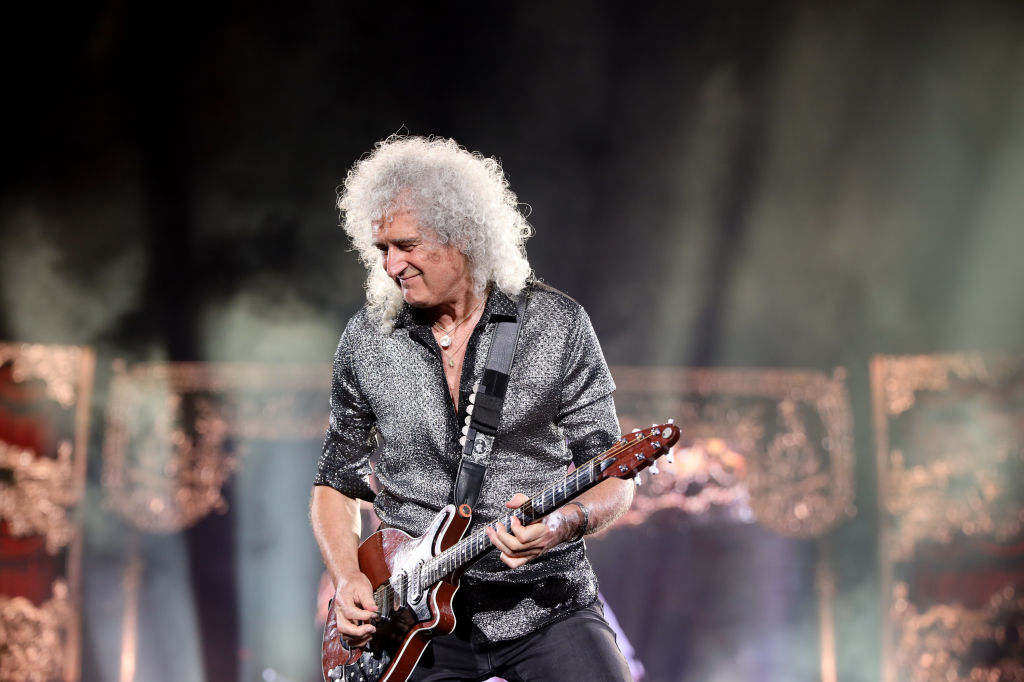 There is a very poignant backstory behind Queen guitarist Brian May's 1991 solo single "Driven by You," which would later appear on his album Back to the Light the following year. Originally written by himself for a Ford automobile commercial, May had considered the band recording his song. Years later, he recalls first playing "Driven by You" to Queen's charismatic and magnetic lead singer Freddie Mercury prior to the latter's death on November 24, 1991, from AIDS-related complications.
"I said to Freddie, 'What do you think?'" May tells Newsweek. "He said, 'I really like it.' And I said, 'Do you think it should be a Queen song? Would you like to sing it?' And he said, 'No darling, you sing it beautifully. I think you should go for it.'
"He looked at me very closely," May continues, "and said, 'I think you're worried about this, aren't you? You're feeling that it's going to be some kind of betrayal because maybe I won't be around much longer. You shouldn't have any of those considerations in mind. Just go for it. The solo career is what you should be doing.' That was a very big help to me because I had been worried [of] showing disrespect to Freddie. It was a very difficult time."
Not only was the British guitarist coping with Mercury's passing at the time, but he was dealing with other personal issues such as the death of his father Harold and the breakup of his first marriage. Those life events informed Back to the Light, May's first full-length solo album from 1992 that further showcased not only his signature guitar playing but also his talents as a singer, songwriter and producer in his own right. Having been out of print for about two decades since its original release, Back to the Light was recently reissued as a deluxe edition with bonus material.
"I had a bit of time during lockdown to look at things like this," May says about revisiting the record. "As I listened to it, I thought, 'This is still me. It feels like me in the present day.' Nobody's heard this, so this would be like a new album to most of the people who hear it in 2021. So I got on it and thoroughly enjoyed immersing myself, giving it a little polish, remaster, and working on the packaging and everything, and a couple of bits of work on the [music] videos, which I really enjoyed."
In the sonic vein of his work in Queen—for who May wrote such memorable songs as "Now I'm Here," "Tie Your Mother Down," "We Will Rock You," "Hammer to Fall" and "Who Wants to Live Forever"—the material on Back to the Light balances between rip-roaring rockers ("Love Token," "Resurrection," "I'm Scared") and introspective ballads ("Nothin' But Blue," "Just One Life"). The album's soulful title track sums up the theme and mood of the entire record: finding hope and resilience amid emotional and turbulent times (A newly released music video for that track depicts May in the present going back in time to 1992 and performing on stage with a younger version of himself and his solo band).
"It's a very personal album," May says of Back to the Light. "It began in a very dark place. The whole journey is me looking for that place of light, looking for the optimism and the energy to get to the next place. So I relate to it still. I still feel very much that this is what I have to say. I'm very happy to get behind it."
The aforementioned uplifting rocker "Driven by You" was released in late 1991 and peaked at number six on the British singles chart. May acknowledges that the song was sort of a catalyst for him to make the solo record. "I had been in the studio trying some things out, not really knowing where I was going. And then suddenly out of the blue, I was offered this little job, which was to make a TV ad theme song [for Ford]. And I was given this slogan, 'Everything we do is driven by you.' I quickly wrote the lyrics, wrote the melody, went in the studio, played everything, sang everything, and gave it to them. They liked it. They put it out, it was a hit. So suddenly I'm feeling, 'Okay, I can do this. Maybe I should really do this solo album and have some belief in myself.'"
Another hit song off of Back to the Light upon its release as a single was the tender ballad "Too Much Love Will Kill You," which May co-wrote with Frank Musker and Elizabeth Lamers. The guitarist first performed the song at the Freddie Mercury Tribute Concert in 1992, and another version of it later appeared on Queen's 1995 album Made in Heaven. At first, the lyrics on "Too Much Love Will Kill You" seemed to suggest it was about Mercury, but the song had first been written in the mid-1980s.
"It was about my own personal feelings being in a very difficult [romantic] situation, and not being able to see a way forward," May says. "I recorded my own version early on and then it was put in a drawer for a while. But when I played it to the band, they all loved it and said, 'Look, this has to be a Queen song.' And Freddie, in particular, said, 'I'll sing it.' The Queen version is kind of dramatic and bombastic, and Freddie gives it an amazing performance. I didn't know at the time what he was dealing with. He sang with such incredible passion. And now looking back on it, I realize he probably had other thoughts in his head. I now realize that the song in Freddie's hands and voice became something different."
Asked if he felt different now compared to his younger self who recorded Back to the Light during a difficult time in his life, May acknowledges that that person from 30 years ago is still within himself. "I actually went into this thinking that I was a much more mature person now," he explains. "But when I actually got to grips with it, that's not what happened. I felt that I was still that same man. Of course, my life has changed, but I feel like the person inside hasn't. So I feel that this album in every way expresses the way I am now. Curiously, there's a line in "Back to the Light," which says: 'It's still the same old me inside.' That's what I feel."
In addition to the original album, the Back to the Light reissue also contains a disc of bonus material from that period such as guitar instrumental versions of "Nothin' But Blue" and "Too Much Love Will Kill You"; live performances by the Brian May Band; and the Ford ad version of "Driven by You." The re-release marks the first installment of the Brian May Gold Series that will also see the eventual reissues of his other solo works, 1998's Another World and 1983's Star Fleet Project, a mini-album that featured May, the late Eddie Van Halen, Phil Chen, Fred Mandel and Alan Gratzer. "That's where I'm heading," May says of the series. "I'm already working on Another World, which I'm very excited about. We're gonna treat it in a similar way [like Back to the Light] and do all the polishing that's necessary. And Star Fleet, yes, absolutely. That's on the table."
In the last several years, May has immersed himself with other endeavors, most notably touring as Queen with founding drummer Roger Taylor and singer Adam Lambert; his other passions include animal rights via the Save Me Trust and his London Stereoscopic Company, which is devoted to the history of stereoscopic photography (The company's latest book Stereoscopy: The Dawn of 3-D, written by Denis Pellerin and edited by May, is coming out in November). The pandemic forced the postponement of Queen + Adam Lambert's Rhapsody Tour of the U.K. and Europe until 2022; during the period of lockdown, May, who has a Ph.D. in astrophysics, took to social media in which he performed Queen songs on guitar. And last year, the guitar legend revealed that he suffered a heart attack and has since been on the mend.
"It was very tough," May says of that recent period. "I'm not going to say I had a tougher time than anyone else. But the shock was enormous because we went from striding around the world to being confined in our house. I couldn't perform on stage. I couldn't even get to my studio because we were not allowed to travel at that point So I found it difficult. And what I did was I had taken to Instagram, and that became my platform. It kind of saved the day for me because I was able to not just perform, but get very interactive with people out there. It became a real kind of savior for me. It kept me alive and my fingers going.
"I did get very sick as well. Unfortunately, I had this heart attack and a lot of other complications that came with it. I had a very tough few months, but my new religion is fitness. Every day I'm on that exercise bike. I do a lot of swimming, but a serious amount of real fitness stuff. I feel stronger because of it. I also feel mentally better because of all that. It's great to have that discipline in your mind."
Amid his current activities and that of Queen's (the band is celebrating its 50th anniversary this year), May hinted that he would consider making another solo record to follow up Another World, which came out nearly 25 years ago. "I kind of went off that road after Another World. I did tour both of those [solo] albums all around the world. But then I came to the conclusion that I didn't want to be the lead singer in the band—I wanted to give more attention to my guitar playing and writing and producing. I think that pulled me away from doing the third solo album. I started to write songs for [singer Kerry Ellis]—which is very interesting because I'd never written for a female voice before—and produced for her. And so I kind of got diverted. So I would like to make a solo album, maybe someday if I'm spared, as my mum used to say."