Guitarist Brian May can still remember the moment when he first realized his band were on their way. It happened in 1973 when Queen played at London's Imperial College, where he'd been a student and had been on the school's entertainment committee. "We booked Jimi Hendrix to play in the Great Hall for 1,000 pounds," he says "And then came the day when we played that hall. I don't think we were paid as much as 1,000 pounds, but it was our gig, it was full, and we went on. And for the first time, the audience knew every song. That was a big thrill, an amazing rush of energy and belief."
Fifty years since the original Queen lineup of May, drummer Roger Taylor, bassist John Deacon and singer Freddie Mercury got together, the British band's popularity is undiminished. Their '70s and '80s rock anthems not only still get radio airplay on, but have also been featured on TV commercials and at sporting events. Three decades after Mercury's death, Queen are still attracting new audiences, buoyed by the 2018 biopic smash Bohemian Rhapsody. Throughout this year, the members of Queen have been marking their golden anniversary through a number of campaigns, including a 50-part weekly YouTube series highlighting notable moments in their history; the reissue of their first Greatest Hits album, which is the best-selling record of all time in the U.K. and a pop-up shop that opened in September in London. Next year, the band (minus bassist Deacon who retired from music in 1997) will be touring Europe with American singer Adam Lambert.
"We find ourselves continually amazed that we still have some relevance and people seem to enjoy our music so much," says Taylor, 72. "It's a wonderful feeling. Who would have thought? Nobody expected it to last so long." "Very often I think, 'My God, did that really happen?'" says May, 74. "It was a dream shared by four precocious kids who had no reason to be so optimistic. But we had the dream. Curiously and miraculously it came true, and it came true even more than we could have imagined."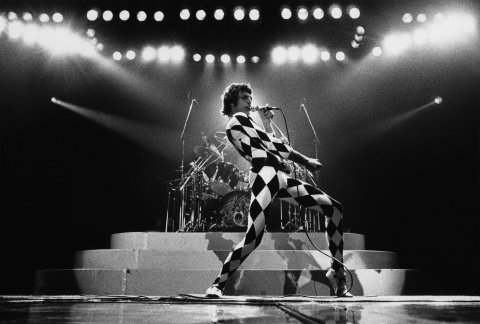 The members of the original lineup were truly more than the sum of its parts when it came to their brand of elaborately produced hard rock that incorporated pop, metal, punk, funk and disco: May's dazzling playing on his Red Special guitar; Deacon's melodic and soulful bass lines and Taylor's powerhouse drumming. Not to mention, the flamboyant and charismatic Mercury and his extraordinary vocal range. Taylor says, "Those components were all so different. Yet we all contributed so much. So it was really a wonderful chemical reaction."
May and Taylor, who had first known each other as university students and been in a group called Smile, formed Queen in 1970 with Mercury, an up-and-coming singer. "We loved Freddie from the beginning," says May. "He was such an ebullient character and so full of confidence. We thought 'He's a good showman. But can he sing?' In the early days, he would throw himself around and give it 100 percent, but the voice wasn't developed. The instrument was there, but he hadn't learned that incredible control, which made him the great god Freddie Mercury. So we didn't know. We just thought, 'Well, we should give this a shot. Freddie seems to be up for it. Why don't we go for it?'" "We didn't know there's this incredible songwriter with this incredible musical sensibility hidden," says Taylor. "He was really such a joy to be around, a driving force for the band in the early days."
With Deacon completing the band's lineup in early 1971, Queen was signed to EMI Records. A combination of opening for Mott the Hoople and a hit single "Killer Queen" in 1974 proved to be the breakthroughs. "We could tell we were forming a fan base," says Taylor. "We had a lot of arrogance on stage. There was definitely flair there. But really when we were making the second and third albums, we thought 'We have considerable reach and we can do some really good stuff.'"
Queen achieved superstardom with their 1975 smash album A Night at the Opera and its single "Bohemian Rhapsody." Written by Mercury and accompanied by a groundbreaking music video, the nearly six-minute rock-meets-opera song spent nine weeks at number one on the British charts. "We thought, 'This is great,'" May remembers when Mercury introduced his song to the band. "And we all put our hearts and souls into bringing it to life. It was just the thrill of developing it. I sat in the control room while the three guys were putting the backing track down and it's immaculate. I watched that happen and thought, 'Okay, I'm going to get in there, shortly and I'll give it my best as well.'" "We didn't really quite realize how far he was going to take it with the operatic section," Taylor says. "But as soon as he played me the verse: 'Mama, just killed a man...,' I just thought, 'That's a good song.'"
After the success of "Bohemian Rhapsody," Queen embarked on a streak of hit albums (A Day at the Races, News of the World, Jazz), singles ("Somebody to Love" "Don't Stop Me Now," "Fat Bottomed Girls"), and tours in the U.K., U.S. and Japan. With his eye-catching outfits and audacious stage presence, Mercury became a celebrity who lived life to the fullest–while also keeping the press guessing about his sexuality. "I am not going to be a star," he once declared. "I am going to be a legend."
In 1980, Queen reached their peak of popularity in America with The Game, their most stylistically diverse record up to that point. It went to number one on Billboard's album chart and yielded two big hits: the rockabilly throwback "Crazy Little Thing Called Love" and "Another One Bites the Dust." May remembers, "The wonderful thing was 'Crazy Little Thing Called Love' was a hit in the States while we were still mixing the rest of [the record]. So it was an amazing shot in the arm to think 'We're going to put this album out, and we already have a number one hit. That's incredible.'" Adds Taylor: "It was wonderful when we got to New York and played a few nights at Madison Square Garden. You think, 'Oh, I guess we must have made it.'"
Into the 1980s, Queen continued to have more hits and toured Europe, Japan and South America; their Live Aid performance at London's Wembley Stadium in 1985 was a career highlight. "We were always ready for a rebirth every time," May says about that decade. "We wanted to keep the canvas as broad as possible. We would never let it rest and we wouldn't let each other rest. We're very critical of each other and we wouldn't allow each other to repeat former triumphs. Fortunately for us, we had the kind of audience who went along with that and didn't want us to repeat. They wanted us to always find the new ground."
The band's Magic Tour in 1986 was the last to feature the original lineup. By 1990, Mercury was HIV-positive and in frail health. Prior to his death on November 24, 1991, at the age of 45—a day after publicly announcing he had AIDS—Mercury and the band had released the brilliant Innuendo album. "It was difficult," Taylor recalls. "We were all quite aware Freddie wasn't quite himself. The hardest thing really was after Freddie died, we decided we should finish the work that we started with him, which is basically [1995's] Made in Heaven album. That was pretty weird hearing that voice back off the tape. We [were like], 'We're going to finish this record.' I'm pleased we did."
"Freddie was the bravest man I've ever met in my life," May says. "He never complained about the prospect of leaving this planet much too soon. He just got on with his work, he loved his music and that's all he wanted to think about." Mercury would've turned 75 on September 5 this year. "It's a strange way the world turns, isn't it?" Taylor says. "He seems to be more legendary now than when he was alive." Adds May: "I think people are realizing more and more the extraordinary talent that he had. There was a lot of people underestimating Freddie during his lifetime. He was very showy and on the surface a showman, but there was a lot of depth there, too."
After a hiatus for the rest of the 1990s that saw them pursue solo projects, May and Taylor revived Queen, first by touring with singer Paul Rodgers in 2005, and then with Adam Lambert in 2012. "He is one of the greatest singers I've ever encountered," Taylor says of Lambert. "The voice is beautiful and his range is unsurpassed. He's not trying to be Freddie. He's himself and he works so perfectly with our material. It really is a very, very lucky marriage."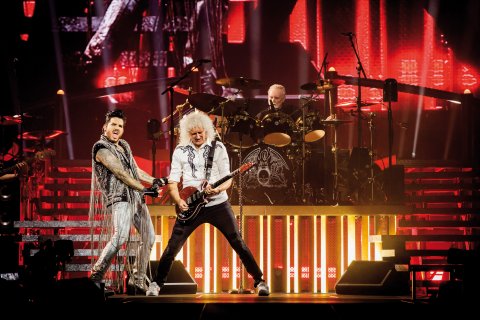 Meanwhile, the band shows no signs of slowing down with their upcoming tour as well as the possible release of archival live recordings on the horizon. "We intend to keep playing as long as we feel we're doing it to the required standard," says Taylor. "If I felt unable to perform at a high level, I think that's when we retire." "In spite of all the pomp and circumstance and flash that Queen is synonymous with, I think we're very much a people's band," May explains. "I think we speak about normal people's hopes and dreams and disappointments and pain. It's very fortunate that we do have that contact with everybody, regardless of age, color or creed. Especially age. We seem to have fans from about seven years old to about 97. So we're very fortunate."
Further Listening: Queen solo albums

Freddie Mercury and Montserrat Caballé
Barcelona (Hollywood, 2012 originally released 1988)
Freddie Mercury made two solo albums, the pop/rock Mr. Bad Guy (1985) and the classical crossover Barcelona (1988), a collaboration album with Spanish opera star Monsterrat Caballé, an idol of Mercury's. Their duet on the stirring title track showcased their majestic vocal chemistry and became a U.K. hit. As Mercury's former personal assistant Peter Freestone wrote in his 1998 book about the singer: "He didn't do this album to rake in a fortune. It was done purely for his own delectation, and where it led, he didn't care...Barcelona was his essence."
Brian May
Back to the Light (Universal, 2021; originally released 1992)
The Queen guitarist's first full-length solo debut from 1992 was written and recorded during some upheaval in his life: the breakup of his first marriage and the deaths of his father and Mercury. It contained rockers such as "Driven by You," "Resurrection" and "Love Token," and reflective ballads like "Nothin' But Blue," "Just One Life" and "Too Much Love Will Kill You." After 20 years out of print, the album was reissued this September with bonus material. "It's a very personal album," says May. "The whole journey is me looking for that place of light, looking for the optimism and the energy to get to the next place."
Roger Taylor
Outsider (Universal, 2021)
Of the four members of Queen, Taylor has released the most solo records with six, including this latest one recorded during the pandemic lockdown. As on his 1981 record Fun in Space, he plays almost all the instruments himself. Outsider departs somewhat from his usual heavy rock sound with some mature, reflective songs that feel timely in the era of COVID, including "Tides," "Journey's End" and "We're All Just Trying to Get By," a duet with KT Tunstall. "It just happened because of a sort of enforced captivity," Taylor says of making the record. "I found myself with an album's worth of stuff–some of it sort of pertaining to lockdown."