'Queer Eye' Star Karamo Brown Is Reportedly Blocking LGBT Followers Who Are Critical of His Sean Spicer 'Good Guy' Comments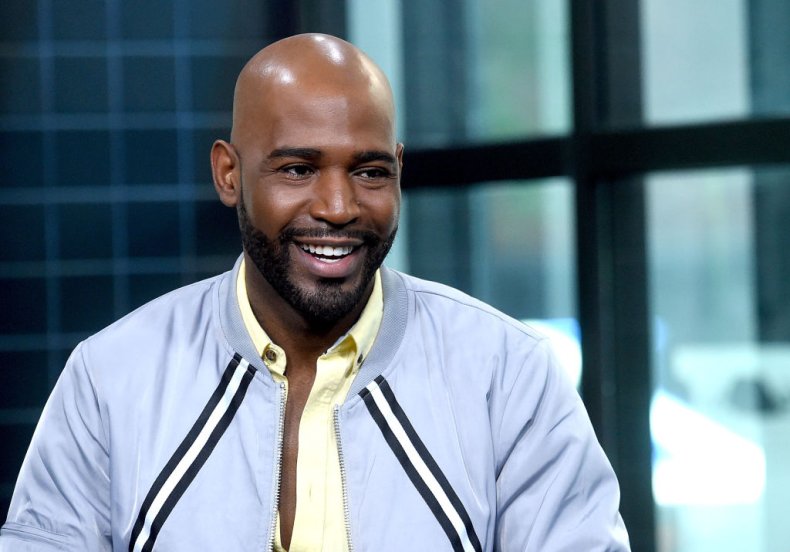 Queer Eye's Karamo Brown joining season 28 of Dancing with the Stars was supposed to be happy news, but many members of the LGBT community called Brown out for participating on the dancing competition show with Sean Spicer, President Trump's former Press Secretary. Brown got into even more trouble when he called Spicer a "nice guy." Now Brown is blocking prominent LGBT social media users who are calling him out for his comments.
"Sean Spicer and I have been talking," Brown told Access Hollywood on Wednesday. "I was most excited to meet him. The thing is, people would look at us and think we're polar opposites, but I'm a big believer that if you can talk with someone and meet in the middle, learn about each other and help each other both grow. And so we have been chatting all day today, like he's a good guy, a really sweet guy."
It was these comments that sent social media ablaze. Many commented they were disappointed Brown was taking part in an effort to normalize Spicer and the polarizing work he did for President Trump.
"First, I have no say who is on the cast and didn't find out till this morning that he is on," Brown said in a Twitter reply to one user questioning his involvement with the show. "But I'll tell you this... I'm excited to sit down w/ him and engage in a respectful conversation. The only way things get better is if we try to educate those who have different POV than us."
Brown says he's eager to engage with Spicer, but he's seemingly less eager to engage with prominent LGBT social media users critical of his comments on Spicer.
Journalist Evan Ross Katz posted the clip of Brown talking to Access Hollywood to Twitter and Instagram. Brown then blocked Katz.
Brown responded to Katz's post but later deleted it.
"I honestly can't stand people like you who post things like this...just to flame the fire and get a reaction," Brown wrote in his reply to Katz. "We [the cast of Queer Eye] fight harder than your ass ever has for people of color and members of the LGBTQIA community."
Newsweek spoke with Katz about Brown's comments.
"Interesting is the word I'll use to see [Brown] throw out support for Spicer while blocking those (many from within his own community) that wish to hold him accountable for normalizing, if not bolstering, this effort to give Spicer a redemptive platform, one which he most certainly does not deserve," Katz told Newsweek.
Eliel Cruz, a prominent LGBT activist based in New York, was also blocked by Brown after his Twitter post.
"Brown's comments calling Sean Spicer a 'good guy' are maddening," Cruz told Newsweek. "Brown's comments are particularly frustrating to LGBTQ activists who are doing the work and are stretched thin attempting to hold back the wave of attacks from [the Trump] administration. It is shameful that Brown would leverage his large platform to aid Spicer's public perception rehabilitation stunt. It's unfortunate that he would block individuals in his own community who rightfully call him out on the absurdity of his comments. Brown either doesn't understand the gravity of what this administration is doing to our communities, does and is ignoring it for his celebrity, or both."
Marti Gould Cummings, a New York City LGBT activist and drag performer, was also blocked by Brown.
"The reason I called out Karamo is because as a member of the LGBTQIA community we have to stand against the workings of [the Trump] administration and the people who are complicit to its actions," Cummings told Newsweek. "LGBTQIA people are in the crosshairs of this administration and giving a platform to someone who directly worked to spread this agenda is unacceptable. Taking a real stand should outweigh a few episodes on TV and a check."
Tom Bergeron, host of Dancing with the Stars, also criticized the show for casting Spicer. He wrote on Twitter that he requested producers not cast someone from the political world for the new season in an effort to ensure the show "would be a joyful respite from our exhausting political climate and free of inevitably divisive bookings from ANY party affiliations," he wrote on Twitter.
Newsweek reached out to Brown for comment but did not immediately hear back.
Season 28 of Dancing with the Stars premieres September 16 on ABC.