Quentin Tarantino's Birthday: All His Movies Ranked from Worst to Best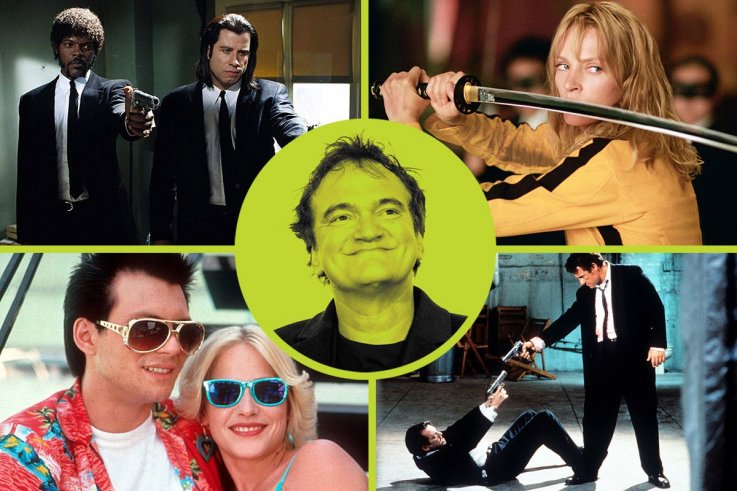 American director and scriptwriter Quentin Tarantino, who turns 56 today, has made some of Hollywood's most iconic movies, from Reservoir Dogs and Pulp Fiction to Kill Bill and Django Unchained.
Born on March 27, 1963, in Knoxville, Tennessee, Tarantino was obsessed with cinema from an early age. He started writing screenplays at school, a passion he continued while working at a video store.
By 1991, he had completed the screenplays for Reservoir Dogs and True Romance and had written the story for Natural Born Killers. He sold True Romance and Natural Born Killers to fund his directorial debut, Reservoir Dogs. That movie was released in 1992 and caused a huge sensation. Suddenly the video store clerk was the toast of Hollywood.
The following year saw the release of True Romance, directed by Tony Scott, but unmistakably a Tarantino film. As Peter Travers wrote in Rolling Stone, "it's Tarantino's gutter poetry that detonates True Romance. This movie is dynamite."
Then came Pulp Fiction, which he wrote and directed, picking up an Oscar for Best Original Screenplay as well as the Palme d'Or at the Cannes Film Festival. It was a commercial smash, too, grossing over $200 million and cementing Tarantino's status as one of Hollywood's most exciting filmmakers.
His winning streak continued with Jackie Brown and Kill Bill, Vol. 1 and Vol. 2—all of which proved box-office hits. Rene Rodriguez, writing in the Miami Herald, captured the unabashed mayhem of Tarantino's movies when he declared: " Kill Bill: Vol. 1 is self-indulgent, overwrought, shallow and ridiculous. It is also brilliant, a blast of cinematic lunacy and as much of a guilty pleasure as the schlocky movies Tarantino adores."
This dizzying blend has remained the defining feature of Tarantino's work, and while there have been times when his tropes seemed tired or repetitive, many of his later movies, such as Inglourious Basterds and Django Unchained, won over critics and audiences alike.
This year will see the release of his highly anticipated crime mystery film, Once Upon a Time in Hollywood. Set in 1969, the movie is centered around Charles Manson and his murderous band of followers. Leonardo DiCaprio, Brad Pitt and Margot Robbie head up the big-name cast.
To celebrate Tarantino's birthday, Newsweek has analyzed data from review aggregation websites Rotten Tomatoes, Metacritic and IMDb to rank all of the movies he has directed or officially written or co-written. (The list includes both Grindhouse, the double feature that saw his movie Death Proof released alongside a Robert Rodriguez movie, and the extended version of Death Proof that was released separately a few months later.) From Reservoir Dogs onwards, here's how his work stacks up.