Film Director Quentin Tarantino says Harvey Weinstein's behavior towards women was "known by everybody" and he wishes he had "done more" before the disgraced former film mogul was convicted of multiple sexual assaults.
Tarantino told podcast host Joe Rogan that he was "sad" about Weinstein, who he had considered a kind of "f***ed up father figure," during Tuesday's episode of The Joe Rogan Experience podcast. Weinstein was sentenced to 23 years in prison last year after being found guilty of rape and sexual assault in 2006 and 2013. Earlier this month, a judge ordered that Weinstein be extradited from New York state, where he is serving his sentence, to California to face 11 additional charges related to alleged sexual assault.
"I wish I had done more," Tarantino told Rogan. "I wish I had talked to the guy. I wish I had sat him down and had the uncomfortable conversation. I didn't know about any rapes or anything like that... but I knew he was like, you know... I chalked it up to the boss chasing the secretary around the desk... you know, he was making unwanted advances. That's how I looked at it."
"I wish I had talked to him. I wish I had sat him down and gone, 'Harvey you can't do this, you're gonna f*** up everything,'" he added. "I don't think anybody talked to him about it. And the thing about it is everybody who was in his orbit knew about it... They didn't know any, probably they didn't know anything about rapes. But they had heard things."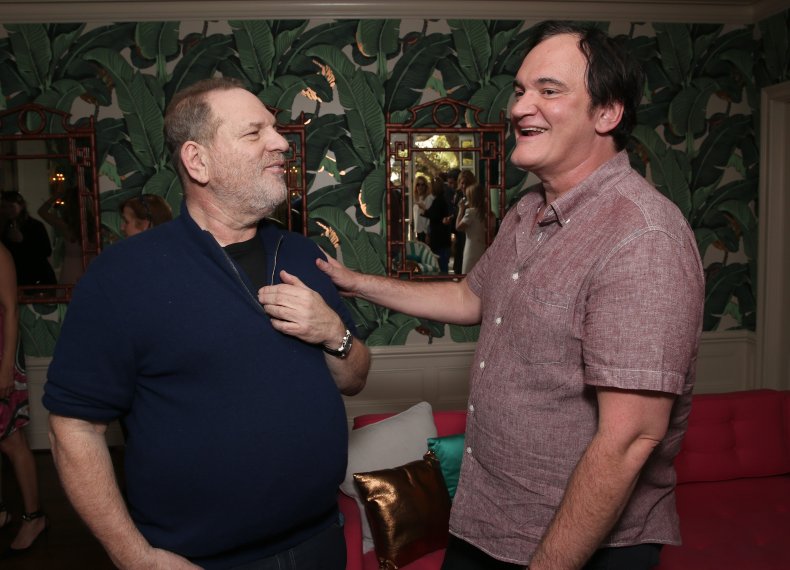 Tarantino was speaking to Rogan about a 2017 interview on the Weinstein allegations with The New York Times, when he said that he "knew enough to do more" and expressed regret for not taking "responsibility" after multiple actresses told him about the allegations. Tarantino confronted Weinstein and demanded apologies after learning of sexual abuse allegations from his own ex-girlfriend, actress Mira Sorvino, and Kill Bill star Uma Thurman.
News of Weinstein's alleged behavior was first unveiled to the public in a New York Times published two weeks before Tarantino commented to the paper about the allegations. The high-profile allegations, including from several celebrities, helped spark the #MeToo movement, leading to host of other claims of sexual abuse by powerful men in Hollywood. At least 100 different women have alleged abuse from Weinstein.
Tarantino was closely associated with Weinstein for the majority of his career, beginning with the director's 1992 debut Reservoir Dogs, which was distributed by Weinstein's former company Miramax. While the allegations were not public until recent years, women have alleged abuse from Weinstein dating back to at least the 1970s—long before he met Tarantino.
Newsweek reached out to Tarantino's representative and Weinstein's attorney for comment.