Quentin Tarantino's 'The Hateful Eight: The Extended Edition' Hits Netflix as Four-Part Miniseries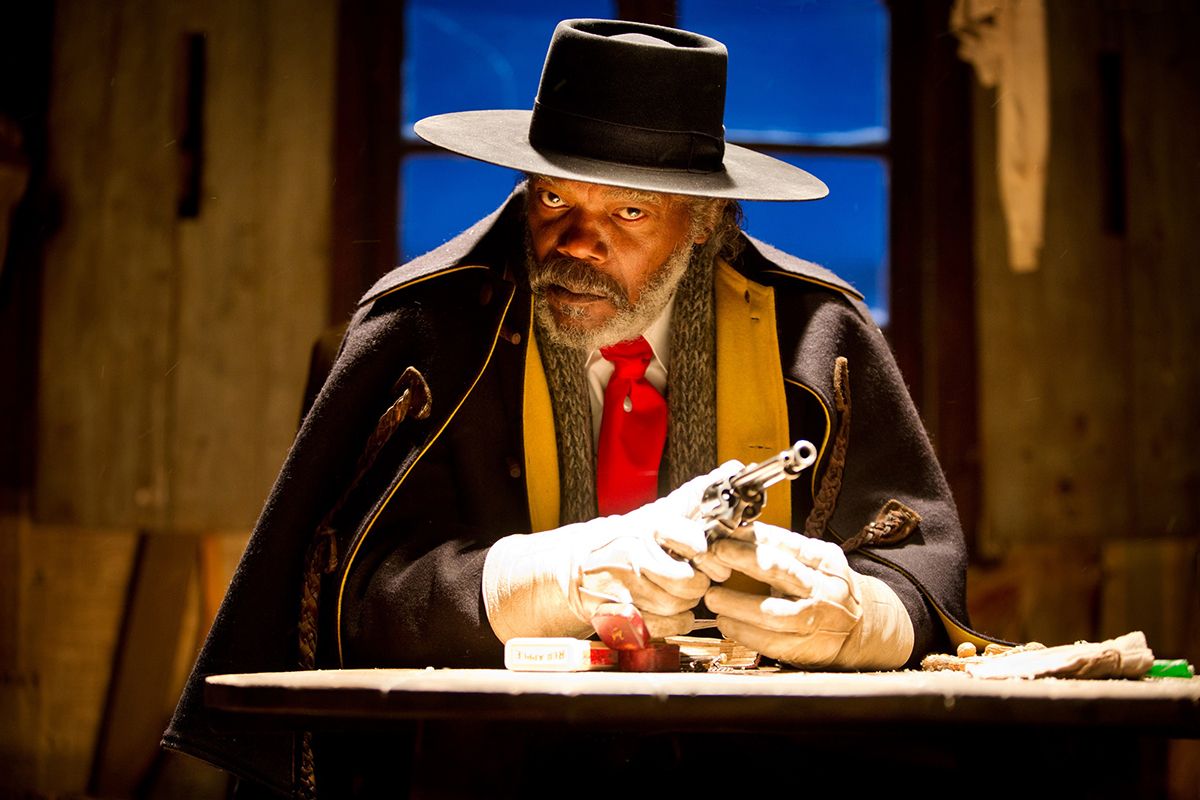 When Quentin Tarantino released The Hateful Eight in 2015, some fans got to see the film in what the director dubbed the "Roadshow" version: projected on 70mm film, complete with overture, intermission, booklet, and a few minutes of additional footage. Now, the director has brought an "Extended Edition" of the Oscar-winning western to Netflix — not as one ultra-long movie, but as a four-part miniseries.
The four episodes run between 50 to 56 minutes each, for a total of 210 minutes (Three hours, thirty minutes), though the first few and last several minutes of most of the Netflix episodes are given over to recaps of prior episodes and a lengthy credit sequence, respectively. So it appears the Netflix edition may be the same footage as the 187-minute Roadshow version, just divided up differently.
When the original film released in theaters during 2015, It was split up into seven chapters. In the Netflix "Miniseries" those original chapter breaks were taken out and changed so that each new streaming episode begins with a new title card. In order, the new chapters are, "Last Stage to Red Rock," "Minnie's Haberdashery," "Domergue's Got A Secret," and "The Last Chapter."
Despite only extending the film by a minimal amount, many cinephiles consider The Hateful Eight's extended cut to be a far superior version of the western thriller. It's fantastic to finally have it on streaming services, even if watching on your phone, laptop or TV screen isn't quite the same as seeing the original full cut in astounding 70mm. You can currently watch both versions of The Hateful Eight on Netflix.
The Hateful Eight is a western thriller set after the American Civil War. It has an All-star cast of Samuel L. Jackson, Kurt Russell, Jennifer Jason Leigh, Walton Goggins, Demián Bichir, Tim Roth, Michael Madsen, and Bruce Dern. They play eight strangers that seek refuge from a blizzard and discover that a few of them hold some fairly hefty secrets and connections.
When the film first released in 2015 it was nominated for an Academy Award in the categories of Best Supporting Actress and Best Cinematography. The film also won an Academy Award for Best Original Score for legendary film composer Ennio Morricone.
Tarantino's next film, Once Upon a Time in Hollywood, starring Brad Pitt, Leonardo DiCaprio, Margot Robbie, Dakota Fanning and a whole host of other big names, is slated for release in July. The movie is set in Los Angeles during the summer of 1969.