Questions Arise After ESPN Airs Online-Only High School's Football Blowout
One of high school football's most prominent national showcases of the year ended in a dud as Florida's IMG Academy, one of the nation's most prestigious sports boarding schools, beat the virtually unknown, Ohio-based Bishop Sycamore 58-0.
With high school sports appearing infrequently on ESPN's main network, the event was supposed to be a stage for the nation's finest. Instead, the lop-side defeat has led some to question whether the sports network was tricked into allowing Bishop Sycamore to participate in the first place.
During the GEICO ESPN High School Football Kickoff broadcast, commentators said Bishop Sycamore claimed in a press release they had a number of D1 prospects, even though they do not. The school also allegedly reported the names of active roster members who were in fact not on the team.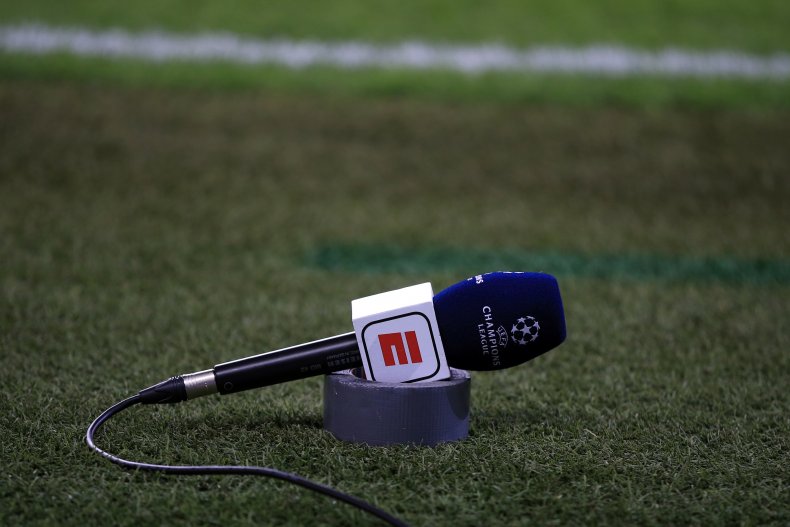 "Bishop Sycamore told us they had a number of division one prospects on their roster. To be frank, a lot of that we could not verify," ESPN's commentator said during the game. "From what we've seen so far this is not a fair fight, and there's got to be a point now where you worry about health safety."
Bishop Sycamore's website revealed a sparse, poorly-designed layout centered solely around the school's football program with no mention of academics. The "about us" and "staff" pages are blank, and the schedule page reads, "2021 Schedule coming soon!" While some have questioned whether Bishop Sycamore is even a real school, FootballScoop reported that the Ohio-based entity may be an online-only school.
Beyond its questionable academic legitimacy, the school's football record indicated it probably never should have shared the same stage of IMG, a place which has instructed the like likes of Serena and Venus Williams, to begin with. The school posted a record of 0-6 the year prior, and in its last meeting with IMG, it lost 56-6.
However, even if it were talented enough for the match, Bishop Sycamore's players were likely not in the condition to be playing in the Sunday match up. Reports showed the team had just come off a previous game two days prior.
Fans and reporters have speculated on ESPN's role in preparing the matchup. While some believe the network was misled, others have theorized the Disney-owned sports giant was desperate to find an opponent for IMG to fill the game's slot. Sports site Awful Announcing contacted Paragon Marketing Group, the company who scheduled the game, and learned the following:
"Paragon president Rashid Ghazi told AA his company did not know that Bishop Sycamore played on Friday night, and would have canceled Sunday's game if they had known that," Awful Announcing reported. "Ghazi said his company wishes they'd done more diligence here but noted that it's difficult to find opponents willing to play IMG."
Paragon has worked with ESPN for 20 years in helping the company secure matchups for its high school football, basketball, and baseball matches. ESPN provided Newsweek with the following statement regarding its and Paragon's role in scheduling the matchup.
"We regret that this happened and have discussed it with Paragon, which secured the matchup and handles the majority of our high school event scheduling," an ESPN spokesperson said in an email. "They have ensured us that they will take steps to prevent this kind of situation from happening moving forward."
Updated 08/30/2021, 3:11 p.m. ET: This story has been updated with a statement from an ESPN spokesperson.