Hunter Biden, one of the men at the heart of President Donald Trump's accusations of corruption and wrongdoing amid the Ukraine whistleblower scandal, will break his silence for the first time in an ABC News interview Tuesday morning.
He's expected to address the controversy surrounding his business dealings in Ukraine and China.
Trump continues to allege that Hunter may have improperly used his father's position as a world leader to advance himself financially. Trump repeatedly pressed Ukrainian President Volodymyr Zelensky in a July phone call to investigate presidential rival Joe Biden and his son over their involvement with a Ukrainian gas company, and congressional investigations suggest Trump withheld a White House visit and military aid to help combat Russian aggression in the region. Those acts, critics say, are impeachable.
Although there is no evidence of illegal wrongdoing by the Bidens in those dealings, big questions remain about Hunter's involvement with them.
Here are the top questions to look for: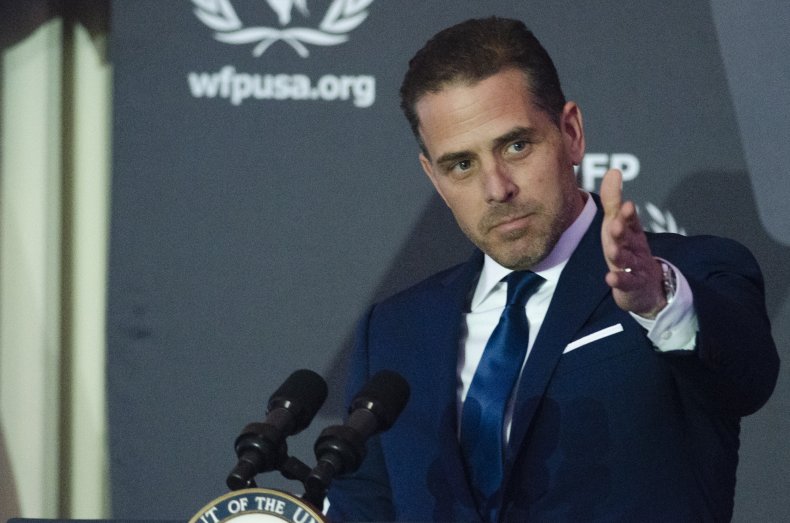 1. Did Joe Biden and Hunter, who sat on the board of Ukrainian gas company Burisma, discuss Biden's efforts to oust the country's top corruption prosecutor?
Hunter reportedly received $50,000 for his role as a board member at Burisma, a Ukrainian natural gas company with an alleged history of corruption. Biden, as vice president, worked to address Ukraine's anti-corruption policies and successfully persuaded Ukraine to oust former prosecutor general Viktor Shokin because of a failure to not prosecute aggressively corruption throughout the country—a move that was backed by the European Union. Trump and his supporters have accused Biden of ousting Shokin to prevent him from investigating Burisma, despite a lack of evidence.
2. Is Ukraine investigating the Bidens, as Trump has requested, or Burisma for potential wrongdoing?
During the July 25 call with Trump, newly-elected Zelensky agreed he would task his prosecutor general to do just that. That man, Ruslan Ryaboshapka, announced earlier this month he was reopening previously quashed corruption investigations into, among other people, the founder of Burisma, Mykola Zlochevsky. However, it's unclear whether Burisma or Biden will be targeted in the probe, despite the promise. Ukraine has so far refused to open an investigation centered on the Bidens, and Ryaboshapka said he is not aware of any evidence that shows wrongdoing by Hunter.
3. How much money did Hunter make in his role in a Chinese private equity company, and how was his father's role as vice president handled in business dealings with them?
Trump and his loyalists, such as Giuliani, have claimed—without evidence—that Hunter used his father's position as vice president to secure $1.5 billion in loans for a Chinese private equity company, BHR (Shanghai) Equity Investment Fund Management Company, where he was a board member. The large sum of Chinese capital arrived to BHR shortly after Hunter visited the country with his father, a move that Trump and others point to as evidence of corruption. Hunter has said the trip was for social purposes and he did not make any money from his involvement with BHR. Biden has denied any wrongdoing.
4. What financial stake does Hunter hold in BHR and will he give it up after vacating his board position?
Although Hunter's attorney said Sunday that Hunter was leaving his position as an unpaid board member at BHR to avoid the appearance of a conflict of interest as his father runs for president, he did not specify whether he would sell his equity in the foreign company, which reportedly included a more than $420,000 investment in 2017—or roughly 10 percent of the firm.
5. Should Hunter have been allowed to serve on the board of foreign companies while his father was vice president?
There are no laws barring an elected official's son, a private citizen, from working with foreign businesses as they interact with countries as part of U.S. diplomacy. But it's the timing of the Biden events that Republicans point to as an ethical conflict of interest and potential criminal wrongdoing.