Questions Joe Biden Hasn't Yet Answered About Hunter Biden Controversy
As the controversy surrounding Hunter Biden's overseas business dealings while his father was vice president grows, Democratic presidential nominee Joe Biden's campaign has yet to deny many of the claims that a recent exposé alleges about his possible involvement.
During Thursday's final presidential debate, Joe Biden continued his blanket denials of any wrongdoing, supported by a Republican-led corruption investigation that concluded last month. According to the report from the Senate Homeland Security and Governmental Affairs Committee and the Senate Committee on Finance, there was no evidence of wrongdoing by Joe Biden in connection to his son's business dealings while the elder Biden served as vice president.
Less than a month after the committees released their joint report, the New York Post published its expose on October 14, reviving allegations of corruption against the former vice president. The accuracy of the Post's report is in question, but the Biden campaign's decision to avoid specific denials has enabled the story to balloon with less than two weeks remaining until Election Day. If the Post's story is untrue, Biden's campaign could in theory put a stop to its momentum by denying outright the claims it makes.
The key questions boil down to whether Joe Biden had any involvement in son Hunter's overseas business dealings while serving as vice president. The emails that the Post obtained for its exposé suggest that Joe Biden met with one of Hunter Biden's business associates in 2015 in Washington, D.C., despite repeatedly saying that he and his son never discussed Hunter Biden's business dealings.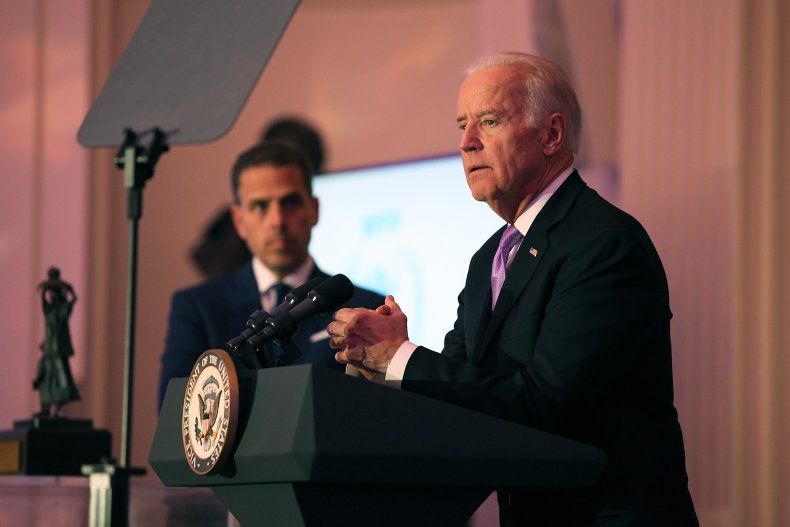 While Joe Biden and his campaign officials have categorically denied any wrongdoing in connection with his son's work, there are several specific questions the Post's report raised that they have not yet answered. Those questions include whether the emails that the Post obtained are authentic; whether Joe Biden ever formally or informally met Vadym Pozharskyi, one of Hunter Biden's business associates; and whether Joe Biden was aware of alleged discussions regarding the financial benefits he could receive from Hunter Biden's business dealings with a Chinese energy company.
Hunter Biden joined the board of Ukranian energy company Burisma in 2014. Though his role on the board raised questions about potential conflicts of interest due to his father's work representing former President Barack Obama's administration in Ukraine at the time, an investigation led by Republican senators concluded last month by saying it did not find evidence of any conflicts of interest.
Despite the senators' investigation, questions about Hunter Biden and Burisma have been hovering since President Donald Trump asked Ukraine's president to investigate Hunter Biden, a request that led to Trump's impeachment in the House of Representatives last December. The Post's report came with less than three weeks remaining until Election Day and introduced specific allegations against Hunter Biden and the former vice president, including that they allegedly met with a Burisma board member in Washington, D.C., in April of 2015.
The authenticity of the Post's report is in question in part because two of its sources are Steve Bannon and Rudy Giuliani, both of whom are Trump allies. According to a New York Times report, some of the Post's staff members also raised doubts about the paper's reporting before the Post exposé was published.
Newsweek reached out to Biden's campaign for additional comment but did not receive a response in time for publication.
Following are some of the questions that Biden and his campaign have yet to answer.
Who owns the water-damaged computer?
The Post's report began with a water-damaged MacBook Pro that allegedly belonged to Hunter Biden being taken to a computer repair shop in Wilmington, Delaware, in April of 2019. The Post's report said the owner of the Wilmington shop was unable to confirm if Hunter Biden was the one who visited the store to drop off the laptop but said there was a Beau Biden Foundation sticker on it, a nod to the nonprofit organization launched in 2016 to honor Hunter Biden's deceased brother. The Wilmington shop owner told the Post that no one ever returned to retrieve the laptop or pay for its repair, despite calls made to the laptop's owner.
Neither Hunter Biden nor Joe Biden has denied whether the laptop belonged to Hunter Biden. They also have not confirmed or denied whether Hunter Biden took a laptop to the repair shop in Wilmington in April of 2019 or if Hunter Biden attempted to retrieve a laptop from that repair shop.
Was Hunter Biden notified that a computer allegedly belonging to him was turned over to the Federal Bureau of Investigation (FBI) and a lawyer for Rudy Giuliani?
The Wilmington shop owner told the Post that the FBI was informed about the abandoned laptop and that federal agents took possession of it last December. The shop owner also said he gave a copy of the hard drive's contents to Robert Costello, a lawyer who works for Rudy Giuliani, the former mayor of New York City and personal lawyer for Trump.
Joe Biden and Hunter Biden have not said if they were alerted that the FBI took possession of the laptop last December or if they knew that Giuliani retained a copy of its contents through Costello.
Are any of the emails included in the New York Post report authentic?
The Post report included copies of two emails that Vadym Pozharskyi, a member of the Burisma board, allegedly sent to Hunter Biden and referred to other email exchanges between the two board members. In one email dated April 17, 2015, Pozharskyi thanked Hunter Biden for giving him "an opportunity to meet your father" during his visit to Washington, D.C. In another email dated May 12, 2014, Pozharskyi asked for advice on how Hunter Biden might be able to use his influence to assist Burisma. Hunter Biden allegedly responded to that second email by asking Pozharskyi for additional information.
Neither Joe Biden nor Hunter Biden have said whether Hunter Biden uses the email address that Pozharskyi allegedly used to communicate with him. They also have not said whether Hunter Biden received either of those two emails or if he responded to them. The authenticity of those emails is paramount to the Post's report, and neither father nor son has confirmed or denied whether the emails are legitimate.
Did Joe Biden ever meet with Vadym Pozharskyi?
Pozharskyi's April 17, 2015, email references a meeting that Hunter Biden set up to introduce Pozharskyi to Joe Biden. Whether or not this meeting took place is important because Biden has said in the past that he and his son never discussed Hunter Biden's business dealings. If this meeting did take place, it would raise questions about whether or not Biden might have faced conflicts of interest while working as the Obama administration's lead representative in Ukraine.
After the Post published its report, a spokesperson for Biden's campaign told the paper that the vice president's official schedule in 2015 did not include any scheduled meetings with Pozharskyi. However, Biden's campaign told Politico it was possible that the vice president could have met Pozharskyi in passing.
The email also said that Hunter Biden orchestrated the alleged meeting in Washington, D.C., between Pozharskyi and Joe Biden. Pozharskyi also invited Hunter Biden to meet with him again before his visit to Washington, D.C., concluded.
Was Joe Biden considered to be a family member of Hunter Biden's who could benefit from a potentially lucrative business deal involving CEFC China Energy?
A second report by the Post last week addressed alleged business dealings between Hunter Biden and CEFC China Energy, an energy company based in Shanghai, China. The email address that Hunter Biden allegedly used in this exchange was different from the one used in his alleged correspondence with Pozharskyi and appeared to more directly welcome opportunities to financially benefit from proposed business agreements.
In an email dated August 2, 2017, the person writing as Hunter Biden said the proposed deal involved creating a holding company, of which he would own half. The deal was "interesting to me and my family," according to the person who wrote the email.
The deal with CEFC China Energy never went through. According to a Wall Street Journal analysis of the text and email messages that allegedly were exchanged about the proposed deal, they did not reveal that either Hunter Biden or Joe Biden's brother, Jim Biden, discussed involving the former vice president as a potential partner or beneficiary in the deal with CEFC China Energy.
The Bidens have not confirmed whether Hunter Biden used the email address involved in the correspondence about the CEFC China Energy deal. Biden's campaign also has not confirmed or denied whether the family members referenced in the email dated August 2, 2017, included Joe Biden.
Is Joe Biden "the big guy" for whom shares for a new holding company were tentatively set aside?
An earlier email dated May 13, 2017, about the proposed deal with CEFC China Energy outlined how the pay and shares for the holding company would be distributed. The email appeared to be addressed to Tony Bobulinski, who has since publicly said that he used to be a business associate of Hunter Biden.
According to that email, Hunter Biden was to serve as the company's chair or vice chair and was to receive "850" for his pay, as well as 20 percent of the shares. An additional 10 percent of the shares was tentatively set aside with the note, "10 held by H for the big guy?"
The email did not identify "the big guy," but Fox News reported that it was a reference to Joe Biden. Joe Biden's campaign has neither confirmed nor denied the authenticity of the May 13, 2017, email, and his campaign also has not said whether or not he is "the big guy" referenced in that email.
Senator Ron Johnson, who chairs the Senate Homeland Security and Governmental Affairs Committee, said on Thursday that he and Senator Chuck Grassley, who chairs the Senate Finance Committee, sent requests to Bobulinski and others to provide information about Hunter Biden's business dealings. Bobulinski responded and said he would cooperate for an informal interview with the committees on Friday, an event that Johnson later said was postponed after the FBI requested a Friday meeting with Bobulinski.
Bobulinski appeared at a press conference in Nashville, Tennessee, shortly before the final presidential debate between Joe Biden and Trump to "set the record straight about the involvement of the Biden family" in alleged dealings with Chinese companies. During that press conference, Bobulinski called Joe Biden's claims about never discussing business deals with his son "false" and said "the big guy" mentioned in the email was understood to be a reference to Joe Biden.
"I've heard Joe Biden say that he's never discussed business with Hunter. That is false. I have first-hand knowledge about this because I directly dealt with the Biden family, including Joe Biden," Bobulinski said.
He went on to say that he met with Joe Biden for about an hour on May 2, 2017, after Hunter Biden and Jim Biden introduced them. During that meeting, Bobulinski said he and Joe Biden "discussed the Bidens' history, the Bidens' family business plans with the Chinese, with which he was plainly familiar, at least at a high level." He added that he was encouraged to keep the former vice president's involvement in the dealings quiet and said he would be turning over evidence related to the alleged business dealings to the FBI.
Trump mentioned Bobulinski's press conference during Thursday night's debate, but Biden held firm to his earlier statements on the matter and said "nothing was unethical" about his son's business dealings. Joe Biden's campaign said in a statement on Thursday that the former vice president "has never even considered being involved in business with his family, nor in any overseas business whatsoever. He has never held stock in any such business arrangements nor has any family member or any other person ever held stock for him."