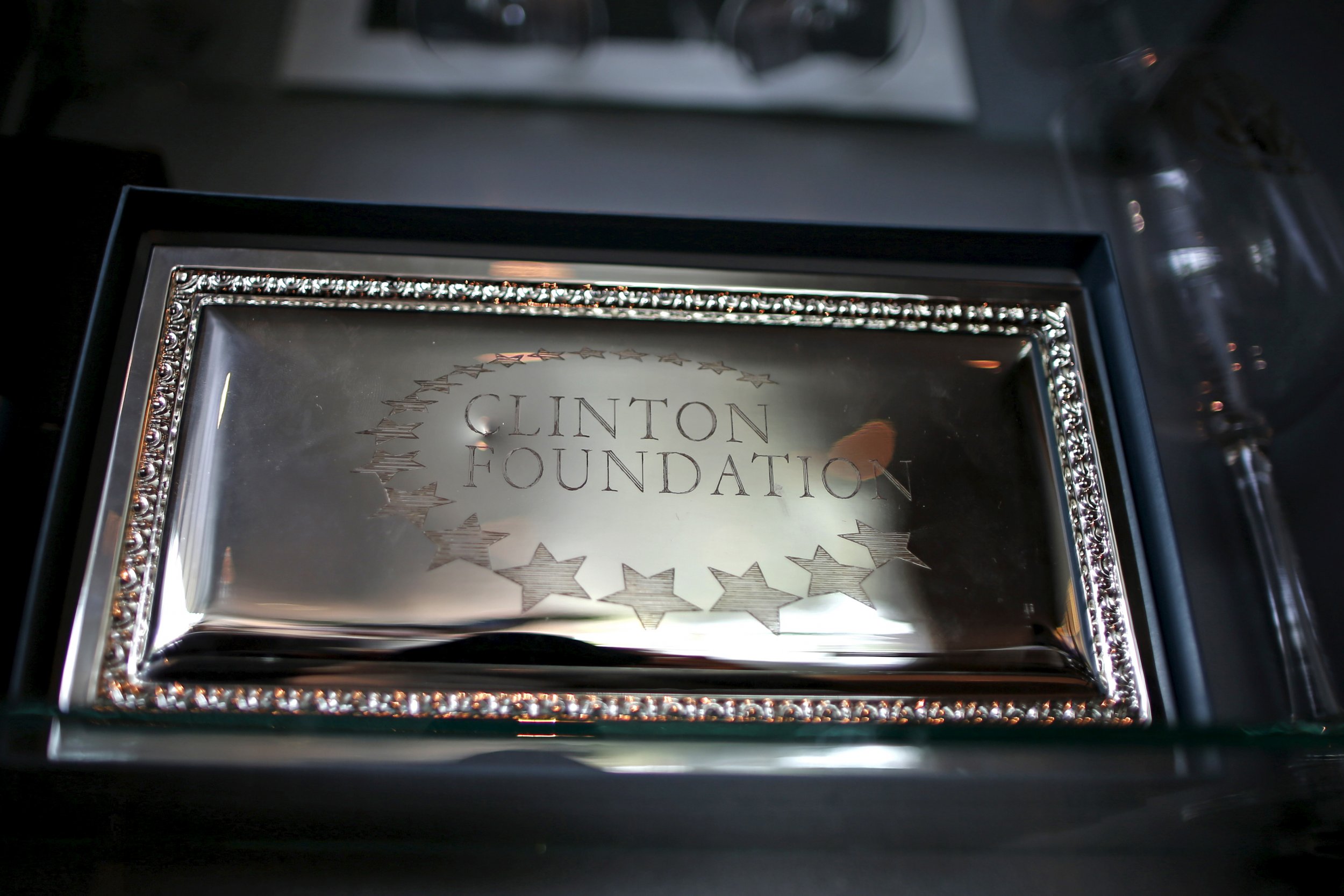 NEW YORK (Reuters) - The Clinton Foundation has acknowledged that the government funding totals omitted from their tax returns cannot be found on their website either, despite the foundation's acting chief executive officer earlier suggesting they were available there.
The foreign government funding received by the globe-spanning charities of Hillary Clinton's family has received particular scrutiny in recent weeks as Clinton seeks to become the Democratic nominee in the 2016 presidential election.
The foundation's acknowledgement means precise totals for government grants to the charity for the last three years of Clinton's four-year tenure as secretary of state have still not been publicly disclosed. All U.S. charities have to separately disclose each year how much they get in government funding, both domestic and foreign.
Shortly before taking office in 2009, Clinton promised the Obama administration heightened transparency concerning donors to her family's charities to avoid accusations of conflicts of interests when she became the nation's most senior diplomat. In recent months, the charities have said they did not comply with some parts of the agreement.
In April, Maura Pally, the foundation's acting chief executive officer, said it was a mistake not to separately list government grants on its public tax forms for 2010, 2011 and 2012 after a Reuters review found errors, but added that the public could find the break-outs elsewhere.
"Those same grants have always been properly listed and broken out and available for anyone to see on our audited financial statements, posted on our website," she wrote in a statement on the foundation's website.
The audited financial statements, however, do not break out government grants separately, foundation officials told Reuters.
Instead, they combine them with an unspecified amount of funds from private grant-making organizations, in keeping with generally accepted accounting principles, the foundation officials said. The revenue tables in the statements do not make explicit that any revenue at all comes from governments.
Asked if Pally's statements were therefore incorrect or misleading, a foundation spokesman, Kamyl Bazbaz, said no, because it was not necessary to separately break out government grants on audited financial statements.
Pally had been correct to say they were "properly listed and broken out" because in this context it means they were properly combined with the funds from private grant-making organizations.
"Sorry for any confusion here," Bazbaz said in an email.
He also acknowledged additional complications in some of the audited financial statements: the statements reported some $200 million more in grants and associated spending in 2010 and 2011 than was reported in some of the charities' tax returns for those years.
These inconsistencies were not errors, the officials said, but were rather the result of unresolved disagreements between the charities' various accounting firms over calculating revenue streams.
WATCHDOG GROUP NOT SATISFIED
Meredith McGehee, the policy director of the non-profit watchdog group the Campaign Legal Center, said the foundation was "hiding behind technicalities."
"These explanations do nothing but raise more questions," she said of Bazbaz's comments. "It gives the feeling that they're not coming clean."
Transparency watchdog groups and experts in charity law have said the issues with the foundation's public financial records are not evidence of deliberate wrongdoing, but they make it more difficult to grasp how the charities raise and spend money.
"It's clear that anyone wanting an accurate picture of the money flowing in and out of the Clinton Foundation using public records would fail miserably because the public records are both inaccurate and fairly opaque," McGehee said.
The foundation declined to provide Reuters with the government grant break-outs that should have been disclosed on the foundation's tax returns for 2010, 2011 and 2012. The foundation has said it is seeking an independent review of some of its financial records and plans to refile erroneous tax returns, a process it said may take some time.