The Quetta Attack: Is ISIS Extending Into Pakistan?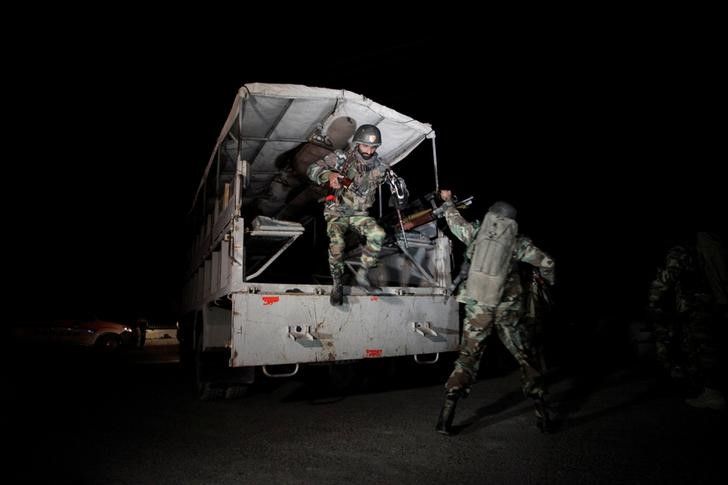 Monday night's suicide attack on a cadet training center in Quetta, Pakistan, which left 60 dead and more than a hundred injured, was ruthless and well-coordinated. But it was also chaotic.
Despite the involvement of only three or four attackers, the assault has been claimed by, or attributed to, three different groups, which points to the blurred lines and murkiness of militancy in Pakistan.
Pakistani authorities were quick to blame Lashkar-e-Jhanghvi, a sectarian jihadi group renowned for its targeting of Shiites. Meanwhile, an obscure Taliban-affiliate, known as the Hakimullah group, issued a claim of responsibility.
But perhaps of greatest concern for Pakistan is the claim from the Islamic militant group's (ISIS) central news agency that the assault was carried out by "Soldiers of the Caliphate."
ISIS does not make such claims flippantly or aspirationally, and its statement included alleged photos of the attackers wielding Kalashnikovs and suicide vests, as well as pictures purporting to be from inside the five-hour siege.
The fact the reports originated from ISIS's central Amaq news agency rather than that of the local "Khorasan province" also likely constitutes an attempt to diversify the group's international propaganda narrative away from its faltering defense of Mosul, Iraq. The group's shift toward dramatic attacks overseas, as it loses territory in Iraq and Syria, has as great an implication for Dhaka, Bangladesh, as it does for Nice, France.
But how much of a threat does ISIS really pose to Pakistan? The Pakistani government has flip-flopped on the issue. On the one hand, the army has outright rejected the presence of ISIS in the country. "They tried to [sneak] into Pakistan but failed and [were] apprehended," according to Inter-Services Public Relations Director General Lieutenant General Asim Saleem Bajwa.
Yet in September an army spokesman admitted for the first time that ISIS did have a presence in Pakistan, saying attacks against embassies and Islamabad's airport had been foiled.
As well as Monday night's attack, ISIS has said it was responsible for a deadly assault on a hospital in Quetta in August 2016, something denied by the government and attributed to Pakistani Taliban faction Jamaat-ur-Ahrar, as well as an attack on a bus filled with Ismaili Shiites the previous year.
These two attacks alone killed more than 120. Smaller scale ISIS-claimed attacks, often motorcycle-borne, have left dozens more dead. Just one day before the latest Quetta attack, ISIS announced it was behind the shooting of an intelligence official in northwest Pakistan.
The ISIS presence in "Khorasan" (a geographic term from Islamic history it uses to refer to Afghanistan and Pakistan) has been as much an exercise in brand and franchising as in organization and mobilization.
The majority of its fighters are disillusioned Taliban militants who have pledged allegiance to "Caliph" Abu Bakr al-Baghdadi, and there appears to be little direction or strategy from Mosul and Raqqa, Syria. But attempts by the group to export its sectarian methodology to other countries, as it has attempted to do in neighboring Afghanistan, should not be underestimated.
ISIS is increasingly active in Afghanistan. Reports indicate the group may have entered into a truce with the Taliban to focus on their common enemy: U.S.-backed Afghan forces. If true, this would indicate a rare, and concerning, example of collaboration between ISIS and Al-Qaeda-affiliated jihadis.
The top U.S. general in Afghanistan said this month that the group was "very focused" on trying to establish a caliphate inside Afghanistan, with a number of foreign fighters, particularly Uzbeks from the Islamic Movement of Uzbekistan, joining the fight. The porous border between Pakistan and Afghanistan means that militancy in the two countries is very much interlinked.
Whether directly organizing the Quetta attack, ideologically inspiring its instigators or merely using the assault for propaganda, ISIS has not picked Baluchistan as its Pakistani launch pad by accident. A history of sectarian tension between Sunni and Shiites, a strong separatist strain and an established militant base (former Taliban leader Mullah Mansour was killed by an airstrike in the region) provide a potential breeding ground for ISIS's divisive ideology. Jihadis serve as cause, catalyst and consequence of such instability.
The group's tailored propaganda strategy means recruiters will likely attempt to channel the grievances of local communities neglected by huge-scale Chinese development in the region, paving the way for a major port and economic corridor serving Western China. ISIS ideology "universalizes" local grievances and presents an Islamic state as the only solution.
Despite being a major historical stronghold for Al-Qaeda, ISIS has yet to find the formula to crack the jihadi landscape in South Asia. But its increasingly bold claims of major attacks, such as that in Quetta, could indicate a strategic refocus on the region that policymakers would be unwise to ignore.
Jihadi militants have a track record of exploiting weak governance, instability and geopolitical vacuums to sow discord. Meanwhile, the increasingly polarized regional relationship between Pakistan and its neighbors India and Afghanistan will continue to hinder any coherent, regional response to the threat that groups such as ISIS pose.
Milo Comerford is an analyst at the Centre on Religion and Geopolitics.