Quibi's 'Don't Look Deeper' Analyzes Our Love-Hate Relationship With Technology
What if you found out that you're not the person you think you are, and that you're actually not a human at all? That's the premise of the sci-fi Quibi Don't Look Deeper, which premiered on July 27 and follows Aisha, portrayed by Helena Howard (Madeline's Madeline), as she finds out who—or what—she really is. This revelation sets forward a series of events that put her life in jeopardy.
Catherine Hardwicke, the director behind the suspenseful and thought-provoking Quibi talked with Newsweek recently about how the show came to be and how technology definitely could evolve into what viewers will see in Don't Look Deeper, which is set "15 minutes into the future."
"You could feel like this could actually happen any moment right now," Hardwicke said. "We know that there's things going on all over the world, different companies being creative. It would be fascinating if this could actually happen tomorrow."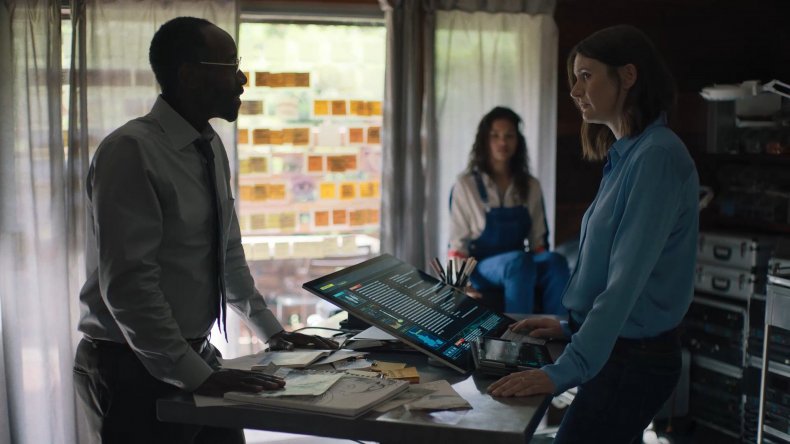 The sci-fi series also touches upon the debate of nature versus nurture, which is something "that every kid is just curious about," Hardwicke said. Since Aisha is programmed a certain way, but raised like a would-be human by her father, she questions where exactly she got certain qualities from. "When you don't know your real parents, you have those struggles even more. 'What is from me, and what choices do I have, what am I stuck with?'"
Howard's performance is incredible to watch. As Hardwicke put it, she's able to "be very present and very real and vulnerable and compassionate in each moment."
Don Cheadle plays Aisha's father, who grapples with lying to her about who she really is in order to protect her. "Maybe he did need her more than she needed him, but the fact that he was lying to her: This is his daughter that he loved, that he had been building her life as a lie. That complication was very fun to explore," Hardwicke said.
Meanwhile, Dr. Carter (Emily Mortimer), who designed Aisha, uses therapy sessions as a way to check in and see how her creation is doing. If things seem off with Aisha, her memory gets wiped and there's a hard reset, not much different than an iPhone. However, once Aisha figures out how to hack her own system, Dr. Carter struggles to keep up with her robot gone rogue.
The nature vs. nurture debate, along with the love-hate relationship we have with technology, are things Hardwicke hopes her audience takes away from the short-form series. "The good, the bad, the things that frustrate us, the things that thrill us about technology," she noted.
The timing for the Quibi couldn't have been better for Hardwicke. "The writers Charlie [McDonnell] and Jeff [Lieber], when they sent the script, they actually conceived it in these short increments. And it was written that way, as like novel chapters. And that's basically the way they had always seen it," she told Newsweek.
"Quibi came along almost at the same time they had finished the script, and it was kind of a perfect meeting of the technology, because this show is about technology and Quibi is pioneering new technology" Hardwicke added. "It just seemed like a really great sort of fusion, a marriage."
There was also the appeal of short-form chapters for Hardwicke, making the series feel like a book. "Can I build enough story and keep you wondering, 'What's going to happen next?' How would I react if we ended at that end point? What would I do?" she wondered, adding that she liked the pauses between episodes. "You can take that time to engage in the story and think about the next moment."
As for a second season of Don't Look Deeper, Hardwicke has her fingers crossed. "I think it's a fascinating journey that we could keep following," she quipped. We don't disagree.
Don't Look Deeper is available to stream on Quibi.