Quick-Thinking Hikers Turn Their Turbans Into a Rope to Save Two Men From Water
A group of quick-thinking Sikh hikers in British Columbia used their turbans to save two men who had fallen into rushing water.
Kuljinder Kinda and his four friends were enjoying their day hiking around Golden Ears Provincial Park when they heard about two men who had accidentally fallen off the trail and into a pool beneath a waterfall.
Kinda told NBC that the pair of hikers asked him and his friends to contact emergency services, but none of them had service on their cellphones. Kinda said he and his friends decided the best course of action was to create a rope to bring the two men to safety. The five friends decided to remove their turbans and use them to create the rope.
"We were trying to think how we could get them out, but we didn't know how to," Kinda told NBC. "So we walked for about 10 minutes to find help and then came up with the idea to tie our turbans together."
In Sikhism, a religion that originated in the Punjab region of India, the turban covers and protects uncut hair. The turban also lies on several important pressure points on the temples of the head which help keep a person feeling calm and centered. It is one of the five articles worn by baptized Sikhs at all times.
Within the religion, people are allowed to remove their turban if it is for a good cause or will help them better assist individuals in need. "In Sikhi, we are taught to help someone in any way we can with anything we have, even our turban," Kinda told NBC.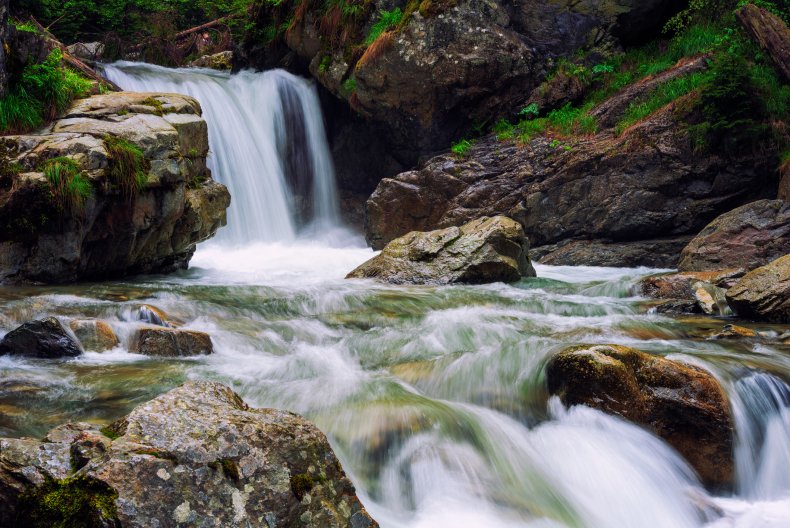 Kinda posted footage of the accident onto a WhatsApp group where it has since circulated around social media. In the footage, one of the hikers could be seen sitting toward the bottom of a large rock while trying to grasp the long rope made from the turbans and various articles of clothing.
A man could be seen close to the rushing water while he directed the rope toward one of the fallen hikers. In the footage, the hiker crawled along the side of a steep rock before successfully using the rope to get to safety.
While Ridge Meadows Search and Rescue did come to the scene, by the time they arrived the two hikers had been successfully pulled out of the water by the group of five men. The identities of the two rescued hikers is unknown, but Kinda said they thanked him and his friends for helping.
Many people online have been praising the men for their actions, including the Sikh Community of British Columbia. "Kudos to these young men on their quick thinking and selflessness," a tweet from the Sikh Community of B.C. posted alongside the footage of the rescue.
"We all thought that was very ingenious, to do that," Ridge Meadows Search Manager Rick Laing told CBC. "I've never seen or heard of that before."
Laing told CBC that at least one person slips and drowns in that same area each year. But there are signs all over the trails warning hikers about waterfalls and to only follow established trails to avoid falling into the nearby water.