Quidditch Leagues to Rename Sport to Distance From J.K. Rowling's 'Anti-Trans Positions'
Two quidditch leagues announced this week that they are working to rename the sport in an effort to distance themselves from J.K. Rowling, citing her "anti-trans positions in recent years."
U.S. Quidditch and Major League Quidditch made the announcement in a press release on Wednesday and said that the "leagues will conduct a series of surveys over the next few months to guide a decision regarding the new name."
The two leagues noted in the announcement that the sport of quidditch was adopted from Rowling's Harry Potter series.
"The leagues are hoping a name change can help them continue to distance themselves from the works of J.K. Rowling, the author of the Harry Potter book series, who has increasingly come under scrutiny for her anti-trans positions in recent years," the leagues said in their announcement.
The two leagues consider themselves "one of the most progressive sports in the world on gender equality and inclusivity," the announcement said. The leagues said that they have a "gender maximum rule" that prohibits a quidditch team from having "more than four players of the same gender on the field at a time."
"Both organizations feel it is imperative to live up to this reputation in all aspects of their operations and believe this move is a step in that direction," the announcement said.
Over the past year, Rowling has faced backlash for some of her comments about the trans community.
"If sex isn't real, there's no same-sex attraction. If sex isn't real, the lived reality of women globally is erased. I know and love trans people, but erasing the concept of sex removes the ability of many to meaningfully discuss their lives. It isn't hate to speak the truth," Rowling wrote in a tweet in June 2020.
"I respect every trans person's right to live any way that feels authentic and comfortable to them. I'd march with you if you were discriminated against on the basis of being trans. At the same time, my life has been shaped by being female. I do not believe it's hateful to say so," Rowling wrote in a subsequent tweet.
More recently, Rowling took to Twitter to express her distaste for a proposed Scottish law allowing police to record a rape as committed by a woman if the suspect identifies as a female but has male genitalia.
"War is Peace. Freedom is Slavery. Ignorance is Strength. The Penised Individual Who Raped You Is a Woman," Rowling wrote on Twitter in response to a story from The Times in the United Kingdom.
In addition to the quidditch leagues citing Rowling's past comments, the announcement said the name quidditch is trademarked by Warner Bros., which has limited the sport's ability to reach new sponsors and broadcast opportunities.
"Renaming the sport opens up so many more revenue opportunities for both organizations, which is crucial to expansion. Through joint ownership of this new trademark, USQ and MLQ will be able to pursue sponsorships, broadcasting on major TV networks and other projects that'll address some of the biggest barriers to playing the sport, like access to equipment," U.S. Quidditch Executive Director Mary Kimball said in the announcement.
In a statement to Newsweek, a spokesperson for the Blair Partnership, which represents Rowling, said, "The Quidditch Premier League, U.S. Quidditch and Major League Quidditch have never been endorsed or licensed by J.K. Rowling."
The spokesperson also noted that Rowling has and will continue to support fans who love the Harry Potter series and the game of quidditch.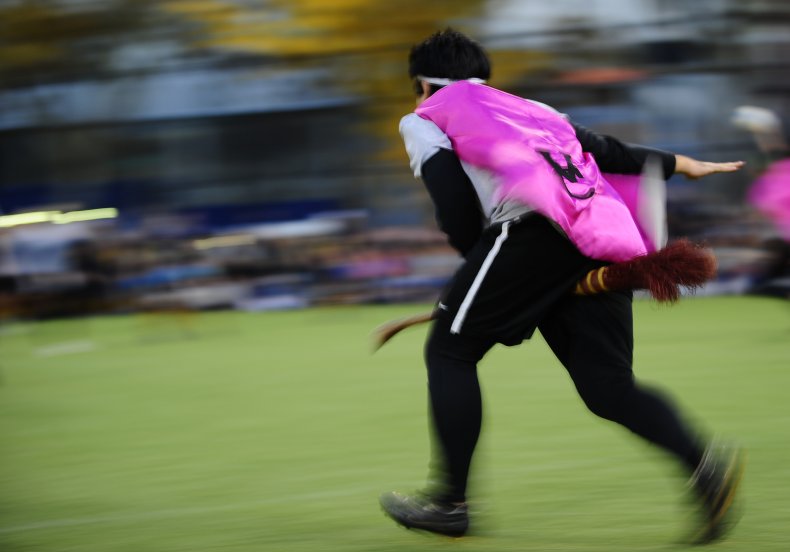 Updated 12/20/21, 9:24 a.m. ET: This story was updated to include a statement from a Blair Partnership spokesperson.