Quiet Kennel: Ford Prototype Offers High-Tech Comfort for Your Dog's Ears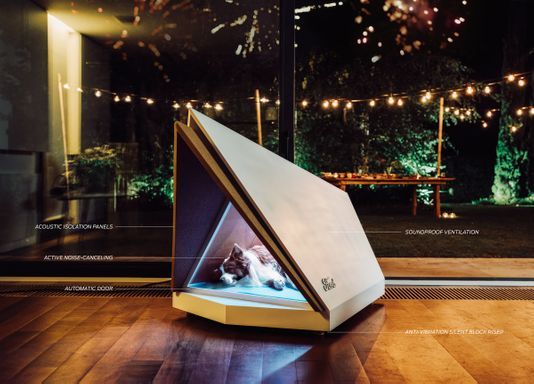 It's only a prototype, but if you're looking for help on New Year's Eve to eliminate celebratory noise for your sensitive dog, then Ford Motor Co., creator of the muscle car Mustang, has a possible real-life solution.
A noise-cancellation, quiet kennel could help house pets more easily get through terrifyingly loud fireworks during thunder storms, the Fourth of July, New Year's Eve or other holiday celebrations that could be unexpectedly, and excruciatingly, painful to their ears.
Based on noise-cancellation technology developed for high-end vehicles sold in Europe, the quiet kennel detects noise, transmits opposing frequencies, provides soundproofing and an automatic door, according to this report in the Detroit Free Press.
Gasow Veterinary Hospital in Birmingham, Mich., vet tech Michele Mara expressed concern for typical pet visits during noisy, high peak celebrations in the Free Press report.
"We get animals that are absolutely scared to death," said Mara. "They go through glass windows, rip the house up on the Fourth of July. They don't like the sound of guns or fireworks. They just don't handle it well. Many people often medicate the animals."
Dogs are at risk of ramping up their anxiety and stress levels during holiday fireworks and storms, causing some to run away, self-injure or get hit by cars. Their hearing is much more acute and sensitive to humans, exponentially increasing their pain level.
Yet owners often fail at calming their pets.
The Ford Edge SUV — and its Endura equivalent in Europe — and its noise-control technology inspired Ford to create the quiet kennel prototype. The car technology softens engine and transmission noises, reports Tech Crunch online magazine.
Microphones built inside the kennel detect fireworks or other sounds, triggering an audio system that emits opposing frequencies Ford claims significantly reduce or cancel the racket. Built-in, high-density cork helps mute outside noises, too. Consequently, dogs hear less and feel fewer vibrations.
Ford Europe does not plan to produce and build the quiet kennel any time soon, though.
"We're not in the dog kennel business," said Anthony Ireson, Ford Europe marketing and communications director. Yet he told the Detroit Free Press that if there's enough interest, Ford will further explore the real-life technology, possibly for production.
Still, Ford said it is open to anyone who may want to build the prototype. Some in the veterinarian industry see strong sales potential – and your pooch may, too.