Will 'A Quiet Place' Win an Oscar? What The Horror Film's Producers Said
John Krasinski's horror thriller A Quiet Place made an unexpected $50 million at the domestic box office in its debut last week, but will it be silenced at the 2019 Oscars?
A Quiet Place follows a family of four struggling to survive against an unknown number of sound hunting monsters that have invaded Earth. The key to enduring this post-apocalyptic world is to hideout in silence. The Krasinski directed-film has earned praise from critics and there are talks of early Oscars buzz, a fate that Academy Award-winning horror flick Get Out saw after its debut last year.
Producers Brad Fuller and Andrew Form were shocked at the film's immediate success, though it might be too early to talk about Oscar potential.
"We thought the movie was going to open at $18 million. We're talking about something so out of the realm of possibilities for us to even consider," Fuller told Newsweek. "Anything can happen. Everyone did a great job. But it's too soon to tell [about an Oscar] and there's a lot of movies that are going to come out."
Form referenced Get Out's achievement at March's Academy Awards. The film, written and directed by Jordan Peele, went on to win Best Original Screenplay. It received nominations for Best Picture, Best Actor and Best Director as well. "Get Out opened the door for the genre in the biggest way," Form said. "When that movie happened last year, it clearly did let the world know that the horror thriller genre can be taken seriously."
"Twenty-something years ago, The Silence of the Lambs won at the Oscars, and that's a thriller. Get Out absolutely destroyed the box office and with critics, and it won an Oscar. It is exciting to be working in the genre with what's happening out there," Form added.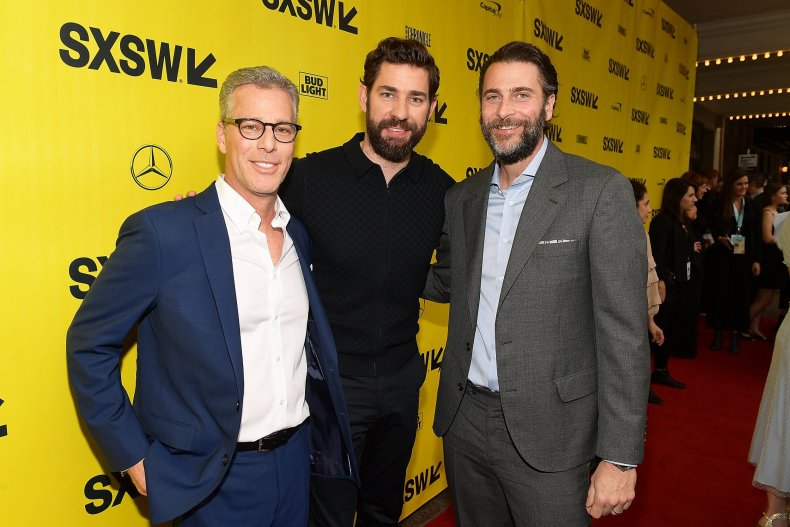 Fuller and Form have worked together on several films within the horror and thriller vein. Ouija, Friday the 13th and The Purge franchise are among their many collaborative efforts. The producing pair first gave the Quiet Place script to Krasinski 18 months ago. Despite the film's current wave of success and general approval from audiences, critics and fans alike were left with an assortment of lingering questions.
Many viewers wondered if it made sense for the Lee (Krasinski) and Evelyn Abbott (Emily Blunt) to have a fourth child, for instance. "Evelyn is teaching their son (Marcus, played by Noah Jupe) long division. They teach him literature. They're trying to have a normal life," Fuller said. "Evelyn's character is optimistic and believes that things will get back to the way that they were before the invasion. She's hopeful, and that's why she got pregnant."
Films that boast immediate success, like Krasinski's, tend to bring about the discussion of expansion. And subsequent sequels are a possibility for A Quiet Place, though But Krasinski, Fuller and Form "haven't really had a chance" to talk about a second movie.
One thing that was certain was the chemistry Blunt and Krasinski had onscreen.
"It was the best, and you hate to just say that. But it really was the best experience. It's very rare to find a filmmaker that no matter what you throw at them, you cannot stump them," Form said. "That's what it was like with John...The process was amazing. You insert Emily and then the magic happens...I've never seen anything like that."