'Quiet Quitting' Not a Hot Topic for Employers, U.S. Labor Secretary Says
"Quiet quitting" may be a trending topic on social media, but U.S. Labor Secretary Marty Walsh says it hasn't come up in his talks with employers.
"I haven't really heard about it from companies," Walsh said on Yahoo Finance Live. "I know that it's being reported in the press. I've talked to a lot of companies in the country. And I haven't heard about that."
Quiet quitting does not actually involve resigning from your role, but describes a trend of employees doing what is required at their jobs, but not going above and beyond.
The topic has gained steam in recent months, with videos on TikTok with the hashtag "quietquitting" amassing some 185 million views on the video-sharing platform.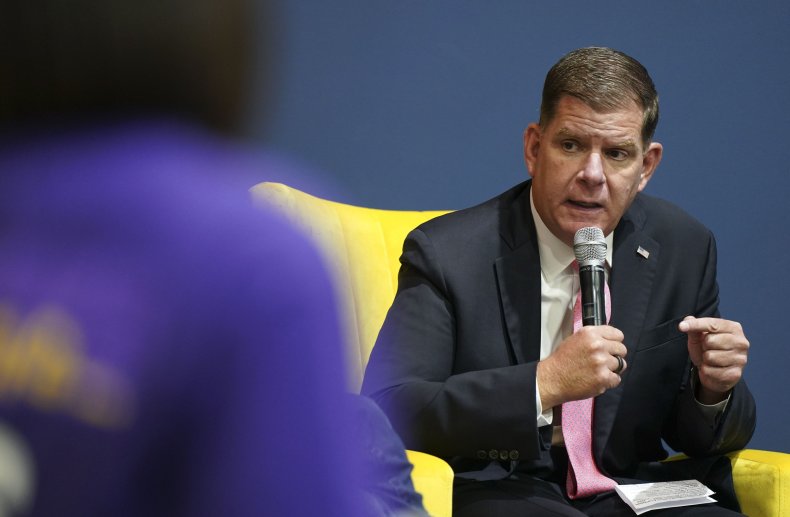 At least half of the U.S. workforce is made up of "quiet quitters"—people who are "not engaged" at work and psychologically detached from their jobs, according to a recent Gallup survey.
The poll found that about only about 32 percent of workers are engaged at work, while 18 percent are "actively disengaged."
While those figures aren't significantly different from the past two decades, Gallup did record a rise in "actively disengaged" workers since the onset of the pandemic.
The survey found that a decline in engagement and job satisfaction was highest among younger workers, with the percentage of "engaged" employees under the age of 35 dropping by 6 percentage points from 2019 to 2022.
Walsh did acknowledge that quiet quitting would be a concern if it continued.
"Certainly, that's a concern if it continues on because when people hire people, they expect them to do a day's work for a day's pay," he said.
"And I think that that's something that we have to continue to encourage. And but when I talk—as I've gone around the country this last month—and I've done a lot of trips—no company has approached me on this quiet quitting idea."
But experts have say the mindsets of workers who have felt they needed to go beyond what is outlined in their job descriptions to get ahead may be changing.
Quiet quitting is something companies "should be worried about—even if it is not something that companies visibly see on a large scale," Heejung Chung, a professor of sociology and social policy at the University of Kent, and the author of Flexibility Paradox: why flexible working leads to (self-) exploitation, told Newsweek.
"We are living in a work-centric society where you are expected to be passionate about your work and your work should define you," Chung added.
"We have been asking workers to go 'above and beyond' at work all the time," Chung said, but that can lead to stress, burnout, health issues, and a lack of work-life balance.
"In a way, it is good that people are quiet quitting as we should not ask people to go above and beyond to the point they are sacrificing their family, their health and themselves solely to work."
Chung said employers should "encourage a stronger boundary between work and family (and a better work-life balance) as science shows that focused short hours of work may be more productive for workers, and better work-life balance for workers is good for companies as well."
Update 10/11/22, 5:30 a.m. ET: This article has been updated with comments from Heejung Chung.