The Quintessential American Story of a Classic American Song
Some believe it's a song about a girl. Others believe it's a song about a place. A state. The Peachtree State. The two men who wrote the music and lyrics—Hoagy Carmichael and Stuart Gorrell—can't answer that question because they died a long time ago. But the story of how the song came to be, and how it became a song the world would come to know and love, is a quintessentially American story.
Carmichael was born in Bloomington, Indiana, in 1899. His father took on whatever jobs he could to help pay the bills, first as a horse-drawn taxi driver and later as an electrician. His mom played piano for a living. Throughout his youth, his family struggled to make ends meet. The defining event in his early life sprang from tragedy. In 1918, the Spanish flu ravaged the country, and his baby sister, Joanna, was not spared. Her death was something Carmichael would never forget, and it would fuel his ambition. "We couldn't afford a good doctor or good attention, and that's when I vowed I would never be broke again in my lifetime," Carmichael said.
He graduated from Indiana University and its law school and soon began to practice law in Indianapolis. But his real interest and talent, and where he'd end up making his living, was in the world of entertainment. Music—specifically, coming up with the melodies to some of Tin Pan Alley's biggest hits—was his particular and peculiar genius.
Carmichael attributed his melodic gift to his roots in jazz and his love of jazz pianists, which he got from his mother, who loved to play ragtime. "I listened to them constantly," he told reporters. As a teenager, he spent long hours in a black neighborhood called Bucktown, where outstanding jazz players often convened.
American composer and author Alec Wilder described Carmichael as the "most talented, inventive, sophisticated and jazz-oriented of all the great craftsmen" of pop songs in the first half of the 20th century. Few people ever write one standard, but Carmichael wrote a bunch: "Stardust," "The Nearness of You," "Skylark," "In the Cool, Cool, Cool of the Evening" and, of course, his most well-known composition, "Georgia on My Mind."
Gorrell, the song's lyricist, was born in Knox, Indiana, and went to college with Carmichael. The two became friends. After hearing his pal play a new melody at a party, Gorrell pulled an all-nighter and ended up with the lyrics for the song. Gorrell would become a banker. He never wrote another lyric in his life.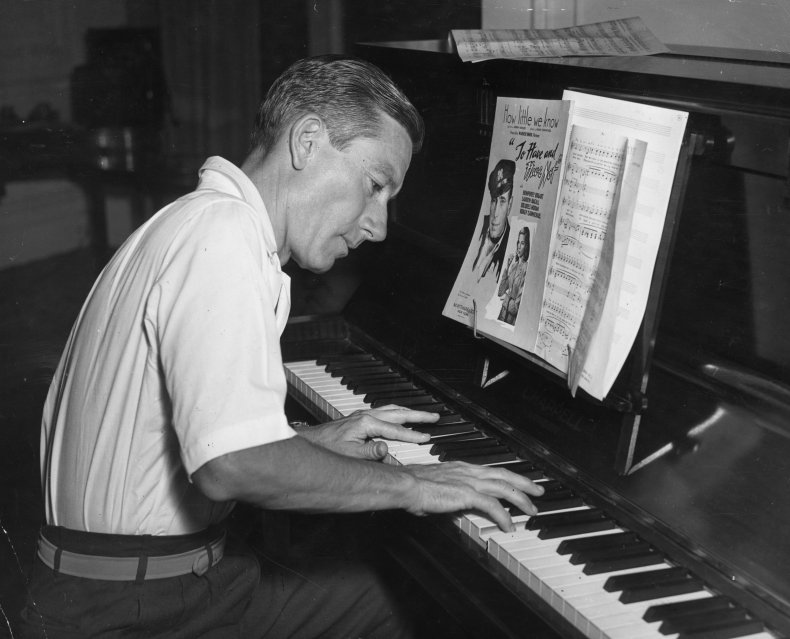 "Georgia on My Mind," written in 1930, was initially covered by a number of artists, including Louis Armstrong and Carmichael himself. But the song never found a willing and large audience, and it lingered for decades in the Carmichael back catalog.
By the 1950s, Carmichael's career, like so many other tunesmiths and songwriting masters of his time, began to fade with the ascension of rock 'n' roll and rhythm and blues. "After rock and roll, I never even got a phone call from another record man about anything," Carmichael told Downbeat later in his life.
"Georgia on My Mind," along with Carmichael's entire catalog, was a victim of changing tastes and changing musical styles. It would take Ray Charles to bring the song back to life.
The rising star 30-year-old star had just left Atlantic Records because he wanted more independence, more artistic control of his music and higher royalties. More than that, he wanted his music to reach more people. He wanted mainstream acceptance of his music at a time when albums were starting to outsell singles.
The Genius Hits the Road was his first record for his new label, ABC Paramount. It was a 12-track themed album, released in 1960, based on places in the United States. "Georgia on My Mind" was tucked between "Basin Street Blues"—the main street of Storyville, in New Orleans' red light district—and "Alabamy Bound."
The song's lush orchestration—he had 55 string players on the session—was unlike anything Charles had recorded before. Some critics thought it was a mistake; others thought he was selling out. The public, as it often does, disagreed. The song reached No. 1 on Billboard's pop album chart in November 1960, and he won his first of four Grammys that year—two for "Georgia on My Mind." Charles would go on to win 15 more Grammys in his life. He would also go on to break more musical barriers, including Modern Sounds in Country and Western Music, his 1962 masterpiece.
Other hits by Charles include "I Can't Stop Loving You," "Hit the Road Jack" and "Seven Spanish Angels," his duet with Willie Nelson, which would rise to No. 1 on the country charts in 1985. But it's "Georgia on My Mind" that is his most memorable recording. In 2003, Rolling Stone named the song the 44th greatest of all time.
Was the song about an old love? Or a man longing for home? We'll never know. But Charles had his own opinion. In his 1978 autobiography, Brother Ray, he told the world that neither a woman nor a state was on his mind when he recorded the tune. "I've never known a lady named Georgia, and I wasn't dreaming of the state, even though I was born there," Charles recalled. "It was just a beautiful, romantic melody." That wouldn't stop "Georgia on My Mind" from becoming the official state song back in 1979, when Governor George Busbee signed it into law.
It's a quintessentially American story, the story of "Georgia on My Mind." Two white men from the Midwest wrote a song that a brilliant blind black man they never knew or met would bring to life many years later. There was no talk of cultural appropriation, either by Charles or by Carmichael. They were doing what musical artists in America have done from the beginning of time: borrowing from any and all forms of music and making the result their own. And thanks to the miracle of intellectual property rights, artists in America are not merely protected against the theft of their work but also incentivized to share their work—their songs—with others, and across race, class, cultures and time lines.
The Charles cover version of "Georgia on My Mind" changed the lives of the writers—and the singer—forever, making all of them a small fortune. And the song also made the world a better and more beautiful place. As our great musicians do, one song at a time.
There were many other covers of the song, and by some great artists from every musical genre: Eddy Arnold, Billie Holiday, Bing Crosby, Michael Bolton, Michael Bublé, Ella Fitzgerald, Leon Russell, Jackie Wilson, Jerry Garcia, Coldplay, the Righteous Brothers, Tom Jones, James Brown and the Zac Brown Band. But one version stands out from all the rest. At the time of his death at 73 on June 10, 2004, Ray Charles averaged 200 concerts a year. "Georgia on My Mind" was always the crowd favorite.