Video: Seahawks' Quinton Jefferson Tries to Storm Stands After Fan Dumps Beer on Seattle End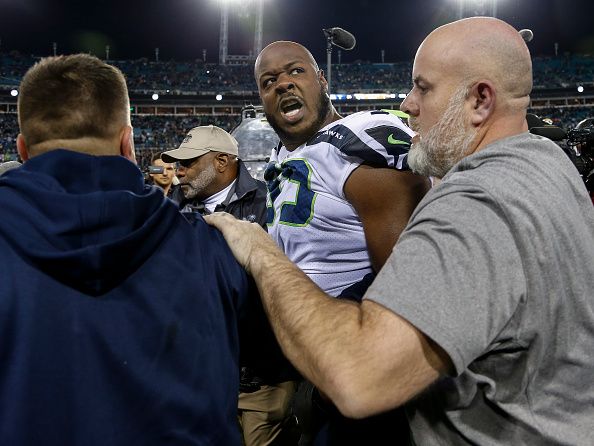 Seattle Seahawks defensive end Quinton Jefferson attempted to jump into the stands during a confrontation with fans in Jacksonville near the end of his team's 30-24 defeat to the Jaguars on Sunday.
Jefferson had been ejected and was leaving the field when spectators hurled cups and other objects at him, triggering an attempt to climb into the stands that was thwarted by Seahawks staff and security personnel.
"I'm walking, not talking to nobody, and someone throws a beer and someone throws another drink. What would you do?" Jefferson told reporters in the locker room following the incident.
"I'm human just like anybody else. I'm a man just like the other man in the stands. I'm not going to let someone disrespect me and throw a beer on me."
Jefferson's team mate Jarran Reed later tweeted that the defensive end had been racially abused during the incident.
Tempers flared in the final minute of the game as the Jaguars were kneeling to run out the clock but the Seahawks continued to rush with full force.
"There's no room in the game for that," said Jaguars tight end Marcedes Lewis.
"You see we're kneeling. You can get somebody hurt. We're out there trying to kneel, there's no timeouts, you guys can't stop the clock. Like, why try to hurt somebody?
"The last 30 seconds while we're kneeling, you're going to spear somebody in the legs? That's not cool."
Seattle's Michael Bennett was shoved by Jaguars running back Leonard Fournette during one skirmish, and Seahawks coach Pete Carroll even ran onto the field after one incident.
Seahawks defensive tackle Sheldon Richardson was ejected for throwing a punch during the altercation, with Jefferson dismissed on the next play after becoming involved in some pushing and shoving.