'Quit Your B****ing': Allegedly 'Profane' Pro-Mask Video Shown to Elementary Students
A Texas elementary school has become the subject of controversy from parents, after an allegedly "profane" video was shown to students.
According to KRIS 6 News, an art teacher at Weldon Gibson Elementary School in Corpus Christi, Texas, showed students a pro-mask video, found here, set to the tune of "Be Our Guest" from the 1991 hit Disney film, Beauty and the Beast.
Ostensibly, the parents' issues with the clip stemmed from its use of language typically deemed inappropriate for elementary-aged students. For example, the parody, which advocates for mask-wearing to slow the transmission of COVID-19, features the line: "Wear a mask / Get your head out of your a**."
"'Hard to breathe' / 'Feels too hot' / Quit your b***ing / Here's a thought," reads another lyric, satirizing common complaints leveraged against the practice of mask-wearing.
The parents' issues with the song, however, seemed to extend beyond its use of language and into the content itself, with some going so far as to call the video an example of "propaganda."
Explained parent Robin Shover to KRIS: "It is propaganda and I think it's not only being pushed on our children, but it's being forced on our children." She also reportedly told the news outlet that the song's message would ostracize students who didn't wear masks.
Helen Kunkel, who learned of the incident through Shover, added that "[the] teacher is taking it upon herself to educate my kids in a way I don't want them educated."
"If you can't have religion in school, say prayers or anything like that, why are you going to teach that?" Kunkel told KRIS. "Why are you going to show the kids that?"
Both Kunkel and Shover reportedly went to the school principal, who wasn't aware of the video, with their complaint. The administrator told them the matter would be handled, reported KRIS, though it's unclear what course of action has or will be taken.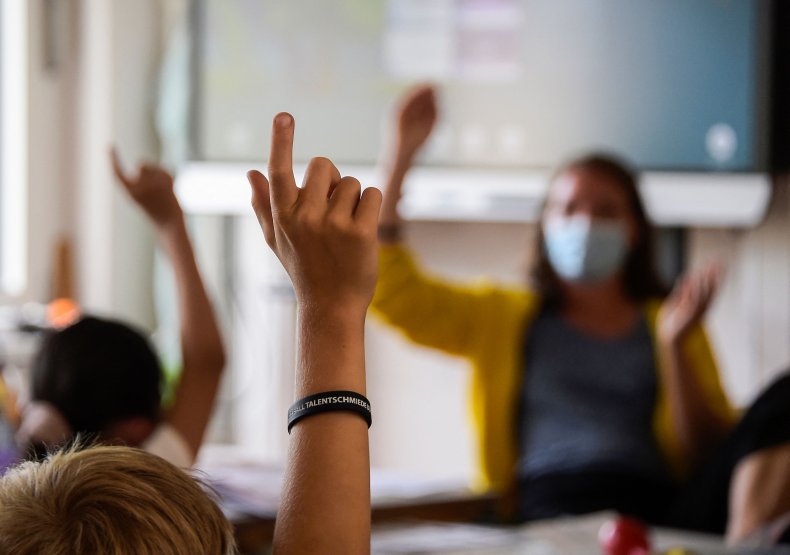 The parents also claimed that this was not the first time this particular teacher showed material to students that they took issue with—according to Shover, the art teacher showed students "nude images" last year. However, the context of that incident is unclear—an important factor considering that nude imagery is often used in art classes as a teaching tool.
Newsweek reached out to Corpus Christi Independent School District (CCISD) for further comment but did not hear back in time for publication. The district, however, did release the following statement to KRIS on the incident:
"Corpus Christi ISD and Weldon Gibson Elementary School regret the use of a video in a Gibson Elementary classroom. The content does not reflect the district's or the school's values, and its use has been addressed as a personnel matter."
"Corpus Christi ISD and Gibson Elementary are dedicated to providing positive role-modeling and highly encourage mask-wearing as an effective measure to help reduce the spread of COVID-19 in our community."
The video is not the only controversy faced by the school district this week. When the CCISD school year began on Monday, 55 COVID-19 cases were reported among students and staff. Within two days, those numbers more than doubled to a total of 112 active cases, 106 of which were found in students.