'Quiz' on AMC: Can You Answer Charles Ingram's 'Who Wants to Be a Millionaire?' Questions?
AMC will start airing its new drama Quiz on Sunday, May 31, which is based on the real-life scandal based around U.K. Who Wants to Be a Millionaire? contestant Major Charles Ingram, who was found guilty of deception after a court ruled he had cheated his way to £1 million ($1.2 million) via a nearby accomplice who would cough on the right answers during his 2001 appearance on the game show.
Viewers who find themselves wanting to have a go at Ingram's questions after watching the drama can read on for the 15 questions that he faced on his way to the million-pound prize and national infamy—be warned, American viewers without a thorough knowledge of British pop music, geography and soap opera may struggle with some of the questions.
All the questions real-life Quiz subject Major Charles Ingram faced on Who Wants to Be a Millionaire
(Answers at the bottom of this article)
Question 1: £100
On which of these would you air laundry?
A: Clothes dog
B: Clothes horse
C: Clothes rabbit
D: Clothes pig
Question 2: £200
What name is given to a person who is against increasing the powers of the European Union?
A: Eurospectic
B: Eurostar
C: Eurotrash
D: Eurovision
Question 3: £300
What is butterscotch?
A: Shortbread
B: Pavement game
C: Garden flower
D: Brittle toffee
Question 4: £500
Which of these is the nickname for a famous Scottish army regiment?
A: Black Cat
B: Black Widow
C: Black Sea
D: Black Watch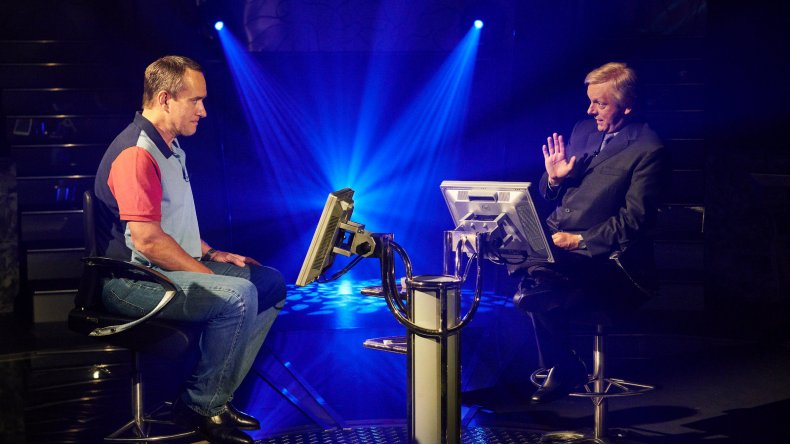 Question 5: £1,000
The Normans, who invaded and conquered England in 1066, spoke which language?
A: German
B: Norwegian
C: French
D: Danish
Question 6: £2,000
In Coronation Street, who is Audrey's daughter?
A: Janice
B: Gail
C: Linda
D: Sally
(In Quiz, we see Ingram use his 'Ask the Audience' lifeline here. Result: A: 4% B: 89% C: 3% D: 4%)
Question 7: £4,000
The River Foyle is found in which part of the United Kingdom?
A: England
B: Scotland
C: Northern Ireland
D: Wales
(Ingram used his 'Phone a friend' for this question. His friend said he was "99% sure" it was C)
Question 8: £8,000
Who was the second husband of Jacqueline Kennedy?
A: Adnan Khashoggi
B: Ronald Reagan
C: Aristotle Onassis
D: Rupert Murdoch
Question 9: £16,000
Emmenthal is a cheese from which country?
A: France
B: Italy
C: Netherlands
D: Switzerland
Question 10: £32,000
Who had a hit UK album with Born To Do It, released in 2000?
A: Coldplay
B: Toploader
C: A1
D: Craig David
(Ingram used his 50/50 here, which left him with A1 and Craig David)
Question 11: £64,000
Gentlemen v Players was an annual match between amateurs and professionals of which sport?
A: Lawn tennis
B: Rugby union
C: Polo
D: Cricket
Question 12: £125,000
The Ambassadors, in the National Gallery, is a painting by which artist?
A: Van Eyck
B: Holbein
C: Michelangelo
D: Rembrandt
Question 13: £250,000
What type of garment is an Anthony Eden?
A: Overcoat
B: Hat
C: Shoe
D: Tie
Question 14: £500,000
Baron Haussmann is best known for his planning of which city?
A: Rome
B: Paris
C: Berlin
D: Athens
Question 15: £1 million
A number one followed by one hundred zeros is known by what name?
A: Googol
B: Megatron
C: Gigabit
D: Nanomole
Correct answers:
1: B (Clothes horse)
2: A (Eurosceptic)
3: D (Brittle toffee)
4: D (Black watch)
5: C (French)
6: B (Gail)
7: C (Northern Ireland)
8: C (Aristotle Onassis)
9: D (Switzerland)
10: D (Craig David)
11: D (Cricket)
12: B (Holbein)
13: B (Hat)
14: B (Paris)
15: A (Googol)
Quiz airs Sundays at 10 p.m. ET on AMC.