Quora: #BoycottStarbucks Campaigns Don't Hurt the Bottom Line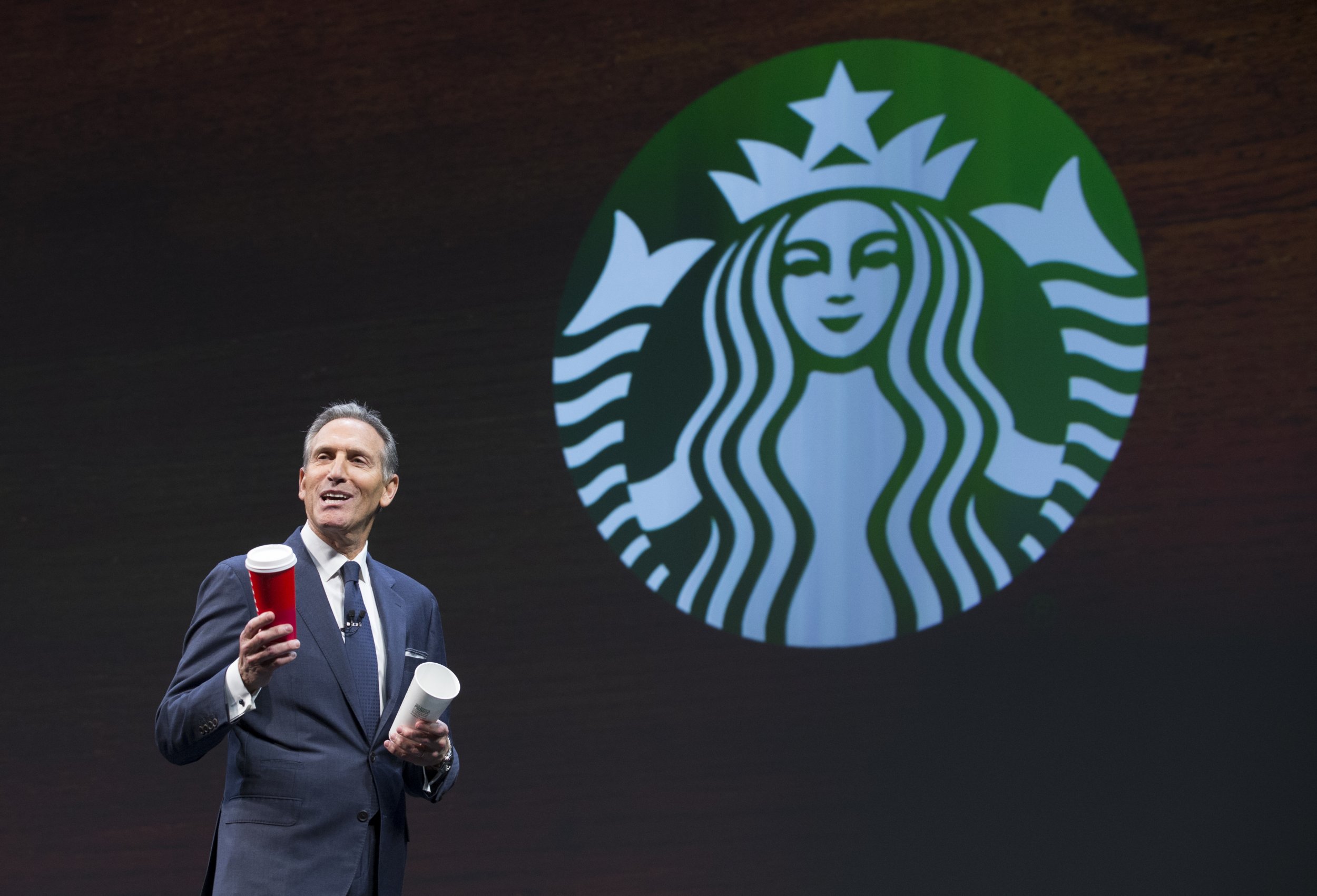 Quora Questions are part of a partnership between Newsweek and Quora, through which we'll be posting relevant and interesting answers from Quora contributors throughout the week. Read more about the partnership here. Answer from Archie D'Cruz, Editor, Designer, Writer:
Here we go again.
This isn't the first time that #BoycottStarbucks has trended on Twitter. In fact, an online search reveals this is at least the eighth occasion that the hashtag has bubbled into the headlines over the past five years. And this latest row over Starbucks' plans to hire 10,000 refugees is the fourth to involve Donald Trump.
So does it hurt Starbucks or help them in the weeks after these campaigns? I used Google Search and Yahoo Finance's Historical Price Checker to do a little investigating.
Here's what I found for the previous times that #BoycottStarbucks or similar trended on social media:
1. Same Sex marriage controversy, Part 1, March 2012
Early in 2012, Starbucks sparked outrage among traditionalists after CEO Howard Schultz weighed in strongly in favor of legalizing same-sex marriage.
After Washington state ruled to overturn federal law and accept same-sex unions, the anger boiled over, with the National Organization for Marriage, America's largest group dedicated to preserving traditional marriage, calling for an international #DumpStarbucks campaign on March 21.
Here's where the stock price stood on the date the boycott was announced, and what it was a month later.
March 21, 2012: $53.81
April 21,2012: $59.16
Winner: Starbucks
2. UK Tax controversy, October 2012
This time, it was British consumers who were steaming, after it was revealed that Starbucks had avoided paying tax for three years despite making £1.2 billion in sales.
Britons vowed to avoid the 735 outlets in the country and began spreading the #BoycottStarbucks hashtag.
Here's how it panned out for the stock at the protest launch, and a month later:
October 15, 2012: $47.67
November 15, 2012: $48.43 (post dividend)
Winner: Starbucks
3. Same Sex marriage controversy, Part 2, March 2013
From the Land of Tea back to the Land of the Tea Party, and this time it was the same-sex marriage controversy flaring up again. Almost exactly a year after the initial blowup, Shultz was involved in an exchange with a shareholder, who felt the company's support for same-sex unions was hurting the stock price.
TheTeaParty.net—said to be the country's largest 'Tea Party' organization—took up the cause and called for boycotting Starbucks again.
Here's how the stock performed over the course of that month.
March 23, 2013: $55.35
April 23, 2013: $58.56
Winner: Starbucks
4. Employee Dress Code controversy, October 2014
This time, there was trouble brewing in-house, after Starbucks rolled out a new dress code policy. Employees were henceforth banned from wearing jewelled rings, bracelets or wristwatches. The new rules were meant to comply with FDA guidelines on food handling, but baristas were not pleased and launched a #BoycottStarbucks campaign.
Here's how the stock responded:
October 22, 2014: $74.60
November 21, 2014: $79.76
Winner: Starbucks
5. Trump and the Christmas Cup controversy, November 2015
Donald Trump finally gets into the picture here. Starbucks went with a neutral, plain red for their Christmas-themed cups that year, dropping any of the typical seasonal symbols.
Breitbart claimed it was a "War on Christmas" and Trump, now a presidential candidate, piped up from the campaign trail, saying: "Maybe we should boycott Starbucks."
So how did that go?
November 10, 2015: $53.57
December 10, 2015: $58.75
Winner: Starbucks
6. Trump and the Hillary Endorsement controversy, September 2016
Last September, Shultz endorsed Hillary Clinton for president, sparking Trump supporters to froth at the mouth. They again took to Twitter to call for a Starbucks boycott.
Surprise, surprise. In a foretaste of what was to come in the election, stocks narrowly dipped from a month earlier.
September 8, 2016: $55.30
October 8, 2016: $53.46
Winner: Trump
7. Trump and the Alt-Right controversy, November 2016
A supporter of the newly elected president claimed he was turned away from a Starbucks because he said his name was Trump and a barista refused to write it on the cup. An alt-right Twitter user going by the handle Baked Alaska saw it as a culture war. He asked his 123,000 followers to get baristas to write Trump's name on their Starbucks cups so they could "trigger SJW (social justice warrior)" employees.
How exactly buying from Starbucks is supposed to hurt the coffee giant is unclear, but whatever. Let's check how the stock did.
November 18, 2016: $55.77
December 18, 2016: $57.66
Winner: Starbucks
So here's a tip:The next time you see #BoycottStarbucks trending on Twitter, you might just want to place a call to your stock broker.
You're welcome.
Is the pro-Trump #BoycottStarbucks campaign (January 2017) likely to hurt or help the coffee giant? originally appeared on Quora—the place to gain and share knowledge, empowering people to learn from others and better understand the world. You can follow Quora on Twitter, Facebook, and Google+. More questions: