Quora: Military Photographer's Most Memorable Moments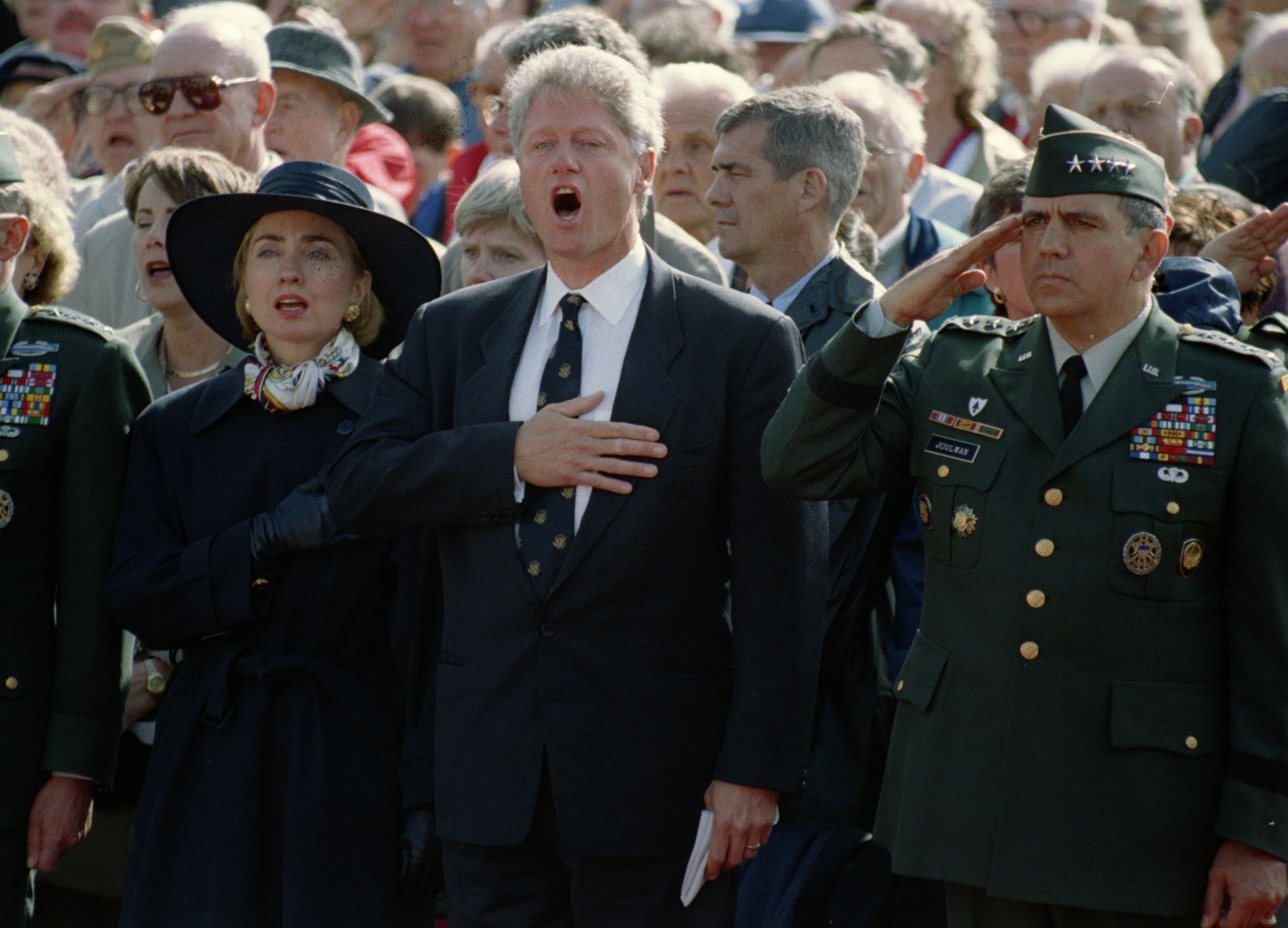 Quora Questions are part of a partnership between Newsweek and Quora, through which we'll be posting relevant and interesting answers from Quora contributors throughout the week. Read more about the partnership here.
Answer from Rolando Gomez, pro photographer, author, writer for The Huffington Post, assignments in 43 countries:
I've had the opportunity to see history in its making in the past three decades, and there are many events that stick out, like the fall of the Berlin Wall in 1989; the signing of the Peace Accords in El Salvador and President George H. W. Bush's visit to Panama in 1992; the NBA Western Finals in 2007; the U.S. Olympics in 1996; and various others while on assignment in 43 countries. Because of so many things I've photographed and seen in my photographic journey, I decided to answer this with the most memorable time period instead, that being between 1994 and 1995.
In 1994 the Dept. of Defense selected me as one of the top military photographers throughout all the military branches worldwide, and the assignments followed. The most horrific was in Goma, Zaire, Africa during the 1994 Rwanda refugee crises. Later that year I also covered Uphold Democracy in Haiti, the 50th Anniversary of D-Day in France, then into 1995 I would cover the 50th Anniversary of VE Day in England, and the return of 10 sets of remains with Joint Task Force Full Accounting in Hanoi, Vietnam.
Obviously there were other assignments in between, but those are the most memorable during that time frame, and unfortunately most of my photos reside in the National Archives. Some of those memories were horrible, some funny, some somber, some amazing, and I'm happy I lived to see and document them. These eyes have seen death and victory over the years and words and even photos cannot describe what I witnessed and felt.
1994 Rwanda Refugee Crisis, Goma, Zaire
This mission started in San Antonio with a phone call from the Pentagon, and within hours we were at the airport carrying in our pockets an experimental drug at the time called Lariam, known today as Mefloquine, because the malaria in that part of the world was resistant to the normal malaria drugs.
A journalist and I flew to Dallas then connected to Philadelphia, where we rented a car and drove to McGuire Air Force Base were we caught an air force C-141 to Dover Air Force Base then flew to Rhein-Main Air Force Base. From there we headed out to Cairo West, Egypt, refueled then just before we landed in Goma the aircraft commander asked us to watch out the portholes to check if any refugees would be sucked up the aircraft's four engines during landing. Fortunately no one was sucked into the engines as refugees did a mad scramble off the runway as the 168-foot long aircraft landed.
When we exited the aircraft we were swarmed by thousands of refugees as the place was mad chaos. Once there we saw Red Cross dumping dead bodies in piles from a distance. There were hundreds of thousands of refugees, the majority infected and some dying from cholera. While I had no exact count, it looked like thousands had died, and the smell of death was everywhere. It is very true when they say you never forget the smell of death.
On this trip I also made one mistake, I saw a small refugee boy who just looked at me as I photographed him. I felt bad, handed him a "box of water" they had given us that was stored in my camera bag. As I walked away, bigger kids came out of the weeds and forcefully took the water away from him—there was nothing I could do, and they of course left me alone because I was in full combat gear and had my weapon with me.
This life experience amplified my senses to appreciate the beauty in living and life, including the models I photograph. People just don't realize how easy we have it compared to others in third-world countries. We are blessed! I think being a soldier changed me in many ways that I funnel along with other life experiences into my photography.
Uphold Democracy in Haiti
When we were asked to deploy to Haiti, even though I was a staff sergeant, I was not in charge and for some oddball reason the person who slightly outranked me, a U.S. Air Force Tech Sgt., convinced the commander, a full-bird Air Force colonel, that we didn't need weapons. I was angry as CNN was showing the first arrival of troops into Haiti and every soldier was armed.
We flew out on a C-130 and as we were landing near midnight, the runway lights went out, scary, but we landed safely. It was mass chaos, and the sergeant in charge left me to guard our gear while he searched for a place for us to bed down for the night. When he returned he claimed he had enough cots for a few people including himself, but not for everyone. "Wow," I thought. In the Army the most senior person eats last and suffers first before their subordinate troops. This sergeant obviously showed no leadership skills and was only thinking about himself, yes, the same guy that talked the commander out of bringing weapons.
Well I took initiative and found the Combat Camera team, and they had a few extra cots and helped out for a subordinate sergeant and myself. Later that morning I headed out with Army rangers on a reconnaissance mission in town and upon my return, the tech sergeant in charge gathered us up for a meeting where we learned that he was stopped by a c0mmand sergeant major who told him he had 24 hours to get us weapons or get out of country.
The tech sergeant said we'd have to leave as he knew no other way, but then I told him I could get weapons in 24 hours. I took him back to the Combat Camera unit, and they let us use their satellite phone to call back to our unit; they dispatched out a supervisor from the agency with weapons that arrived early next morning.
During the period there we took sniper fire toward the end of the airport in Port-au-Prince and saw one person airlifted to the Navy Comfort hospital ship, and I also flew out via a Chinook helicopter to document operations at Camp Haitian. One problem we were having in Port-au-Prince was with tarantulas, and I was actually bitten by one on my left shoulder when I was sleeping, and it made me briefly sick before eventually returning home upon completion of my assignment.
50th Anniversary of D-Day in France
The 50th Anniversary of D-Day in France was historical and enjoyable plus one of the better assignments in that the people of France in the areas of Normandy, Sainte-Mère-Église, Ohmaha Beach, Pointe du Hoc and the surrounding areas treated us like heroes.
I enjoyed covering President Bill Clinton during the ceremonies, and the most beautiful part of this trip was when the paratroopers re-enacted the D-Day jumping in of thousands of troops. The first 38 paratroopers were actual soldiers that had jumped in on D-Day back in 1944 and were followed by over 1,000 active-duty airborne soldiers in 1994. Alfredo Sepulveda, 74, of California, was blown off course and landed behind some trees from the actual drop zone and Earl Draper, 70, from Inverness, Florida, had to use his safety chute after the main chute failed to open, and he landed safely with a slight back injury.
Sainte-Mère-Église was also the first city liberated by American troops on D-Day, June 6, 1944, and they re-enact Pvt. John M. Steele's landing on the church tower that probably saved his life that night. "His parachute was caught in one of the pinnacles of the church tower, causing the suspension lines of his parachute to stretch to their full length, leaving him hanging on the side of the church to witness the carnage. The wounded paratrooper hung there limply for two hours, pretending to be dead, before the Germans took him prisoner."
The weird part of that assignment is that the families of German soldiers who had fallen during the war were quietly placing flowers at the secluded German graves nearby.
VE Day 50th Anniversary
The following year after Rwanda I was sent to Cambridge, England, to cover the 50th anniversary of VE Day, or Victory Day in Europe of World War II. One of the main photos I was assigned to capture was Vice President Al Gore visiting Cambridge's American Cemetery to honor the 3,812 U.S. service members buried there along with thousands of others listed as missing.
After the ceremony ended, my former boss, Gen. George A. Joulwan, who as the Supreme Allied Commander Europe, asked me to join him and the dignitaries in the VIP reception tent. Then Joulwan asked me to join him to see the vice president off at the secure helipad, which was hidden from the media and onlookers.
Once there, Joulwan asked me to stand between him and the secretary of the Army, Togo D. West, in the official receiving/farewell line of the three of us. I was truly honored. As the limousine drove up with the vice president and his wife, Tipper Gore, West stood at the position of attention in his civilian attire and Joulwan and I, both in our "class-A" dress green uniforms, raised our hands in the proper salute in the position of attention ourselves.
Secret Service agents opened the "gangster" type limousine doors and poor Tipper Gore, as she exited the limo with her first leg out, innocently her underwear was showing. Joulwan quietly remarked to me, as I held my camera by my side standing at the position of attention, "Don't even think about it Gomez." We all three held a straight face, head and eyes forward, then as the vice president and his wife came through we dropped our salute then shook their hands as they then turned and boarded their helicopter.
It was unintentional on Tipper Gore's behalf, but if you can picture the secretary of the Army, the Supreme Allied Commander Europe with me in the middle ofthem, the on-duty firefighters standing by, many Secret Service agents, and many other support personnel all doing their best to look away out of respect while still not jeopardizing the security of the situation.
Joint Task Force Full Accounting in Hanoi, Vietnam
One of the most somber but interesting assignments I was sent on was to document the return of 10 sets of remains from Hanoi, Vietnam, which was also the year of the 20th anniversary of the fall of Saigon.
I documented the turning over of 10 sets of remains at the Hanoi airport and once the official documents were signed by Sen. John McCain, a joint-duty military color guard placed the boxed remains in metal caskets, then carefully draped the U.S. flag over each casket, and they were loaded on the C-141 that had brought us there. As I rode back to Hawaii, via a quick stop in Guam to refuel, it was a somber feeling staring at those caskets during those long hours of flight.
Once we arrived at Hickam Air Force Base in Hawaii, I also had to cover the repatriation ceremony and many Vietnam vets were there; let's just say it was a real tearjerker.
Well there you have it, my most memorable period of history for part of 1994 through part of 1995, and I apologize for the long answer but when you've covered events like I have for almost four decades, it's hard to just pinpoint one out of many that have left an imprint on my mind and soul.
Of all the historical events you've been privy to, which has stuck with you the most and why? originally appeared on Quora—the knowledge sharing network where compelling questions are answered by people with unique insights. You can follow Quora on Twitter, Facebook, and Google+. More questions: