Quora Question: Is Russia Supporting Separatist Groups in Ukraine?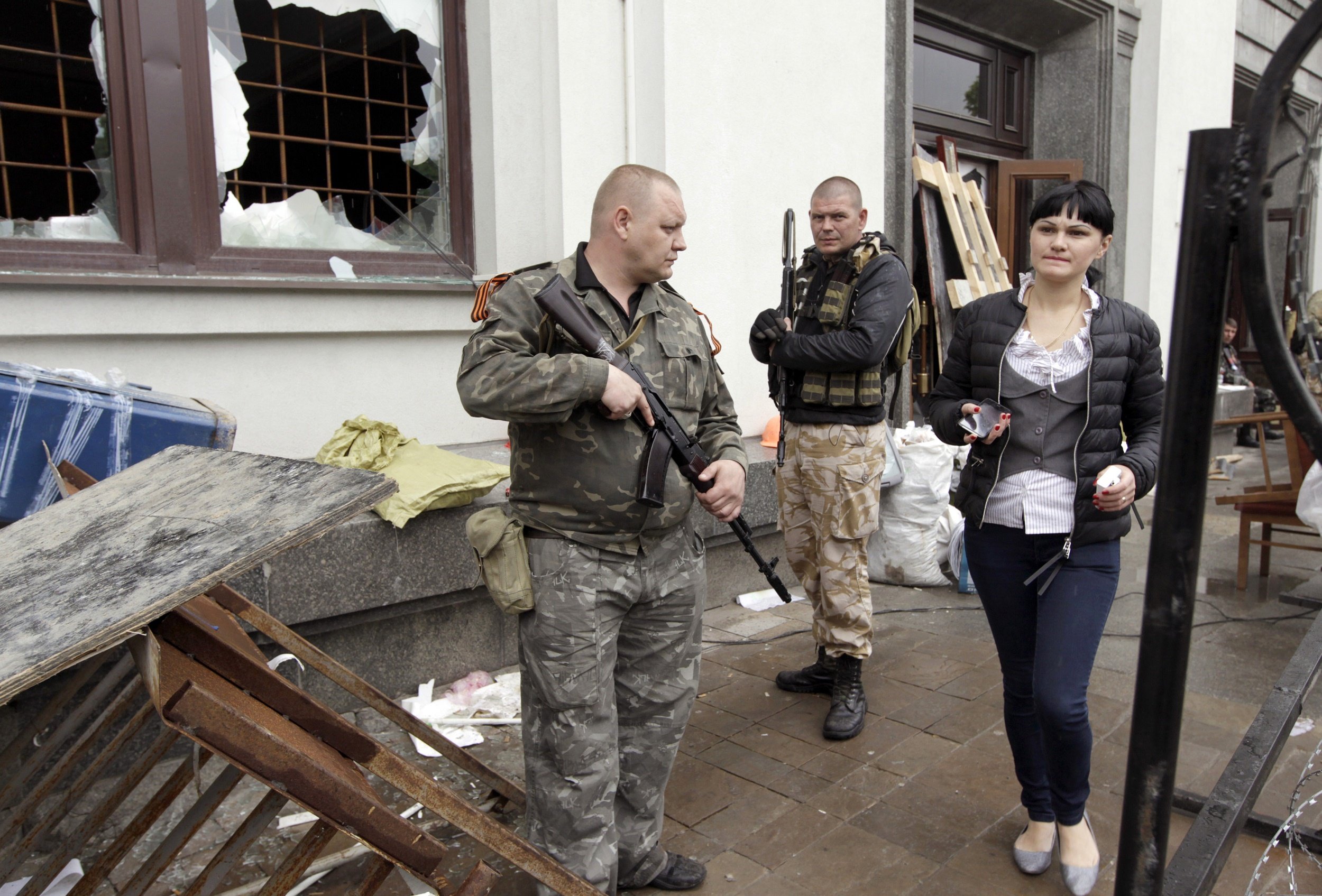 Quora Questions are part of a partnership between Newsweek and Quora, through which we'll be posting relevant and interesting answers from Quora contributors throughout the week. Read more about the partnership here.
Answer from Igor Markov, Engineer at Google who grew up in Kiev.
Starting in mid-April, the most serious anti-Ukraine military operations in the Donetsk region are run by Igor Girkin (aka Igor Strelkov, aka "Strelok") from Russian Military Intelligence who coordinated takeovers of Ukrainian military units in Crimea. Journalists identified his apartment in Moscow, and his neighbors recognized his face. I am including his video from May 18 recorded in Slavyansk (Ukraine), where he acknowleded support from Russia then complained that he could not find even 1000 fighters (out of 6.7M in Donetsk and Lugansk regions), while his fighters were mostly over 40. If you think that Girkin is a rogue fighter, keep in mind that he toured Ukraine a few months ago as the chief of security for the widely publicized delegation of Russian Orthodox Church.
As of May, the "prime-minister" of the pro-Russian Donetsk People's Republic, Aleksandr Borodai is also a Russian citizen from Moscow, a professional political technologist, who told journalists that Crimea and East Ukraine has been a non-stop project for him: Глава самопровозглашенной ДНР рассказал о российско-крымском следе сепаратизма
A Russian business daily published a detailed account about Girkin and Borodai from (page on slon.ru).
An interview published in kp.ru (a major Russian news outlet with populist and nationalistic bent) described a prominent Russian fighter in Ukraine nicknamed Babai, who had criminal convictions in Russia, admits to regularly using illegal drugs and is hoping for a monarchy in East Ukraine.
In late May, Donetsk citizens took videos of new fighters who admitted to arriving from Chechnya (they looked at spoke accordingly), apparently, many of them were sent back to Russia dead after their shortlived attack of the Donetsk airport. The Chechen leader Kadyrov admitted that there were a handful of Chechen fighters in Ukraine, but thousands were waiting to join them if Putin gave such orders.
Separatist fighters are seen driving new Russian-made military trucks and are often captured with arms that only Russian military uses (advanced submachine guns, Dragunov sniper rifles, grenade-launchers, antitank weapons). A recent account by a journalist claims that the majority of separatist fighters are local, with a fraction from other parts of Ukraine (including Crimea), some Russian people from Russia, and some non-Slavic people from Russian Federation (from Ossetia, for example) - typically with experience from the Chechnya war. Russia denies allowing illegal border crossings, but Ukrainian border guards regularly capture minivans and trucks loaded with weapons and people with military experience trying to cross the border.
Other than this, Ukrainian financial investigators reported intercepting large amounts of money from Russia and physical cash transported across the border intended for pro-Russian insurgents.
To conclude, if you read Russian and Ukrainian press, you will find plenty of evidence of military, political, and financial support by Russia for separatist groups - the big picture is very consistent. Ironically, this is making things worse in Russian-speaking regions because local police are not functioning, organized criminals now run around with thousands of machine guns, and local heavy industry has stopped production. A Donetsk supermarket and local car dealerships were looted, an ice-hockey arena was burned down, banks are robbed, mayors of mid-size cities resign from hospital beds. Clearly, Russia's influence is ruining the jobs and lives of Russian-speaking people in East Ukraine, contrary to Russia's stated goals of helping Russian-speaking people abroad.
.