Quora: Where Do Democrats Go From Here? Most Americans Want Them to Reach Across the Aisle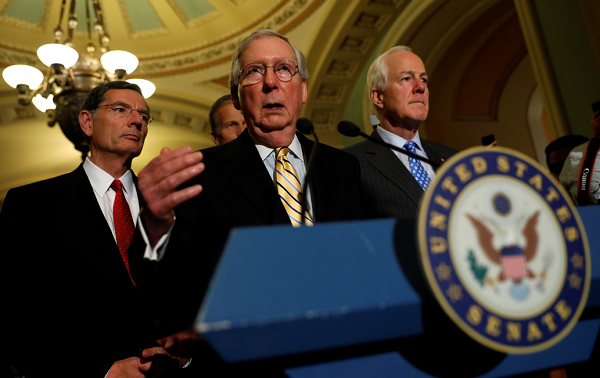 Quora Questions are part of a partnership between Newsweek and Quora, through which we'll be posting relevant and interesting answers from Quora contributors throughout the week. Read more about the partnership here.
Answer from Ben Ray Luján, Chairman, DCCC & U.S. Representative from NM-03:
The 2016 elections made clear that too many Americans have lost trust in our political system and our economy. Their faith has been shaken. Americans sent the message that they want us—their elected representatives—to focus on them and the problems they face every day.
Our nation's greatest strength is our people: honest, hardworking people from all walks of life. We must respect the dignity of every person—no matter who you are, where you come from, or who you've voted for. That's why Democrats have been working hard for many months since the election to restore that faith, and show Americans that we have their backs.
In fact, we just rolled out a plan called "A Better Deal" that describes how we will grow our economy to deliver better jobs and wages for all Americans, and invest in the skills and tools necessary for them to build a better future. President Trump and Republicans in Congress are promoting economic and healthcare policies that put Wall Street, big corporations and the wealthiest Americans first, instead of advocating for everyday hardworking Americans from New Mexico, to Southern Illinois, to Florida.
Democrats have a strong agenda that grows the economy for everyone so that their wages can keep up with the rising cost of living. This means helping everyone to have the opportunity to pursue the dignity of good-paying jobs. It means rewarding small business owners for their hard work and entrepreneurship. And it means promoting skills training by investing in the future through apprenticeship programs and community colleges, as well as making four-year college more affordable.
In addition to promoting a strong economic agenda that will help Americans get better jobs and wages, we are working from the ground up to reconnect with voters and earn back their trust, in their communities. Too many voters felt left out and left behind during the 2016 election cycle. That's why the DCCC has invested in the grassroots in a big way.
In February, we launched our "March into '18" field organizing program—earlier than ever before—because we saw movements like the Women's March and recognized the enthusiasm building in districts across the country. We wanted to help channel that energy towards House Republican accountability surrounding healthcare and many other serious elements of the Republicans' reckless agenda.
We also launched an exciting national training program called "DCCC-University" to train more campaign staffers across the country, in the districts that they will be working in. If we are going to build the largest battlefield in a decade, we need to ensure that strong candidates have local campaign managers and other staff who can work hard to connect with the communities they seek to represent.
And there's more to come. We have continued to listen and talk to the American people in the months since the 2016 election, and there's no doubt that Americans are appalled by the agenda coming out of Republican-controlled Washington. We are committed to holding Republicans accountable, and will fight to the very end to protect the American people, just as we have on healthcare.
And we're working to build our ranks in 2018. That's why the DCCC is already targeting at least 80 Republicans across the country by recruiting candidates who fit the districts, know the communities and are ready to fight on behalf of the hardworking people that live there. The House is in play and I look forward to winning big in 2018.
What should the Democratic Party change after the 2016 defeats for President and the legislatures? originally appeared on Quora - the place to gain and share knowledge, empowering people to learn from others and better understand the world. You can follow Quora on Twitter, Facebook, and Google+. More questions: