Quora Question: Why Hasn't a Female Astronaut Been to the Moon?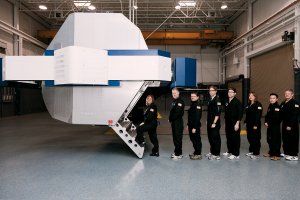 Quora Questions are part of a partnership between Newsweek and Quora, through which we'll be posting relevant and interesting answers from Quora contributors throughout the week. Read more about the partnership here.
Answer from C Stuart Hardwick, Award-Winning sci-fi author:
When President Kennedy committed the nation to landing on the moon, he set in motion the greatest engineering challenge in human history on a measly eight-year countdown. Everything about it was experimental. Mercury. Gemini. Apollo.
By the standards used in the rest of the industry, the entire program was a test program. Certainly, every flight up the the landing was. And that meant NASA needed test pilots. Not just any test pilots, but the very best of those seasoned by America's military jet and rocket aircraft, and those with exemplary backgrounds in engineering.
This was just good sense, but it also precluded women. There were very few female engineers in 1961, and none were high-performance test pilots. Women were never considered, and at that time and under those circumstances, should not have been considered.
It's a sad commentary on our society, however, that no female candidates were available. This is Jerry Cobb:
She ferried bombers during WWII, and after Randy Lovelace tested male candidates for the Mercury program, he put her through the same medical and psychological tests and found that she performed as well as most of the men, something that should not have been as surprising as it apparently was.
This is Jackie Cockeran, that great American aviation pioneer you've probably never heard of:
Lovelace was so impressed with Jerry Cobb, he talked Jackie into paying to test a whole group of other lady pilots, mostly recruited from the Ninety Nines, the female pilot professional organization founded by Amelia Earhart.
Which was fine, except that this was a science project, not part of the space program. None of these ladies were the kind of engineers and high-performance jet pilots needed in those early days of the space program. It appears, and some of the other women have affirmed, that Jerry in particular heard what she wanted to hear. Randy Lovelace had a verbal agreement from his military contacts to move the women to phase two training at a base in Florida, but that meant requisitioning government resources for an unapproved science project at the height of the Cold War, the Vietnam war, and the space race. It never happened, and Jerry, according to biographers, feels cheated to this day.
Well she shouldn't, even though LBJ did lie right to her to her face.
Was sexism at work? Yes, most of it out in the fields and factories where these women had to fight just to be taken seriously as pilots in the first place and in the engineering schools, some of which didn't admit woman until the 1970s.
Jerry Cobb was never going to land on the moon. Like Jackie Cochran before her, she was born at the wrong time in history for that. But she and the others did help open doors and raise consciousness. By the 1980s, women were commanding space shuttles, and when we finally do return to in-person extraterrestrial exploration, they will certainly be along for the adventure.
Which is not to say the battle's won. Graduation rates for female engineers have been stagnant for more than a decade, and that's something we all need to work on. They opened the door. Now the rest of us, as a society, need to get marching.
Why have no female astronauts ever set foot on the moon? originally appeared on Quora—the knowledge-sharing network where compelling questions are answered by people with unique insights. You can follow Quora on Twitter, Facebook, and Google+. More questions: