'Quordle' #101 Answer and Hint: 4 Clues To Help You Crack 05/05/2022 Puzzle
Quordle is the game engineered for super-sleuths who solve Wordle puzzles in their stride.
Quordle #101 is live for the next 24 hours, and this word game is predictably problematic to work out.
Fortunately, Newsweek is on hand to help with the May 5 puzzle, courtesy of several hints and tips.
Please note: spoilers for Quordle #101's quartet of answers are found at the bottom of this page.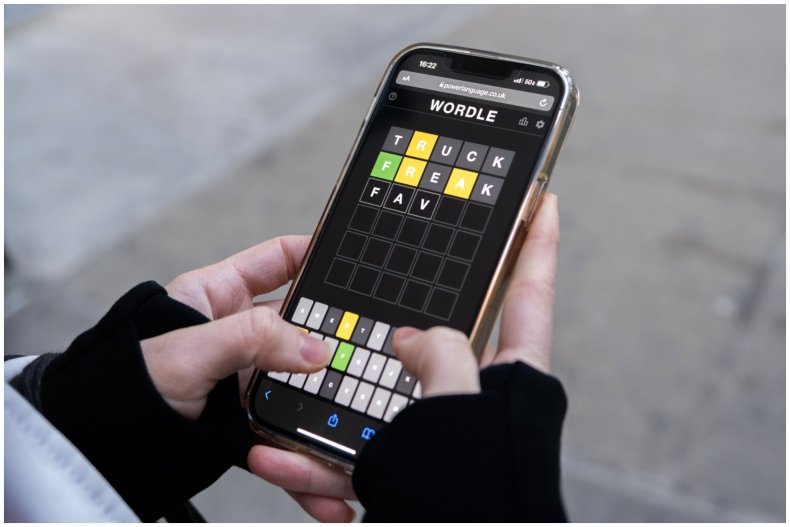 Quordle Origins
Quordle challenges players to guess four different five-letter words in nine attempts or fewer.
The game, which has been inspired by Wordle, sees tiles change for each letter based on whether the letters in your guess feature in the word.
As Quordle surpasses its century, the puzzle requires even more work from players as they attempt to crack the puzzle.
There are four grids on the screen and every choice made reflects in all the grids, and one of your nine chances will disappear.
Jack Terry, account manager at PR agency Red Setter, believes Quordle "perfectly scratches that itch of testing my knowledge and logic, as well as my vocabulary."
He told Newsweek: "Strategy became an important part of being the daily winner amongst my group, and I soon identified ARISE as my preferred starter word, with MOUNT as my back-up.
"This way I cross off every vowel, as well as some of the most common consonants. This strategy has been refined so that for Wordle, I only use one and then make educated guesses based on what goes orange or green.
"For Quordle and Octordle though, I allow myself the luxury of guessing both. This technique results in whole words being spelled out at times, or at the very least three correct letters for one of the answers."
"In terms of social media, I will only share particularly good results – Wordle solved in two; Quordle in five; Octordle before the clock emojis are used.
"As for the full range of '-dle' games, I think a major part of the original's success and the oft-copied format (and the reason I love them so much) is the simplicity of its design.
"Not housed in an app, reactive animated panels, and a 4-color palette is all it took to create one of the most successful games in recent memory.
"The number of brands and advertisers you now see trying to capture the zeitgeist with their social campaigns, it really shows how much can be done with so little."
Quordle #101 May 5 Hints And Tips
The Quordle solutions for Thursday, May 5 are words frequently used in people's lives every day.
Hint 1: Quordle #101's first answer denotes, or relates to, or of the nature of sound or sound waves.
Hint 2: The second answer coincidentally relates to the next one, as it relates to a roughly built hut.
Hint 3: As already indicated, this five-letter word concerns a private room or compartment on a ship.
Hint 4: Boasting a brace of identical vowels, this Quordle answer is synonymous with a flowering shrub with long, thin green stems and small or few leaves.
Quordle #101 Answers
Still having trouble working out Tuesday, May 5's problem puzzle? Let's help you out by providing Thursday's Quordle #101 answers.
Answer 1: Sonic
Answer 2: Shack
Answer 3: Cabin
Answer 4: Broom