Quoting Tulsi Gabbard, China Says U.S. 'Instigators' of Russia-Ukraine War
China doubled down firmly on its anti-Western stance Thursday by calling the U.S. "instigators" of Russia's war against Ukraine.
At a regular press briefing, China's Foreign Ministry spokesperson Wang Wenbin consolidated Beijing's position by quoting three Americans—George Kennan, Thomas Friedman and Tulsi Gabbard—who warned NATO expansion would antagonize Moscow.
China has aligned with Russia over its security concerns in Eastern Europe, but has not been directly supportive of Vladimir Putin's offensive—at least not in public. The conflict trapped some 6,000 Chinese nationals in Ukraine's major cities. A failure to anticipate either the likelihood or trajectory of the war meant it only began evacuating the first of its citizens and diplomatic staff on Monday, five days after the hostilities began.
In Beijing, Wang dismissed a New York Times report that said China had asked Russia to delay its attack until after the end of the Winter Olympics. This may have explained why U.S. intelligence thought the military campaign would begin on February 16. Ultimately, Putin moved to recognize Ukraine's rebel regions and deployed troops to the Donbas on February 21, just 24 hours after the closing ceremony.
The Times' report was corroborated by The Washington Post and Hong Kong's South China Morning Post, while Japan's Nikkei Asia said the Chinese leadership, relying on Russian intelligence, thought Ukrainian President Volodymyr Zelensky would flee and Putin's troops would capture Kyiv before the month was out. Its 6,000 Chinese could then be flown out of the country from Russia-controlled airports—except it didn't go according to plan.
Wang called the reporting "fake news" and an attempt to shift blame onto China. "The ins and outs of how the Ukraine issue has developed to what it is today—the crux of the issue—is known to all," he said.
"In recent days, the international media has referenced many times the advice of George Kennan, the former U.S. ambassador to the Soviet Union, who noted in the 1990s that continued expansion of NATO toward Russia's borders would be the most fatal error of American policy. Regrettably for the U.S. government, it fell on deaf ears," Wang said.
He continued: "Thomas Friedman, a renowned American expert on international relations, wrote in a recent article that NATO's eastward expansion was a major U.S. error that had undermined relations with Russia, for which the U.S. government bears a considerable amount of blame."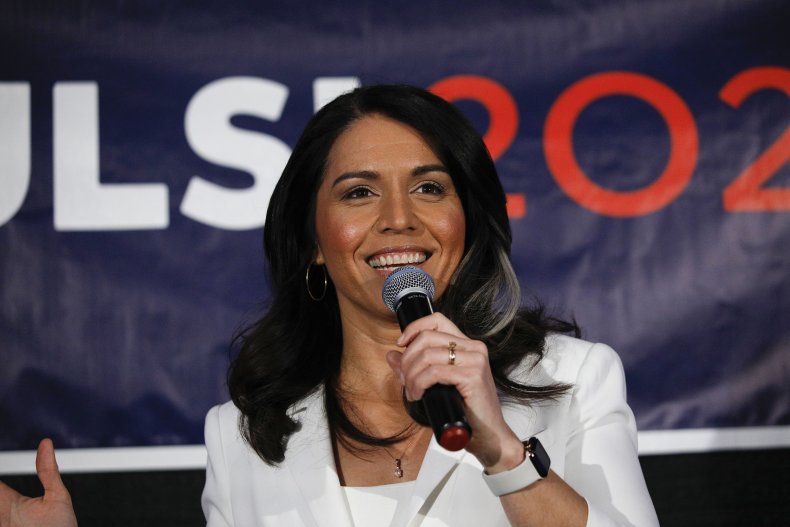 "Tulsi Gabbard, a former member of the U.S. House of Representatives, said that the crisis could have been ended and the war avoided if President Biden had simply guaranteed NATO would not accept Ukraine as a member. But they chose not to do so," said Wang.
He appeared to be referring to a tweet by the Democratic former congresswoman for Hawaii: "This war and suffering could have easily been avoided if Biden Admin/NATO had simply acknowledged Russia's legitimate security concerns regarding Ukraine's becoming a member of NATO, which would mean US/NATO forces right on Russia's border."
The tweet, which has 118,000 likes at the time of publication, was posted an hour into the invasion on Feb 24.
Wang concluded: "We hope the instigators of this crisis will reflect on their role in the Ukraine crisis, earnestly shoulder due responsibilities and take concrete actions to de-escalate the situation and solve the problem, instead of blaming others."
At an emergency special session of the United Nations General Assembly on Wednesday, 141 countries voted to condemn Russia's war and demanded the immediate withdrawal of its troops from the territory of Ukraine. Russia was among five countries to vote against the resolution. China and 34 other nations abstained.