R. Kelly Allegedly Paid Underage Girl For 'Dance' Before Minnesota Show, New Sex Abuse Charges Say
Disgraced singer R. Kelly was charged with two more sexual abuse charges on Monday. In 2001, he allegedly paid an underage girl to "dance" for him after a meet and greet. The charges, which were first reported to police in January 2019, surfaced in the state of Minnesota, which is new for the musician. Most of his charges reside in Chicago and New York.
The alleged encounter is different from the majority of Kelly's past sexual assault charges. The girl, who was under 18 at the time, allegedly met R. Kelly at a meet and greet, and along with the autograph she received there, was given a written phone number. She called and was told to meet R. Kelly in a hotel room before his show, according to TMZ.
R. Kelly allegedly paid the girl around $200 to "dance" for him, and took off her clothes while he masturbated and touched her sexually, said Hennepin County Attorney Mike Freeman. There reportedly wasn't penetration or sex in any form. Douglas Anton, R. Kelly's attorney, stressed that point to TMZ on Monday.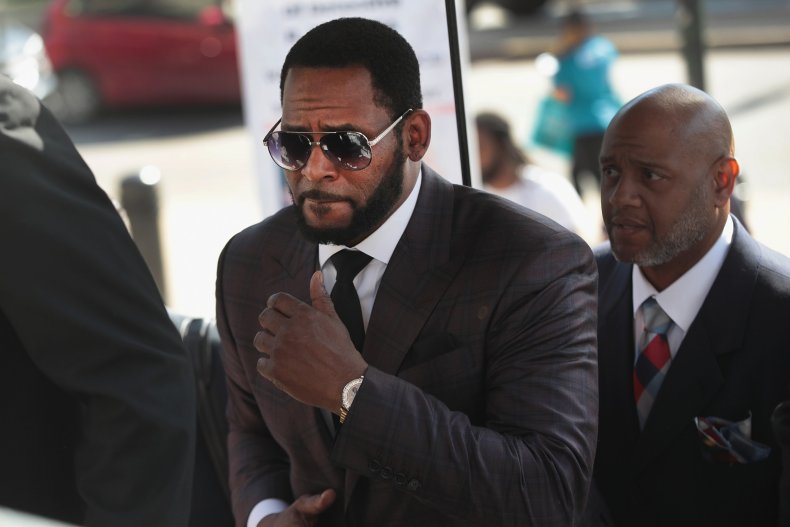 He added: "Frankly I don't understand where the criminal activity exists in this matter. But I believe this highlights what has now become the absurdity of the bulk of the charges against our client."
Another R. Kelly attorney, Steve Greenberg, had a similar reaction on Twitter. "Give me a break. This is beyond absurd," he wrote.
There are two specific charges for this alleged encounter: Hiring a person for sexual contact and engaging in prostitution with a person under 18, wrote TMZ.
Kelly is currently behind bars in New York for five crimes, including kidnapping. He has a total of 23 charges in Illinois, additionally, and has been in jail twice this year in his hometown of Chicago.
A Lifetime documentary, titled Surviving R. Kelly, opened a new conversation on the musician's alleged sexual abuse, and seemingly caused a ripple of victims to step forward with their stories. Many of the claims involve underage women and a handful of sex tapes.
For the new charges, Kelly is facing five years in Minnesota prison, and/or a $10,000 fine.
The recent allegations against Kelly are not the first. He has been in the spotlight for sexual misconduct, and even an underage marriage, since 1994. He was sued as early as 1996 for emotional distress, and in 2001 for an underage sexual relationship with his intern, according to BBC.
Kelly has adamantly denied all sexual abuse allegations.