Azriel Clary, Parents of R. Kelly's Girlfriend, Tell Gayle King They 'Failed Daughter'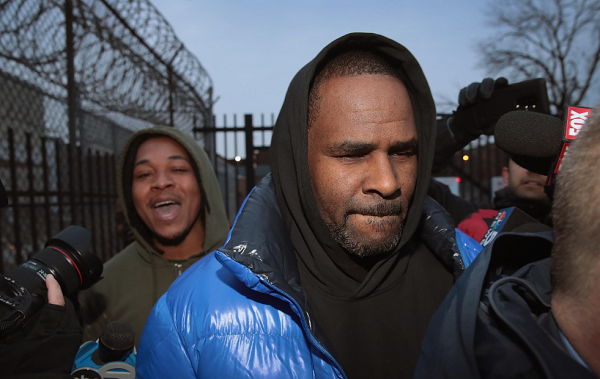 The parents of R. Kelly's live-in girlfriend, Azriel Clary, spoke out against R. Kelly in their first live interview with Gayle King on CBS This Morning on Wednesday. Alice and Angelo Clary shed light on what the "monstrous situation" their daughter is involved in with Kelly. They claim the singer brainwashed Azriel Clary and is holding her trapped in a toxic relationship.
The couple's interview comes just a week following Kelly's temperamental interview with King, during which the R&B singer blamed Azriel Clary's parents for the family's separation. Kelly is currently facing charges of aggravated criminal sexual abuse of four women, including three who were under the age of 17 during the time of their alleged sexual encounters with him. Kelly maintains his innocence against all allegations.
According to Clary's parents, Kelly was supposed to help Azriel Clary launch her music career when they were first introduced in 2015. Azriel Clary was 17 when she met Kelly, and the Clary's alleged their daughter was lured to Kelly's hotel room three days after they met him. The Clarys said Azriel Clary was auditioning for Kelly, and while they were initially upset by the incident, they developed a working relationship with the superstar. Kelly asked Azriel Clary to join him on tour and they ultimately obliged, even though they were wary.
"He flew us to Chicago. We sat with him in his studio. We met with him, and he basically told us, you know, 'Yea, I'm starting a tour. You know, basically, y'all need to make a decision,'" Alice Clary said.
Despite their hesitation—considering the singer's history of alleged sexual abuse of underage girls—the Clarys gave in after Azriel Clary threatened to kill herself.
"I don't wanna call her bluff on it because I know she just attempted this previously," Alice Clary said, noting Azriel Clary's former suicide attempt following a bad breakup. "But… I'm thinking in my head, 'She only got three more months, she's gonna be 18, so she can do what she want.' And then now I'm living with regret for the rest of my life?"
Azriel Clary's father said he was aware of the rumors of Kelly's sexual misconduct with young girls but he trusted his daughter wouldn't fall prey. "You're talking about a young lady that's raised by two parents," Angelo Clary said.
"I didn't trust him. What I trusted was I raised my child right. I trust my daughter was—will be honest with us, and [the tour] was strictly [for] her music," he continued. "R. Kelly had a platform as big as music can ever give somebody. I didn't see the label stop supporting him."
The Clarys said they wrote a letter of consent allowing Azriel Clary to go on tour with Kelly under the pretense that she would be supervised by a woman named Valerie Denise Payton, who turned out to work for Kelly opposed to being "affiliated with the music label" like they were originally told.
In retrospect, the Clarys regret their decision. "I take full responsibility," Angelo Clary said. "We never denied responsibility… I feel like I failed my daughter because I should have saw different signs. I should have saw the change in my baby girl."
Azriel Clary gave a different story to King during her joint interview with Kelly's other live-in girlfriend Joycelyn Savage last week. Azriel Clary accused her parents of forcing her to sing and using her as bait to blackmail Kelly. "When I was 17, my parents were actually making me, trying to get me to take photos with him, take sexual videos with him, all kinds of stuff," Azriel Clary said.
"[My father] is the manipulator," she continued. "He is very manipulative. He's the one you need to watch out for."