R. Kelly Is Back in Jail for Failing to Pay Over $161,000 in Child Support, Expected to Go Home With a Payment Plan
R. Kelly was sent back to jail on Wednesday after failing to pay $161,663 in child support, Buzzfeed News reported Wednesday.
The musician was just released from prison on bond February 25 after being arrested for sexual abuse. He spent a handful of days in prison after his February arrest and his lawyer revealed it was because Kelly didn't have the $100,000 to make bail immediately available.
Kelly's publicist, Darrell Johnson, said Kelly didn't expect to go to go back to prison on Wednesday. "He didn't come here to go to jail," Johnson told reporters. "He came here in this period expecting to walk out. He came here expecting to make some arrangements with what he had."
Kelly owes his ex-wife Andrea Kelly the money, and his deadline to make the large payment was Wednesday at 10 a.m. CT. Kelly shares three children with Andrea, Joann, who is 21, Jay, who is 19 and Robert, who is 17, according to Us Weekly.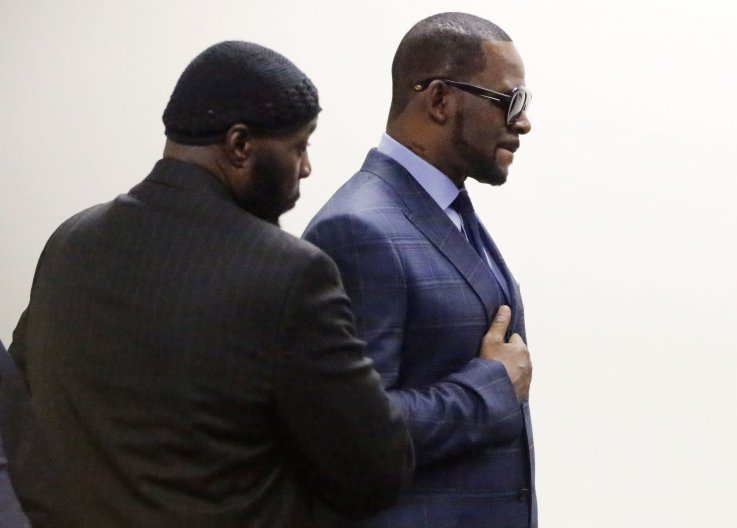 Bail has not been set for Kelly's Wednesday arrest, but he has allegedly been told he'll be in prison until he can produce the $161,663, Buzzfeed reported. Kelly had a hearing for the debt on Wednesday, but it was not open to the public. The documents from the case, as well as Kelly's divorce files from Andrea, are closed.
Johnson explained the musician attempted to pay $50,000 to $60,000 up front and come up with a plan to pay back the rest. This idea was allegedly rejected.
"He can't pay," Johnson said. "He can't book shows. He can't do anything. There's a lot going on in Mr. Kelly's life and he doesn't have the money."
Johnson also said Kelly's spirits aren't high, but he's hoping to have his client out of prison by next Wednesday. Currently, Kelly is also being charged with 10 counts of sexual abuse against four women. Three of the women are believed to have been minors at the time of the alleged assaults. Other women spoke of Kelly's abuse in the January Lifetime documentary Surviving R. Kelly.
Kelly has denied all allegation against him. He spoke about the allegations for the first time on Wednesday morning in a conversation with Gayle King on CBS This Morning, where he said he's been publicly "assassinated."
R. Kelly Is Back in Jail for Failing to Pay Over $161,000 in Child Support, Expected to Go Home With a Payment Plan | Culture