R. Kelly Bribed County Clerk for Information, Spent $500 on Fake ID for Aaliyah, Feds Say
Incarcerated singer-songwriter R. Kelly allegedly had his crisis manager bribe a government clerk in Cook County, Illinois to get information about his legal troubles, according to court documents recently filed by federal prosecutors.
The documents also allege that Kelly purchased a $500 fake ID for the singer Aaliyah when she was 15 years old.
Federal authorities said that Kelly wanted the clerk to inform him about potential legal troubles following the release of the 2019 Lifetime documentary series Surviving R. Kelly. The series detailed sexual assault allegations against the rhythm and blues singer.
The crisis manager allegedly paid the clerk $2,500 and provided them with a "burner" cell phone, the Chicago Sun-Times reported. The clerk was allegedly supposed to use the phone to contact Kelly's manager while avoiding possible tracking through their personal or workplace devices.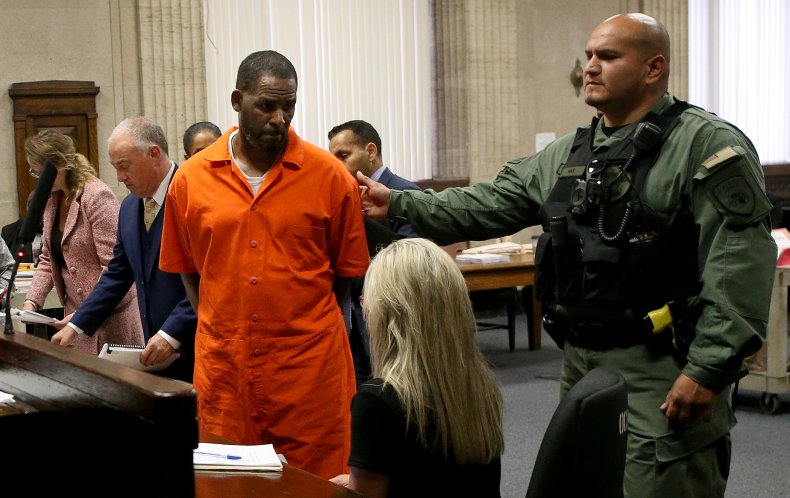 After paying the clerk, the crisis manager allegedly contacted Kelly on Kelly's phone, telling him, "That's done. You don't know nothing." Kelly allegedly responded, "Exactly," according to court documents. Legal authorities said they collected information about the alleged bribery by searching through Kelly's phone.
Prosecutors' documents also allege that in 1994, Kelly had his entourage member pay $500 to an Illinois state employee to create a fake ID for Aaliyah Haughton. Haughton, a singer and Kelly's then-protege, was 15 years old at the time.
Prosecutors reportedly believe that Kelly sexually abused and impregnated the 15-year-old. Kelly wanted to marry her in order to keep her from testifying against him in sexual misconduct cases, prosecutors alleged, according to the Chicago Tribune.
Kelly has been in custody since his July 2019 arrest. He faces charges in Illinois of child pornography and obstruction of justice. Prosecutors there have said that they would like to introduce new evidence of uncharged crimes involving his alleged abuse of 10 girls dating back to 1991, Chicago Tribune reporter Jason Meisner wrote.
Kelly's trial in Illinois is expected to begin later this year. In New York, Kelly also stands accused of recruiting women and underage girls for illegal sexual activity. His New York City trial is scheduled to begin on August 9.
Before his arrest, Kelly was one of the world's most successful and influential R&B artists. Throughout his career, his music has gained him over 100 awards.
In May 2018, The Washington Post alleged that music industry executives at the Jive and Epic Records music labels knew for years about the sexual abuse allegations facing the artist. The executives chose to ignore them in order to continue profiting off of his success, the publication wrote. One Jive executive reportedly said that it was not the label's business to oversee Kelly's behavior in his personal life. An Epic Records executive declined the paper's request to comment.
Newsweek contacted the Department of Justice for comment.