What Charges Is R. Kelly Facing and How Much Prison Time Could He Serve if Found Guilty?
Disgraced singer R. Kelly is facing a new charge—this time for bribery related to his 1994 marriage to the late singer and actor Aaliyah.
An additional count of bribery was added to Kelly's existing racketeering indictment, according to a New York Times report released Thursday. In court documents obtained by NYT, federal prosecutors alleged Kelly bribed an Illinois government official into providing Aaliyah with a fake ID that listed her age as 18, the legal age of marriage for someone without parental consent, in August 1994. The ID was reportedly used in the pair's marriage license.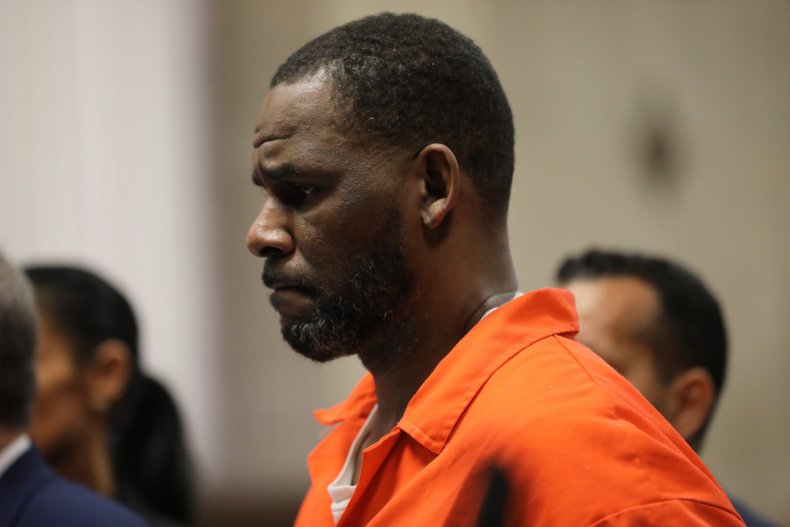 The R&B singer, who died in a plane accident in 2001 when she was 22, was only 15 when she wed singer, songwriter and producer Kelly, who was 27 at the time. Their marriage was annulled two months later.
The bribery charge is the latest among multiple charges 52-year-old Kelly is facing.
Kelly was arrested in Chicago in late February after being indicted on 10 counts of aggravated criminal sexual abuse. The indictment accused Kelly of sexually abusing four women from 1998 to 2010. Of the victims listed in the indictment, three of them were between the ages of 13 and 16 at the time of the reported incidents.
Kelly was hit with 11 more counts of aggravated criminal assault of a minor in Chicago in May. Court documents claimed Kelly "used force or threat of force" to engage in sex and oral sexual activity with an underage girl between 2009 and 2010.
Then in July, Kelly was arrested in Chicago again on a 13-count federal indictment on charges of enticement of a minor, obstruction of justice and child pornography charges. He was separately indicted by federal prosecutors in Brooklyn during the same month on one count of racketeering and four counts of violating the Mann Act—a law against human trafficking—of which his most recent bribery charge is linked to. The New York indictment accused Kelly of coercing three young girls into performing illicit sexual acts, in addition to kidnapping a fourth victim. Kelly was also accused of coercing a fifth woman to perform sexual acts that allegedly exposed her to a general disease, according to the NYT.
Kelly, who has pleaded not guilty to all the charges against him, is now detained at a federal prison in Chicago. He has long denied the allegations. Kelly is set to go to trial for Chicago-based indictments in Illinois in April 2020. His New York court date is set for May 2020.
Newsweek sought further comment from Kelly's lawyer Steve Greenberg but did not receive a response before publication.
If convicted, Kelly could be facing serious prison time. In Illinois alone, aggravated criminal sexual assault can carry a prison sentence of up to 30 years behind bars while racketeering charges in New York can be punishable by up to 25 years in prison.